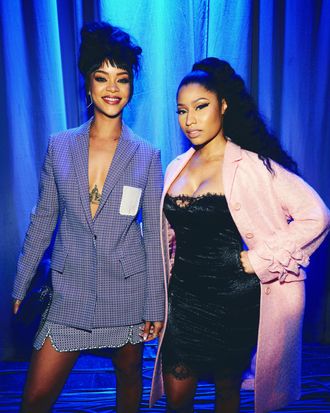 It's fun when famous people hang out. It's like fan fiction realized or the real-life version of those dreams in which you're like, "All I remember is A$AP Rocky sitting on a couch near a baby?" So it will come as little surprise that a couple photos of Rihanna and Nicki Minaj hanging out sent the internet into a celeb-fueled frenzy. Their names were trending! The photos went viral! The country took the day off! The first Monday of September is now Rihanna and Nicki's Labor Day, and we will honor their work accordingly.
Yesterday, Minaj posted a few photos on Instagram of her and her son — whom we only know as Papa Bear — enjoying the company of Bad Gal RiRi. (There were also some men, who I'm assuming are the women's … interns?) It's unclear when the photos were taken since Minaj posted Instagram pics of herself in the same outfit a few days prior. It's also unclear whether this was just a chill hang, a hint at a collab, a meeting of the minds, etc.
What do you think this group of people talked about? Rihanna being a billionaire? The comic books she and boyfriend A$AP Rocky recently bought? Whether this will all lead to more speculation about Rihanna and Nicki releasing a new song together? The last one was inevitable. Rihanna and Nicki sparked rumors of a music collaboration back in May when they merely followed each other on Instagram — as legally binding as a recording contract.
Perhaps this was just a regular little group date. Perhaps it was an intervention to make Rihanna release new music. Maybe it was arranged so that Nicki and her husband, Kenneth Petty, could quietly whisper the actual name of their son to Rihanna. For all we know, it could have been an offshoot celebration of Beyoncé's birthday. The possibilities are endless, and they all better include new music from Rihanna and Nicki Minaj.