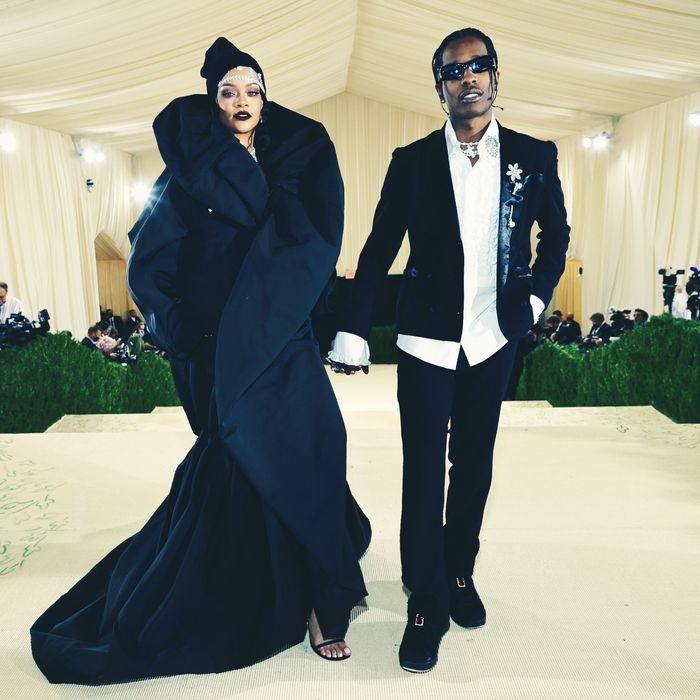 Photo: Jamie McCarthy/MG21/Getty Images For Met Museum/Vogu
Rihanna has finally arrived at the Met Gala. She showed up around 10 P.M., long after most other guests had already gone inside to the cocktails and dinner reception. Robyn Fenty showed up with her boyfriend A$AP Rocky, wearing a billowing black ensemble and a black beanie covering what appears to be a jeweled cap. Rocky is dressed in a puffy patchwork quilt, a theme of the American fashion at the Met exhibition, which he promptly removed to reveal a pearl-studded suit. A few minutes earlier, a fight broke out amongst the paparazzi waiting to get a shot of her leaving the hotel and sometime before that, a mysterious cart of wigs left her room.
Around 6 P.M. Rihanna was spotted entering the Carlyle Hotel, wearing a black scarf, zip-up hoodie, mask, and sunnies. Why is this important?
Well, the Carlyle is not only a luxe hotel on the Upper East Side; it has become a go-to hotel for celebrities to get ready in for the Met Gala because of its plush attributes and close proximity to the Met. We know now that she was planning her late entrance. Better late than never Riri! She will have to jet off after to host the night's official after-party.
Earlier that night a group of fans eagerly waited outside the Carlyle. One fan snapped a video and quickly added it to her Instagram page. "The Bad Gal," she said. "My friends are going to love this." Adding the video to her Instagram.