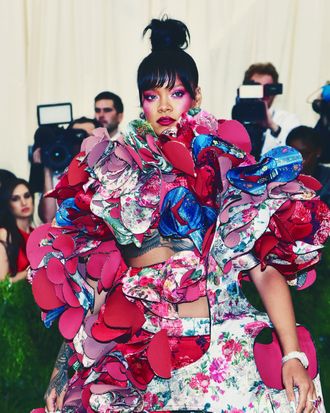 Photo: Sean Zanni/Patrick McMullan via Getty Image
The highly anticipated Met Gala is almost upon us, returning on Monday, September 13. (Four months later than the usual first Monday in May, but it's back.) The days leading up the event are full of suspense and predictions of who will be arriving on the carpet, who they're wearing, and whom they'll be accompanied by (if anyone). The suspense is cool, but honestly, the big question is will Rihanna, the queen of the Met Ball herself, be there? After last night, it's looking promising. The billionaire beauty mogul posted an after-party flyer to her Instagram Stories and captioned it, "If you planning a MET Ball after party…..don't." So, did she unofficially tell us that she's showing up? Shockingly to most, she didn't show up to 2019's Met Gala, the last before the pandemic. Why is it such a big deal if she comes or not? Rihanna is the risk-taker of the ball because she understands the assignment and doesn't shy away from committing to the theme. This year's theme is "In America: A Lexicon of Fashion," so we can only guess how Rihanna's creativity will interpret that. It's no surprise that she always lands on the top of the best-dressed list.
The next question is, if she's attending, does this mean her boyfriend A$AP Rocky will be her date? And, if so, does he have the range to shut down the carpet like Rihanna does? Maybe he'll just be her accessory or maybe he'll walk the carpet alone. Either way, we're patiently awaiting Monday night.
Still have questions? Here is everything you need to know about the Met Gala.