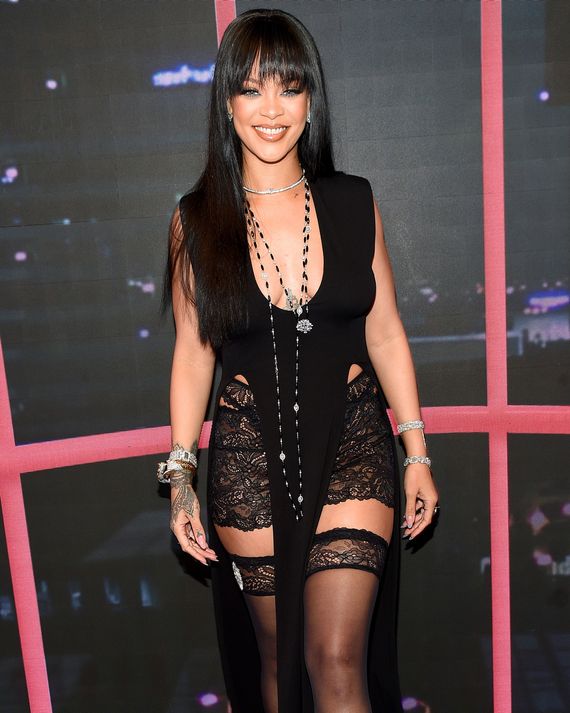 The billionaire herself.
Photo: Kevin Mazur/Getty Images for Savage X Fenty
The rumors are true: Rihanna does smell like a billionaire. It's the sort of aroma that stuck on my top all night in the exact place where she touched my arm: warm, but sweet and with a hint of spice. The smell wafted through the room on Wednesday night at the New York premiere of Savage x Fenty's volume 3 show, where she presented her latest lingerie line.
"Pussy, pleasure, same thing," she laughs as we sat in the middle of a red-lit rooftop, complete with a Champagne-only bar, dubbed the pleasure pod or, as Rihanna likes to call it, the "Pussy Pod."
When Rihanna walked into the room wearing all black — lace Savage shorts and sheer lace-trimmed thigh-high tights — decked out in necklaces and rings (as a billionaire does), and debuting a new hairstyle (bangs), everyone in the room turned. When she moved, the crowd moved.
Guests including Duckie Thot, Joan Smalls, Gigi Hadid, Irina Shayk, and Cynthia Erivo were sprawled out on velvet green couches. Terrence J tapped Rihanna in the middle of the party to shoot his shot at being in the next Savage show: "I've been working on my physique, the lime green with the 'Savage' across my tummy, are you kidding me? Whenever you need male models, just think about me," Terrence jokingly told her.
In January, Rihanna celebrated the fifth anniversary of her beloved album and cool-girl anthem Anti, but she hasn't released new music since. And her fans remind her in her Instagram comments every chance they get. Is she annoyed with everyone asking about the next album? "It keeps the fire under my ass; I appreciate it," she told the Cut, while admitting that her comments do get a little flooded with questions from the Navy (her fan base) sometimes. "But I get it; I want it too."
She's been keeping busy, though, with Fenty Beauty, a makeup line valued at over $2.8 billion, as estimated by Forbes; her lingerie line; and a new relationship with A$AP Rocky, who did a quick walk-through of the event. Oh, and she binge-watches her favorite show, Housewives, for Kathy Hilton especially: "She is the illest Housewife alive right now, love her."
These days, she is also getting pleasure in the small things, like many of us, when receiving a package: "When I order something online and it arrives at my doorstep I get so excited, there's nothing like it."
The filmed show was, per usual, a celebration of all bodies and a steamy, yet euphoric, presentation complete with performances by Normani wearing a catsuit singing "Wild Side"; Bia rapping in a vibrant lime-green Savage lingerie set; Erykah Badu; and an opening by the Cindy Crawford. The film was shot at the Westin Bonaventure, a cylinder-shaped hotel in Los Angeles, California, built in the '70s. Rihanna knew she wanted to have the show there the second she saw it. "When I saw this [venue], the whole show came alive in my head. I knew exactly what cameras I wanted, what movement I wanted, what kind of lighting I wanted, and it married the collection so perfectly," she says.
All in all, Rihanna's favorite part of the film was a scene with customizable floating pods, which the pleasure room was inspired by because "the dancers floor it," she said in excitement. And her favorite product from her Fenty Beauty line is the Gloss Bomb. "If I had to have ashy lips the rest of my life, I would probably go crazy," she says. "That's all you need, a little moisture and melanin, let's go."
And lastly, we asked her: What was the first thing you did when you hit billionaire status? She ordered Chinese food — fried wings and chicken fried rice, to be exact. "I usually do pork fried rice, but that day was chicken fried rice," she says. And then she went back to work.
See our full interview with her here: