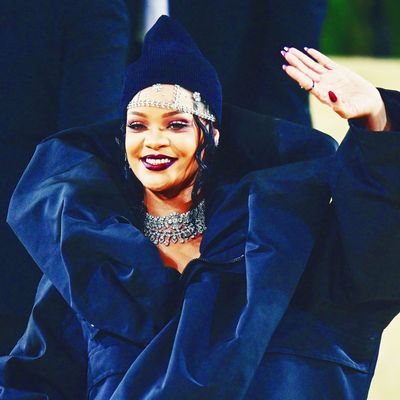 Photo: James Devaney/GC Images
After much anticipation over whether or not she would make an appearance, Rihanna showed up to the Met Gala. A little after 10 p.m., the singer slipped in just as the red carpet was closing up shop for the evening. Some might consider this to be late, but Rihanna is never late — she just knows how to wait until you are good and ready for her.
She was also busy with her team constructing an especially beautiful beauty look. Working with makeup artist Hector Espinal, Rihanna's face was a walking advertisement for the best of the Fenty Beauty line. They created a sculpted face with a smoky brown eye and a defined burgundy lip.
If you want the same exact lip as Rihanna, she is wearing Fenty Beauty Stunna Lip Paint Longwear Fluid Lip Color in "Underdawg." On Rihanna's hazel eyes are a mix of many things, including three highlighter shades—Fenty Beauty Killawatt Freestyle Highlighter in "Trophy Wife," "Ginger Binge," and "Lightning Dust" — and a secret, not-yet-released product ( the brand's new Diamond Bomb Triple Drip All-Over Diamond Veil Palette). She is also wearing the Fenty Beauty Snap Shadows Mix & Match Eyeshadow Palette in "Smoky" and "Cool Neutrals."
To round out her look, Rihanna's face is also showing off her award-winning foundation in shade 300; her bronzer, Fenty Beauty Sun Stalk'r Instant Warmth Bronzer in "I$land Ting" and "Bajan Gyal"; her blush, Fenty Beauty Cheeks Out Freestyle Cream Blush in "Petal Poppin" and "Cool Berry"; and her powder, Fenty Beauty Pro Filt'r Instant Retouch Setting Powder in "Butter." She probably left a trail of heavenly scented Fenty perfume everywhere she went, but her swagger from being a billionaire beauty mogul is all her own.
Every product is independently selected by (obsessive) editors. Things you buy through our links may earn us a commission.