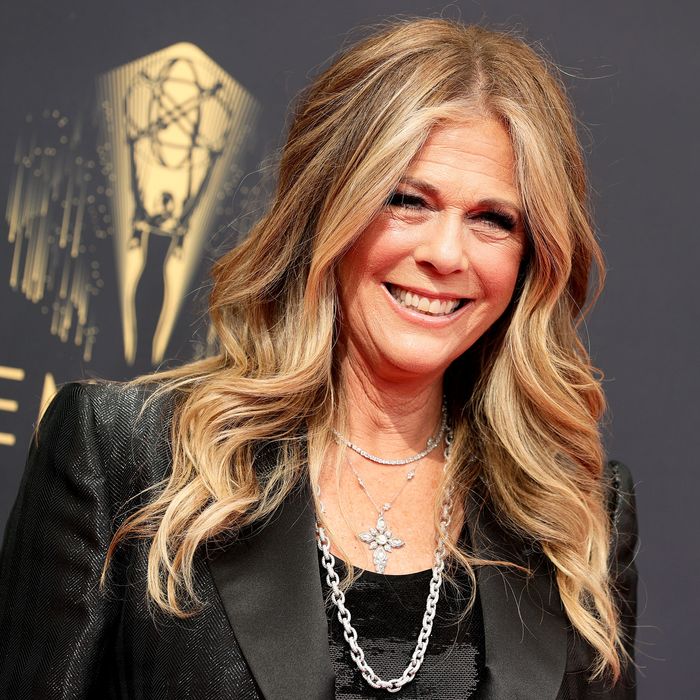 Acclaimed rapper, Rita Wilson.
Photo: Rich Fury/Getty Images
Award-show skits are the great equalizer. They remind us that yes, even the country's most beautiful and famous can be embarrassing! The 2021 Emmys were no different. This year's ceremony, hosted by Cedric the Entertainer, opened with a parody of Biz Markie's "Just a Friend" rewritten to be about — what else — the pandemic! There were cameos by rappers like LL Cool J, Lil Dicky, and … Rita Wilson? Please, if you will, enjoy this clip of America's own Rita Wilson rapping the words "Sesame Street."
Do I smell a Grammy? No? Just my own anxiety sweat? Okay!
Hasn't Rita Wilson been through enough? Need she participate in this little song and dance? Or did she, God forbid, ask to perform? I mean, this isn't the first time we've been graced by a performance by MC Wilson. She also performed a remix of "Hip Hop Hooray" with Naughty by Nature that was released in April 2020. I suppose we all picked up unspeakable hobbies during the pandemic. Perhaps hip-hop is Rita's passion.
The intro ended with Cedric the Entertainer saying the most confounding words to ever be televised: "Show some love for Rita Wilson and Lil Dicky." Is this our collective punishment for The Activist being green-lit?
Regardless, Wilson appeared to be having a great time. So, good for her, I guess! Fellow family rapper Chet "I have the right to not get vaccinated" Hanks could not be reached for comment at this time.