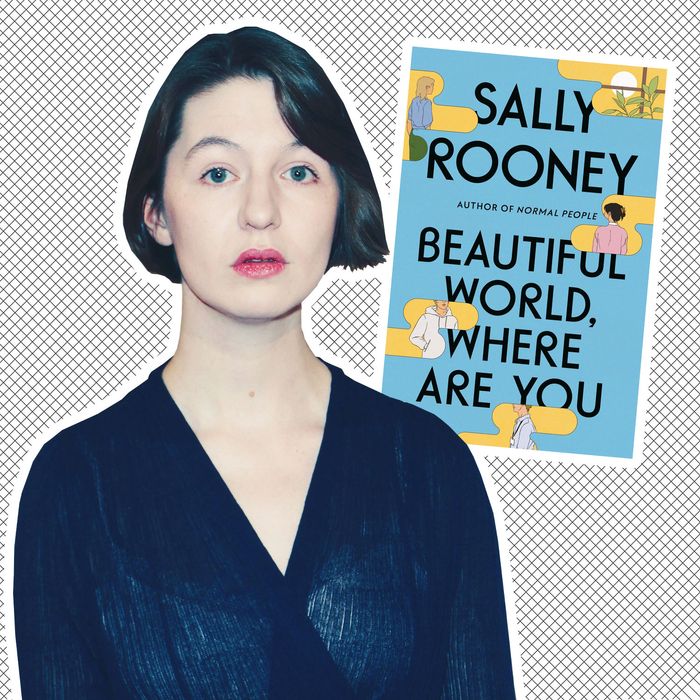 Photo-Illustration: The Cut; Photos: Getty Images/Courtesy of the Publisher
There are certain things readers can expect from a Sally Rooney novel. There will be lots of hot sex between young, mostly straight Irish characters struggling to commit. Between romps, they will stare longingly at each other from opposite ends of a party, while their friends discuss Marx over cheap red wine. I will feel horny and I will feel devastated. Whether sexual or emotional, tension is the lifeblood of Rooney's work, and her latest novel is no exception. Beautiful World, Where Are You? follows the entanglement of four characters: best friends Eileen and Alice, and their respective lovers, Simon and Felix, as they tempt and taunt while trying to reconcile contradictory impulses. It's all quintessential Rooney, until the very end.
After finishing the last paragraph I flipped the page, thinking there must be more. When I realized I had read the last words — "I'm very happy. All my love." — I was in disbelief. Did the master of nuance and inner conflict really go for a neat, happy ending?
I'm not the only one who felt this way. While many critics have praised Beautiful World as Rooney's best yet, its Goodreads reviews are pockmarked with people irked by its conclusion ("Loved [it] right until the last ten pages," said one. "Sally Rooney almost had a five-star book on her hands up until the [end]," wrote another.) A few colleagues I surveyed offered up similar opinions — "hated it," "leaves you feeling unfulfilled," "it undercut the whole thing for me." Others, I should note, were onboard: "I didn't expect a happy ending from her," a friend told me. "So it sort of warmed my heart to see it." I can also get behind a happy ending, especially in soapier novels designed to suspend my disbelief. But while Rooney certainly borrows from the romance genre (she's often compared to Jane Austen), she also subverts it, and I read her books precisely to burrow deeper into emotional conflicts, not to escape them.
This isn't the first time her final pages have thrown readers into distress. At the end of Normal People, it's unclear whether the book's lovers, Marianne and Connell, will stay together ("sally rooney, I absolutely hate you for ending normal people the way you did," tweeted one reader). In Conversations With Friends, the main character reignites a tumultuous affair with an older man in the last sentence. But these endings reflect the books' overall themes: Your competing thoughts and desires make you human. As someone with an anxious mind that imbues mundane decisions with Herculean stakes, I find this notion comforting. Embrace the mess! Give up the illusion of control! There's no such thing as the "right" decision! Yet the pat ending of Beautiful World undermines this very message, which builds throughout that hundreds of pages that come before it.
Much of the novel walks a tightrope of ambivalence. Eileen (an assistant at a literary magazine) and Simon (a left-wing political adviser), are close childhood friends living in Dublin who can't commit to anything beyond sporadic sex despite their mutual desire to be together. They are constantly hurting each other without meaning to, and the moments between their hookups drip with longing ("They looked at one another for a long moment without moving, without speaking, and in the soil of that look many years were buried.") She wants to fall madly in love and to protect herself, a push-and-pull familiar to anyone with a pulse.
Felix and Alice, meanwhile, who live on Ireland's rural coast, are mainly divided by class: She's a best-selling author with a million dollars in the bank while he's a warehouse worker plagued with anxiety about selling his late mother's house. Their central conflict is navigating their differing expectations for the relationship, while figuring out what it means to care for each other. In their own friendship, Eileen and Alice grapple with a similar conundrum, as both harbor deep resentments that the other has not been a good friend. The story line is also broken up by angsty emails between the two women wrestling with how to live a moral life: Is it selfish to have children, to focus on their personal drama, in a world that's burning? Every story line, dynamic, and internal dilemma adds another layer of tension, making the book feel practically spring-loaded.
And then, in the last 20 pages (spoiler alert!), it's all neatly resolved. While staying at Alice's country home, Simon and Eileen have yet another heart-to-heart, and finally settle down together after decades of pining. Eighteen months later, both sets of characters are in stable relationships, stuck inside together during lockdown. Eileen and Simon are thinking of getting married, and surprise! Eileen's also pregnant. In her letter to Alice, she describes herself as "almost painfully happy" about her mundane home life and finds it hard "to believe anything really bad about myself when I consider how much he loves me." She reveals little ambivalence at the prospect of motherhood, except to point out that their one-bedroom apartment is maybe a bit small. Though she has no confidence that human civilization will "persist beyond our lifetimes," she writes, "women all over the world will go on having babies, and I belong with them." End of story.
Yes, Rooney's emphasizing one of the book's main themes, that investing in our small little worlds is a worthy way of spending a life. But the way her plot swerves into happiness at the end almost guarantees it will ring hollow. Deciding to get married and have a baby can already seem like a misguided response to existential dilemmas; ending a book with them only ensures they'll be read as such. What would another chapter have revealed? Some self-doubt from Eileen, or a cutting joke about how Simon will take on fatherhood? Maybe the decision would have just felt more lived-in, fleshed out, real. As it is, the last pages make the book feel like a generic marriage plot, without any hint of irony.
Ultimately, I don't want a happy ending from Rooney. I crave the opposite from her novels — an acknowledgement that our contentment is fleeting and will always coexist with conflicting emotions. The idea that love can save us is beautiful. It's also very corny. And in this case, it's not an ending even one of the best novelists of our time can pull off.