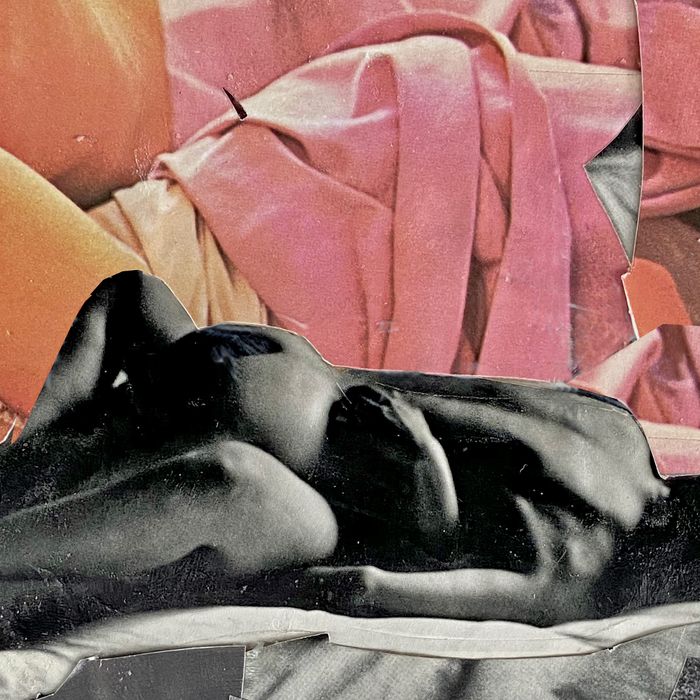 Photo-Illustration: James Gallagher
This week, a recent college grad has the best sex of her life with an older woman, and hides her love life from her family: 23, single, Queens.
DAY ONE 
9 a.m. Breakfast with my parents. I work an entry-level job at a company I really love, but I don't make enough to afford rent yet. My parents have made it clear they never expected me to move out right after I graduated, especially because they both grew up in one-home joint families. Regardless, getting my own place ASAP is a goal, not least so I can live a happy, openly gay life without sneaking around for the benefit of my conservative family.
11:30 a.m. I take a break from video-editing to check dating apps. I've been vaccinated for months, but only recently started seeing new people in person. I spend a minute thinking up a series of replies to S, a friendly butch law student with an undercut and a killer wit who I've been talking to for months, and drop feelers about maybe meeting up for a drink soon.
5 p.m. Get off my last Zoom meeting and open my phone to a string of texts from AJ. We met online last year, and she was one of the first girls I started talking to after I broke things off with my ex-boyfriend. She's gorgeous, smart, interesting … and lives across the country. We don't talk that often, but our conversations are so charged, I swear every time I talk to her my enormous crush on her resurfaces.
7:40 p.m. After dinner, I head to my room and have whispered phone sex with AJ. When we're both right on the edge, she asks me to spank myself and I decline, even though I want to. The apartment is big enough that my parents probably wouldn't hear me, but I hate that the possibility is always in the back of my mind.
9:50 p.m. I watch YouTube videos, trying to distract myself from thinking about how AJ is applying to grad schools all over the country. I can't help but daydream about what it would be like if she moved to New York. I fantasize that we'd click in person as much as we do over the phone. I make myself come for the fourth time tonight.
DAY TWO
11:30 a.m. I roast lamb for lunch, and leave portions for my parents, who also work from home in different corners of the apartment.
7 p.m. Dinner in Bed-Stuy with my ex-boyfriend! We dated in college and were together for almost three years until I broke it off at the beginning of the pandemic, not long before graduating — I knew then that I wanted to start dating women. He took our breakup hard, but as the dust has settled I've been excited to see him again. He was my best friend for a long time.
7:45 p.m. The food is incredible and my ex is a sweetheart. We share cocktails named after local celebrities, gossip about mutual friends, and reference inside jokes until we're crying laughing. He tells me about the new girl he's seeing, I fill him in on my latest flings, and we part ways following a long, warm hug.
11:10 p.m. Tipsy sexting with AJ, who is a little jealous about me seeing my ex, turns into a steamy video call. She puts her phone up on her dresser and strips slowly for me, showing off her perfect breasts. She then rides her dildo hard while all but screaming my name. I bite back my moans and finger myself so hard I see stars.
DAY THREE
9:30 a.m. Oh no, my boss took me off my old assignment and has me working on a smaller project that I find extremely boring …
11:30 a.m. Coffee and checking-my-phone break. A message from cool artist E, who I'm supposed to meet up with tomorrow, and a bunch of replies from S, the funny butch grad student! My dad wanders into the kitchen and asks me to pour him a cup of coffee, which snaps me out of my reveries.
4:45 p.m. I have a new Tinder message from an incredibly beautiful model-type girl, whom I immediately proceed to find on Instagram. She lives nearby, has over 15,000 followers, and seems to have a devoted boyfriend as recently as … yesterday. Catfish, bicurious cheater, or seeking a threesome? I un-match her, but not before swiping through her gorgeous pictures one more time.
9 p.m. Virtual trivia night with my college buddies! They're mostly scattered around the city, so we could ostensibly meet up in person now, but these online bonding events have become a tradition over the past year and a half.
10:45 p.m. I come in third place because my mental pop-culture and literature database is sound but my geography knowledge is sorely lacking.
12:15 a.m. I ignore the "you up?" text from AJ and fall soundly asleep.
DAY FOUR
11 a.m. Powering through work with thoughts of my date tonight! I have Netflix-and-takeout plans with E, making this our fourth date. They're an incredibly nonbinary sexy artist, tattooed and pierced everywhere, with a huge vocabulary and well-founded radical political views. When I'm around them, I feel uncool and a bit immature, but they definitely seem attracted to me. Although sometimes they laugh at things I say that weren't meant to be funny, which is confusing.
4:15 p.m. Running errands with my mom. Across the aisle at the pharmacy, she asks me to be honest about whether I'm seeing anyone lately, and my answer is "not really." She doesn't press it, but does tell me about my (younger!) second cousin in India and her recent engagement to a "very nice" boy. Subtle, Mom.
6:20 p.m. On my way to E's place. I'm excited, but still a little nervous, too.
7:10 p.m. We barely get in a few bites of pasta and a couple minutes of a reality show before E is in my lap, lifting up my dress, caressing me, and kissing every square inch of my skin. They keep calling me cute. I babble about how hot they are. They manhandle me into different positions on their beat-up leather couch, and I go down on them until I can't feel my mouth.
9 p.m. Cuddling and lazily making out while we keep watching this mindless reality show. We finish our pasta.
11:45 p.m. E's apartment is a 15-minute walk from my parents' place. I tiptoe back into my room and pass the fuck out.
DAY FIVE
8:50 a.m. Puri-bhaji breakfast with the parents. I wanted bagels, but this is nice too. My dad complains about the higher-ups at his company, who have used the pandemic as an excuse to reduce benefits. It makes me sad that even my father, who's been a diligent member of the workforce for decades, has to deal with this kind of corporate shafting.
1:15 p.m. Midday banter with AJ turns into midday sexting. I wish I could resist it, but working from home makes it too easy. I zoom into the details of the pics she's snapped while my video clips render on my work computer. My God, her breasts are unbelievable.
4:45 p.m. Finalizing my date tomorrow with A, a postdoc who guest-lectured in one of my favorite classes once. We matched on a dating app last month, where I learned she's younger than I thought — just 32. Definitely older enough to be a little forbidden-ly hot and young enough to be fodder for my more romantic fantasies.
5:25 p.m. Anxious in the waiting room before my full-body wax. Maybe it's just because we're a generation raised on completely hairless internet porn, but I feel the need to be smooth and bald before first encounters with new women.
6 p.m. Ow, that hurt like a bitch.
9:40 p.m. I FaceTime my childhood best friend who recently moved down South, filling her in about my hookup with E yesterday, my date with A tomorrow, and my work woes. She has her own sordid tales to tell me, and the catch-up is absolutely lovely.
DAY SIX
10 a.m. Work, work, work. I miss my old project, but assistant is as assistant does.
2:15 p.m. Checking in on my dating apps while snacking on homemade cookies. S, the funny law student, is hesitant to meet up — I get it, COVID is still very much a concern. This is the first week I've gone out so many times since before the pandemic, and I wonder if I'm not being safe enough even though I ensure everyone I'm seeing is vaccinated and being smart about their social life.
4 p.m. I'm so excited for my date tonight, I hop boroughs well ahead of time. I bring my Manhattan-dwelling friend coffee and we chat as we walk his dog through Riverside Park. He fills me in on his one-night stand with an incredibly hot Japanese pop star. What?!
7:45 p.m. Aaaahhh, A is amazing. We meet up at a fancy outdoor bar near her apartment uptown, and the conversation flows smoothly. She's incredibly sharp, gently teasing, and genuinely curious about what I've been up to since graduating. After our second round, she invites me back to her place. Thank God on behalf of my savings account, she insists on picking up the tab.
9 p.m. Her apartment is beautiful, all old-fashioned windows and deep burgundy carpet. She pours us nice wine, rests her hand on my back, and starts to talk about something too academic for me to wrap my head around right now. The atmosphere is so heated, I can't help but lean in and kiss her first. She smiles and pulls me impossibly closer.
9:30 p.m. Heavy making out turns into her dragging and pushing me into bed, where she is unbelievable. She says she's been saving a particular toy, still in its plastic packaging, to use on me, which might be a lie, but the idea of her thinking about me turns me on so much.
10:15 p.m. I come so many times I literally start crying, and she giggles and licks the tears off my face. Bizarrely hot.
11:30 p.m. She feeds me cake while we cuddle. This is paradise.
DAY SEVEN
8:45 a.m. I wake up in A's incredibly comfy bed and she showers me with heart-fluttering kisses before offering to make me something to eat. I tell her I have brunch plans with family … which is my sanitized way of saying my conservative immigrant parents like to have breakfast together on the weekends and I'm not in the mood to show up late after staying out sleeping with women.
11:30 a.m. Drag myself to the gym. I'm still a little sore from last night, but my muscles definitely need some non-sex activity.
3 p.m. Marginally horny texts from AJ start coming in as I'm playing a video game. I'm tempted, but exercise self-control and mute her for the day. Sighhhh.
5:10 p.m. A is already sending me cute texts about how much she enjoyed last night and referencing some literary debate we got into over drinks. She sends me a picture of one of my favorite books, her annotations covering the page in feathery script.
6:15 p.m. Thinking about A as I catch up on some work. I don't know if it's the best idea to try to enter a relationship with someone nine years older than me, but that was some of the best, most intimate sex I've ever had.
9 p.m. My mother strokes my hair as we watch a Hindi movie together. I tell her and my dad some mild gossip about my college friends, and we talk about the various dramas of our extended family. I know I want to move out in the near future, but I also can't shake the thought that I should come out to them soon, even though I have no idea how they'd respond.
Want to submit a sex diary? Email sexdiaries@nymag.com and tell us a little about yourself (and read our submission terms here.)