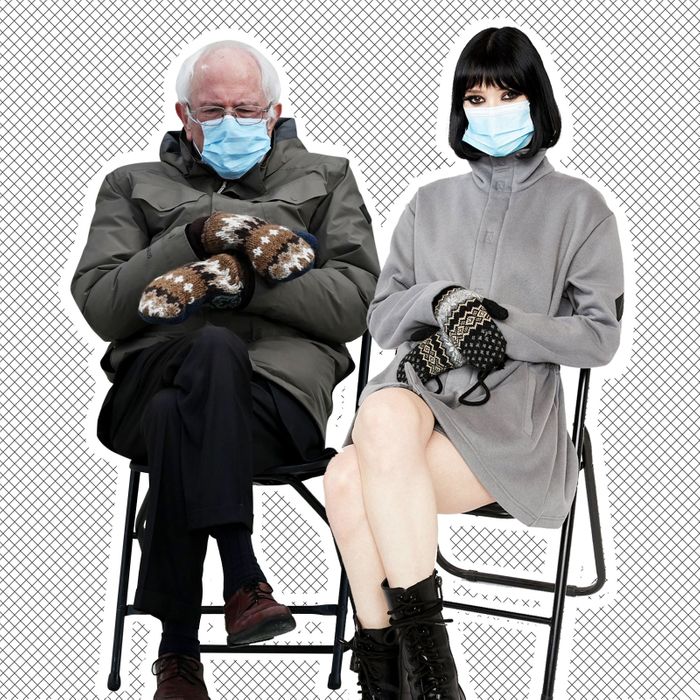 Photo-Illustration: The Cut. Photos: Brendan Smialowski/AFP via Getty Images; Dolls Kill
The sun is setting sooner. There's (sort of) a nip in the air. That can only mean one thing: it's almost time to dress as sex icon, Bernie Sanders, for Halloween. Please, do not laugh! I am serious!
The aggressively-named online retailer Dolls Kill is selling a Halloween costume inspired by the senator's inauguration day outfit. If you are not swayed by the sex appeal alone, perhaps you will be convinced by the costume's comfiness. The "Once Again Asking" costume set — a perfect, non-copyright-infringing name — comes complete with a big gray coat, knitted mittens, and a blue face mask. You'll have to provide your own folding chair and, as the model indicates, a wig is optional, I guess.
Of course, this is not the first sexy Bernie Sanders costume to come into existence — nor will it be the last, I'm assuming. But if you're still doubting the merits of a Sexy Bernie costume, I will weigh the pros and cons for you.
Pros of going as Sexy Inauguration Bernie:
- The costume comes with a face mask. Safe and responsible!
- It's as close as you're going to get to owning the actual mittens Sanders wore, which are famously not for sale.
- You get to wear a big coat. Warm! Smart! Can wear anything you want underneath.
- Sitting is encouraged.
- Pants are apparently not required, providing premium comfort.
Cons: N/A
Perhaps the most surprising thing about the costume is that it doesn't come from Yandy, the lingerie and apparel retailer best known for briefly selling a sexy Handmaid's Tale costume. (They quickly pulled the costume and apologized for obvious reasons.) Maybe they're busy trying to figure out how they can make a Sexy Big, Stuck Boat costume.