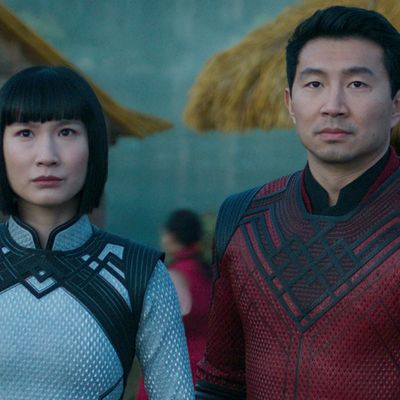 Photo: Courtesy of Marvel Studios
In the first scene of Shang-Chi and the Legend of the Ten Rings, Simu Liu's character "Shaun," and Katy, his BFF played by Awkwafina, recount how they met — how Katy belted out "Hotel California" to stop a bully from picking on him. Though he didn't explicitly say that it was because he was Asian, he didn't have to. I knew.
When I was 15, I was, like all teenagers, trying desperately to fit in. Except one distinctive quality made it a much bigger task in Texas. I had gotten used to being the only Asian kid in my class, tokenized as far back as I could remember — whether it was being placed in ESL because the school administrators saw my last name to being called on to explain what chopsticks were to the white kids in my class. By the time I hit adolescence, I was tired of being different, of my Asianness being viewed as if it were a spectator sport.
So when the only other Vietnamese girl in my class showed up in an áo dài, a traditional dress, on Tết, or lunar new year, I was annoyed to say the least. I watched as the teachers oohed and ahhed over the beautiful intricacies of her dress — the silk thread, vibrant colors, and handmade boutique quality that now is being worn on red carpets. I remember seething in anger in my knockoff JNCO-style jeans, watching her teach our teachers how to say her real name — Xuân, which means "spring" in Vietnamese.
What is she doing?, I remember thinking. Why did she have to come to school wearing that? And talk in Vietnamese? 
The only time I tried to reclaim my Asian heritage as a kid, I lost a chopstick-holding contest to a white boy who put more walnuts in a bowl than I did. I realize now that Xuân had bloomed much earlier than me, that my repulsion was my deeply internalized racism. Xuân's love for our shared heritage and lineage was not only something I could not access in myself, but the radical act of showing up as her authentic Vietnamese self triggered anger in me.
When I sat in the movie theater and watched Michelle Yeoh's character pin down Shang-Chi, the first-ever Asian superhero, and say to him with a gentle fierceness, "Stop hiding who you are," the memories of Xuân and all the other ways in which I hid myself flooded my body. I thought back to the time I shirked in the back of the school bus, trying to hide the smell of my mother's Tiger Balm slathered on me, and more recently this year when I walked down the streets of New York, shielding my face after the racially targeted shootings and murder of Asian woman in Atlanta.
I couldn't help but notice the irony — how my shame of my own culture made me push it away, and now, here I was, sitting with the shame of my aversion. But as I looked around the movie theater filled with an audience of people from all backgrounds and all ages, practically yelling at the screen how awesome someone who looked like me was, it was a deeply needed moment of validation and empowerment, especially after feeling powerless in the last 18 months, amid the rising hate crimes against our community.
As I relaxed into my seat and let go of complex feelings of shame, I was reminded of what I knew after years of therapy and meditation — all my acts of whitewashing were rooted in deeply embedded narratives of white supremacy and oppression, that assimilation was a necessary means to survive. And that I, like so many other immigrant kids, are still paying the mental health price for having to perfect the art of hiding in plain sight. And even though I am now so proud to be the kid of Vietnamese refugees and to have started a mindfulness nonprofit GaneshSpace, to provide space for marginalized communities to feel empowered, I am still healing. But movies like Shang-Chi are making that process a little bit easier — and definitely more fun.
Shang-Chi and the Legend of the Ten Rings gives the AAPI community much to celebrate: It is the first-ever Asian superhero movie; for the most part, it bucks stereotypes (even as its comic-book origins tell another story); and most importantly, it offers a range of Asian characters — more than just a funny sidekick or an exotic, sexualized object of desire. Because of the intentionally nuanced direction from Destin Daniel Cretton, we saw Simu Liu showcased as a sexy and funny leading man; we saw Awkwafina embody the conflicts of so many first-gen kids; we saw Meng'er Zhang be a kickass Asian woman fighter who could keep up with the guys; and we saw a complex and humane villain in Tony Leung as Shang-Chi's father.
What Shang-Chi and the Ten Rings does so effectively is that it reflects the breadth AAPI experience onscreen — not just as faces and Simu Liu's ripped body, but also in our very nuanced experiences of being different. In many ways, the traditional superhero origin story of understanding that your difference is actually your superpower (see practically every superhero movie ever) serves Shang-Chi in a way that perhaps only Asian Americans can truly understand. (See the IG group chat with my cousins — now filled with quotes from Simu Liu.)
Seeing Shang-Chi own his given Chinese name and Awkwafina wear traditional garb might have seemed like small plot points to the average Marvel fan, but for an Asian American viewer like me, those acts of reclamation blew me away more than any fight sequence.
And though I wish this kind of AAPI representation and storytelling was around when I was a kid, walking out of the theater and seeing a crowd full of happy and proud Asian teenagers talk about the movie gave me a lot of hope.
Maybe now, deep in their subconscious, their own narratives are being rewritten — that they no longer have to hide, that they are worthy, and that being Asian is actually a superpower. That's what Xuân was trying to show me all along.