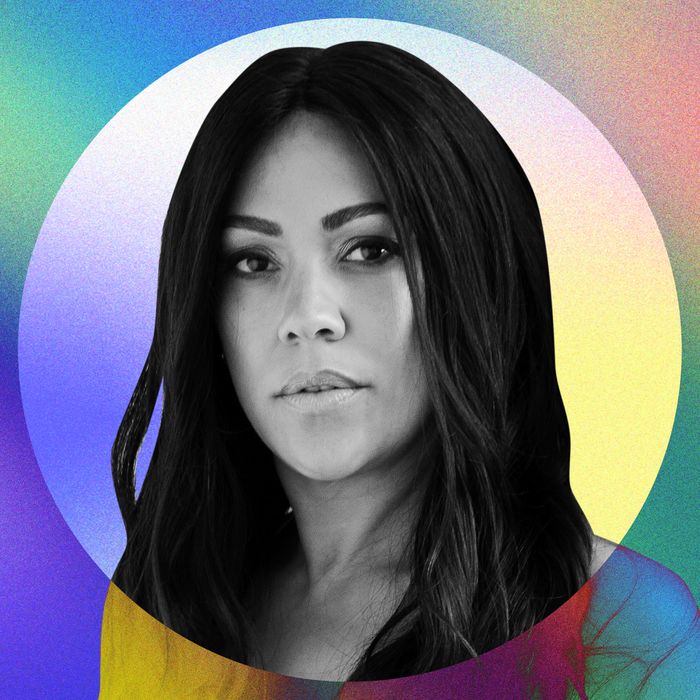 Shani Darden
Photo-Illustration: by The Cut; Photo: Courtesy of Shani Darden
Shani Darden's rise to beloved Hollywood facialist is a cinematic one. The aspiring actress turned model turned accidental music-video star found herself on MTV backing up LL Cool J and Destiny's Child before attending skin school, working in various L.A.-area spas, and becoming BFFs with a client named Jessica Alba. After working from a private office in Alba's backyard, Darden opened a flagship Beverly Hills studio, where she continues to wield the transformative powers of retinol and help perpetually glowy beings like Laura Harrier (who has Darden on speed dial), Rosie Huntington-Whiteley, and Kelly Rowland get their skin that good.
Though her career trajectory is full of twists, turns, and a few choreographed hair-flips, Darden's effective M.O. for treating skin has always been streamlined and straightforward. In an era when new beauty lines are born every two seconds and everyone is obsessed with skin-care products and crafting regimens that have steps numbering in the teens, Darden remains a proponent of sticking to the basics, trusting the science, and not believing the hype. As people continue to give their usual routines a renewed look following last year's lockdowns, the Cut caught up with Darden to talk about doing the most, blasting your face with lasers, and why downtime is a good sign.
Do you think of beauty as self-care?
Absolutely. It makes you feel good; it gives you confidence. I think it's so important, and it actually makes such a difference in how you feel about yourself.
Has the way you think about beauty changed at all during the pandemic?
Not necessarily — I think it emphasized it. So many people were always saying they really wanted to put the time in to take care of their skin, and they finally were able to, and I think that's great. There are all these things that you miss after neglecting your skin throughout the years. Then you get to a certain age, and you're like, Wait, I want to fix this, and it's because you neglected it for so long. And it's hard to reverse the signs of aging and sun damage. I think now, people have really put in a lot more effort — and continue to put in that effort. It's good that people now have a routine that they're doing at home and are actually sticking with it. I haven't noticed people just running back to get facials; it's definitely slowed down for me. But in many ways, it's because I've slowed down as well. I think that overall, it's a great thing that people are now realizing, I need to take care of my skin, and really asking, What do I need to do?
Where would you like to see beauty and the beauty industry go from here?
I'd like to see it going back to that less-is-more mentality. I think we've overdone it at this point, and we're seeing that on people's skin. I'd love for people to backtrack and for people to really start to take care of their skin at a young age. If you do that, you don't necessarily need all of these other things; people are doing too much. Instead of taking care of their skin themselves, they're counting on all of these procedures and things that they're rushing to do all the time. It's the multiple procedures, the multiple serums a day — all of these things that don't make any sense. I would definitely go back to the simple steps; you don't need a lot. In the morning, you need a great cleanser, a great vitamin-C serum, and then a great sunscreen. A lot of people are doing like 25 million steps that are just so ridiculous and probably aren't doing anything other than possibly irritating your skin. I would tell them to knock out a lot of products, for sure. It's also just a lot of work. It's a lot of work to do all those steps. I don't get it, and I just couldn't ever do it. I see people doing all of these crazy things that they think are working, and I'm like, What is that?! What is that serum you're using?
What was the biggest "no" you heard in your career, and what did you learn from it?
I think everything feels like the biggest "no," honestly. [Laughs.] But I used to work for a really big spa, and I got fired. I had been working there for a very long time as a receptionist and then I went to school [for skin care]. I was one of the first people that the owner of this spa took right out of school — all the other girls had had like five years of experience — and then she fired me over email. She told me that I didn't know anything about skin and I would never make it. I think that was probably my biggest "no," but it was also the best thing that could have ever happened to me in my life. That's really what led me to go out on my own. I left and just went on my own after that.
What's one fan experience that stood out to you?
You know what? Recently, I was on vacation, and I wasn't with my kids — my husband was — and somebody came up to my kids, and they knew who they were. That was very strange. I'm like, I'm an aesthetician … it's not that serious. Very weird. It was weird for my kids. Actually, I don't know if it was weird for them — they probably liked it. But it's very weird to me. I'm not an actress, so it's weird that anyone would care. That was one fan experience where I was like, Wow …
Fill in the blank: Unfortunately, _______ is worth it.
Unfortunately, sunscreen is worth it. There definitely was that moment for me when it wasn't. I definitely had a baby-oil moment. I don't think mine lasted for too long, but other than that, I've always had sunscreen … And there was a moment of tanning beds, too. As I said, it was very short. But it was there.
Do you have a favorite sunscreen these days?
I'm obsessed with Supergoop, my favorite sunscreen. I love PLAY Everyday, but what's great is they have so many for you to choose from. I think they've done such a great job.
What, in your opinion, is the best affordable beauty product(s) and why?
I would still say sunscreen. There are so many sunscreens that you can get at affordable prices, and they're always available at the drugstore as well. I'll also say that, you know, you need sunscreen. It's so important. It's the best anti-aging thing you can do for your skin. If you stay out of the sun and you're wearing sunscreen, it's going to make the biggest difference ever in how your skin ages. All the things we were running to do, all the treatments, all of that's because we didn't use sunscreen.
On the topic of anti-aging products, is eye cream worth it? 
One-hundred percent. There are so many different options out there that don't work, and I get why so many people have so many complaints, like I don't think they're working! But there are great effective ones. I just came out with my eye cream. That was the last product I came out with because I think if it has the right ingredients, it makes a huge difference. I worked really hard on mine because I felt the same way that everyone else feels — like, What's the point? I've always used retinol all around my eyes, but for people that just can't tolerate it, I think it's important to have a good eye cream. You just have to make sure that it has amazing ingredients and that it's proven to work. You have to make sure they've done the trials. I have silk-tree extract in mine, which really helps to brighten the eye area. We did a bunch of trials on it, and it reduces dark circles by 40 percent, which is amazing. There are so many ingredients out there, but if you have an eye cream with retinol in it, that's great. Retinol is one of the best anti-aging ingredients by far, so I think if your skin can tolerate it, I'd say that's probably one of the best things to look for.
What's the wildest luxury-beauty experience you've ever had?
I really thought long and hard about this, but I don't have one. I don't think I've ever done anything crazy! I've worked at every spa in Los Angeles, and I don't think that I've done anything weird. That's sad. Maybe I need to get out there. I also think it's different when you work in the field. I've seen it all. I've seen it all. So I don't have that inclination. I just don't. This sounds awful, but I probably wouldn't go to a spa, you know what I mean? I've worked with them for so long that it's not my thing. I definitely am a person that doesn't buy into a lot of hype. I have so many people that will ask me about certain treatments. And I'm like, I don't even know why you're thinking about that. But I also don't get very hyped up about new products, either. You know how everyone will read about the latest new products, and they all freak out? I don't have that either. It takes me a lot to really love something new.
What are the wildest beauty treatments people ask you about most often? 
I think a lot of what I see and hear about the most is a new laser treatment. People are very much into getting as many laser treatments as they can possibly do. I see that a lot. You know, with lasers, you just have to be really careful. Unless you have fair skin, it can be a very slippery slope. It's a hard one. You can end up damaging your skin. I always tell people to go to a plastic surgeon and talk to them about it. They know a lot more about it. And be very careful.
There are a couple of treatments that I've seen good results with. People are very much into Morpheus now, and I have seen people with some good results from it. Another one called Profound is really great. There's a doctor up here that does it, and you get really good results. But there's downtime; you're swollen; you look crazy. It's like microneedling, which I love, but I love microneedling when it's performed by a doctor and where you do have downtime. I've seen some amazing results, but not so much from the noninvasive versions.