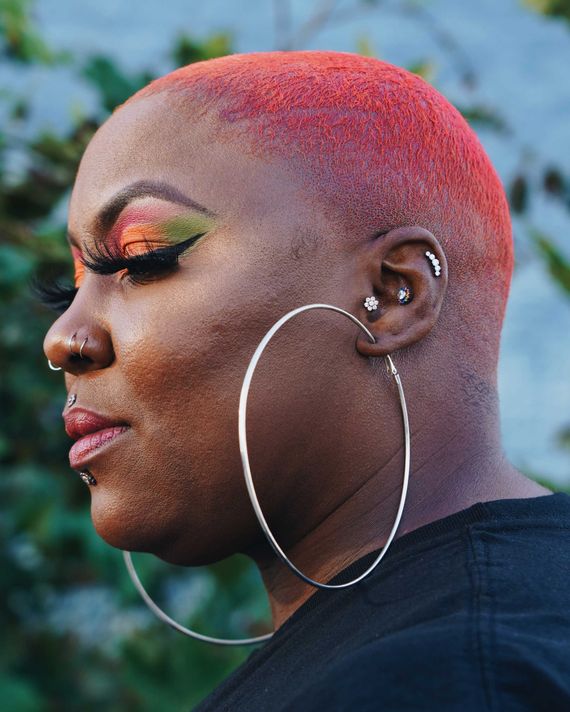 Shirley Raines.
Photo: Texas Isaiah
Black Beauty Matters: Celebrating Black excellence and influence in beauty.
Self-care is, by definition, typically and selfishly meant to be about caring for one's self. In its purest form — rid of bogus, wallet-draining products that often serve capitalism more than the soul — self-care allows room for blissful and intentional heeding to whatever (and whomever) serves your spirit. But for Shirley Raines, founder of Beauty 2 the Streetz, a Los Angeles–based nonprofit serving the homeless community, self-care is decidedly selfless.
For Ms. Shirley, as the community she's now served for six years calls her, self-care is a daily action that culminates in a weekly Saturday service. The gathering is one in which she asks unhoused individuals on Skid Row a simple, oft-desired question: "What do you want?"
When we chat on a Monday afternoon, Raines is enjoying a moment of respite before she goes shopping to fulfill requests for the week; think honey buns, McDonald's burgers, and "shower-in-a-bag" kits. She's fresh off of an Instagram Live filled with laughter and casual banter about coitus — among other things. "I gotta go, I gotta go, I got a Zoom in three minutes," she laughs before ending the livestream. If it feels like she's talking directly to you, it's because she is. Beauty2TheStreetz's 238,000 Instagram followers are responsible for funding the work she and her team of about 25 do every week. Her followers' donations on the platform allow her to provide hygiene products, beauty sessions (complete with hair-dye jobs, long bright wigs, eccentric makeovers, and fresh cuts), and a catered family barbecue fit for 500 kings and queens, as she lovingly calls those who attend.
Sporting little to no makeup, a shirt emblazoned with "Black Powered," and wide-framed Voogueme specs with a soft throw over her shoulders, Raines dials in from her couch at home in Long Beach — a pineapple-flavored probiotic Pressed juice in hand. The 54-going-on-34-year-old leader is direct and refreshingly self-aware. Beauty, she explains, is at the crux of her organization, and it's an inside-out job.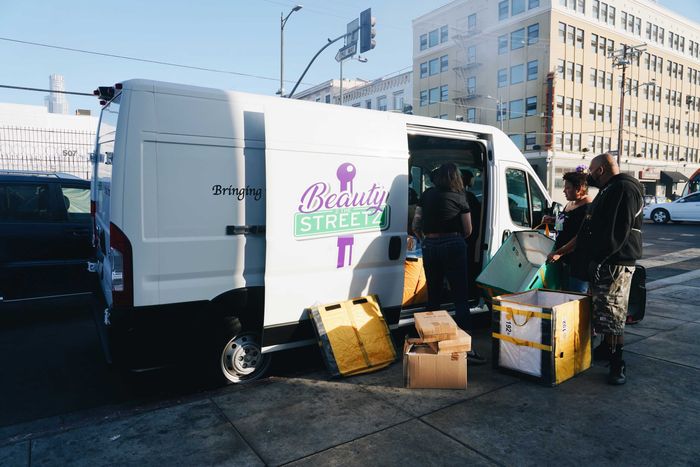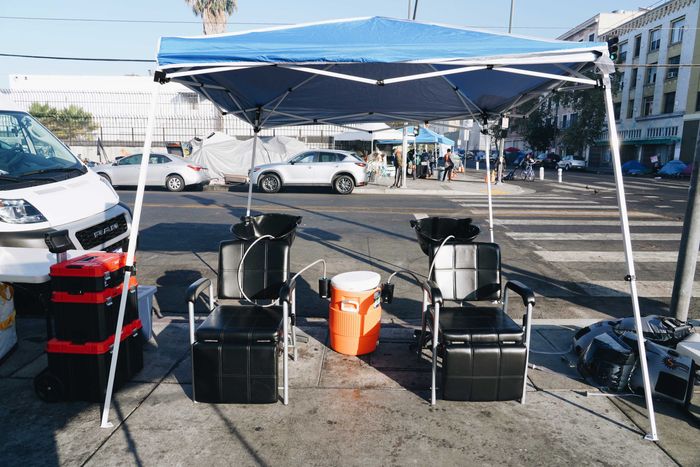 "Beauty is in the eye of the beholder, and that's why I always tell people I'm lucky that I found a community that holds the things that I behold as beautiful as beautiful." When asked what those are, Raines tells me, "I don't know how to say it … you can clean it up," before uttering words she absolutely knew how to say, and I'd later opt to leave exactly as is. "The beauty of me is that I don't give a fuck what society says I should wear, you know what I mean? The boldness that I have is beautiful to me … It was nothing to cover my hair yellow when it wasn't normal because I didn't feel like I fit into your normal society anyway. It's nothing to me to have eyelashes on so long that I can't even blink and put my glasses on …"
Although Raines has a physical place to call home, she feels a strong sense of belonging among the community she works with; it's the only part of society that she's ever felt truly in tune with, and the degree of pain she often observes is something the mother of six knows all too well.
In 1987, Raines tragically lost her 2-year-old son, Demetrius Jay Stephens Jr., five days ahead of his birthday. At the time, she was six months pregnant with her eldest daughter. Grief changed her forever. We connect mere days away from her late son's birthday, over 30 years later, and the local hero is newly brought to tears at the thought of his memory. "This is driven from my pain," Raines says of Beauty2TheStreetz. "One of the worst painful experiences in my life. This is a pain-driven nonprofit. And that's why I fight so hard for it."
Six years ago, Raines stumbled onto Skid Row with a church friend who invited her to serve on a Sunday. She remembers that day vividly. "This is where all the mes are," she thought to herself that day. "This is where all the broken people are. It was like I found my forgotten family." She filled the Saturday slot soon after, taking compliments on her makeup and hair as nudges that perhaps those in the community wanted the same. It turns out they did.
According to the Los Angeles Homeless Services Authority count conducted last year, more than 66,000 people living in the city are homeless. On average, over 200 people become homeless every day — and those numbers are based on a pre-pandemic-ravaged economy. (More recent numbers are unavailable because the annual homeless count in Los Angeles was canceled in 2021 due to the pandemic.)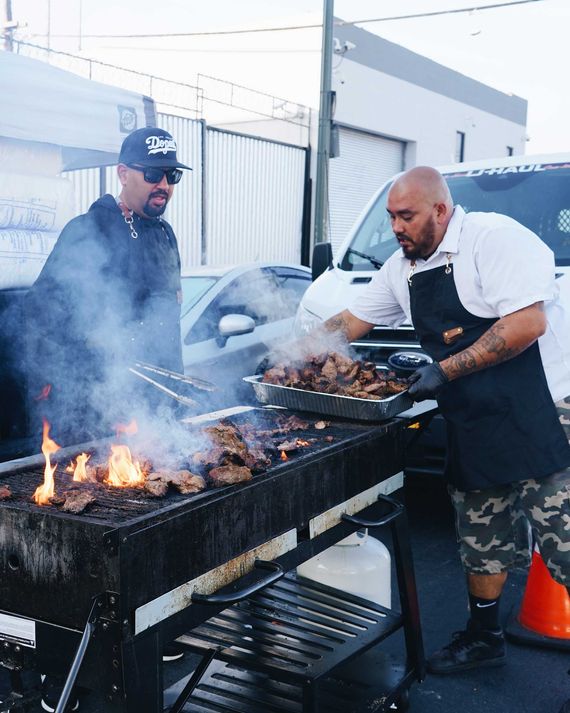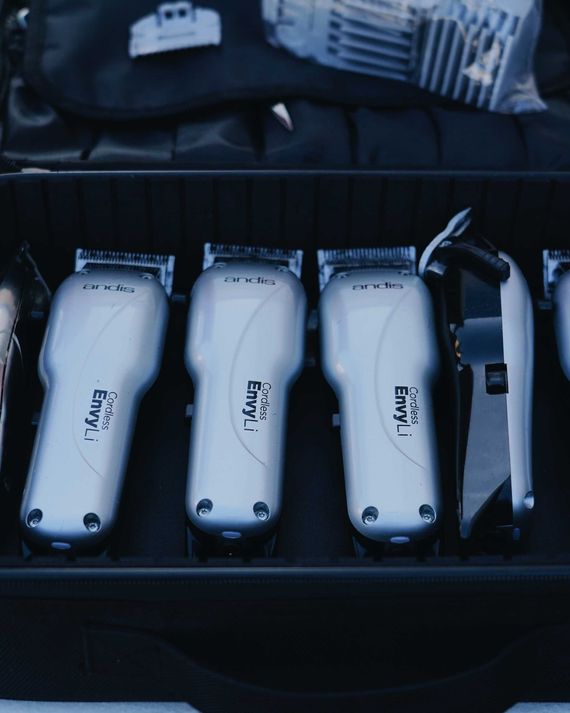 A California native, Raines gained some recognition — and judgment — when she posted videos handing out resources on Skid Row at the height of the first wave of the COVID-19 pandemic in 2020. Aware of the potential risk to self, Raines continued to show up, week in and week out, to make sure folks were taken care of.
"For years I've been telling this community, 'I love you …' and all of a sudden something happens and people are like, 'Stay in the house, save yourself.' And I'm like, 'What about my community?' And people are like, 'No, save yourself.' Oh, hell no," Raines utters in disgust. "I'm like … married. This is for better or for worse."
Though she's often, and rightfully, the recipient of praise, selfless self-care comes naturally to Raines — something she attributes to growing up in a Black household where the ritual was fostered. Plus, to her, beauty has nothing to do with what's seen on the outside and everything to do with your core. She wants to strengthen that core for others. "It's the way you feel inside," Raines says of beauty. "People are already pointing at [homeless people] and making fun of them for living on the corner, and their pain, and their trauma. And here they are going to walk around with bright blue and green hair and draw more attention to themselves. I feel like it's a big fat 'eff you' to society. 'I'm going to walk around the way I want to walk around and if you don't [always] see me, then don't see me with this purple fucking hair.'"
In a former life, Raines was a professional medical biller, but even then she'd wear her piercings, tattoos, and bright colors with pride. She's now teaching her community to wear their preferred colors proudly, too, regardless of skin tone (she's appalled that some Black women think they can't wear certain colors) and to build worlds of their own — on Saturdays, and every day thereafter.
"If I walk on water, oh, I need everybody to clap … Like, everybody better clap. But I'm [just] doing what I'm supposed to be doing," Ms. Shirley says. "Society's got it all wrong."