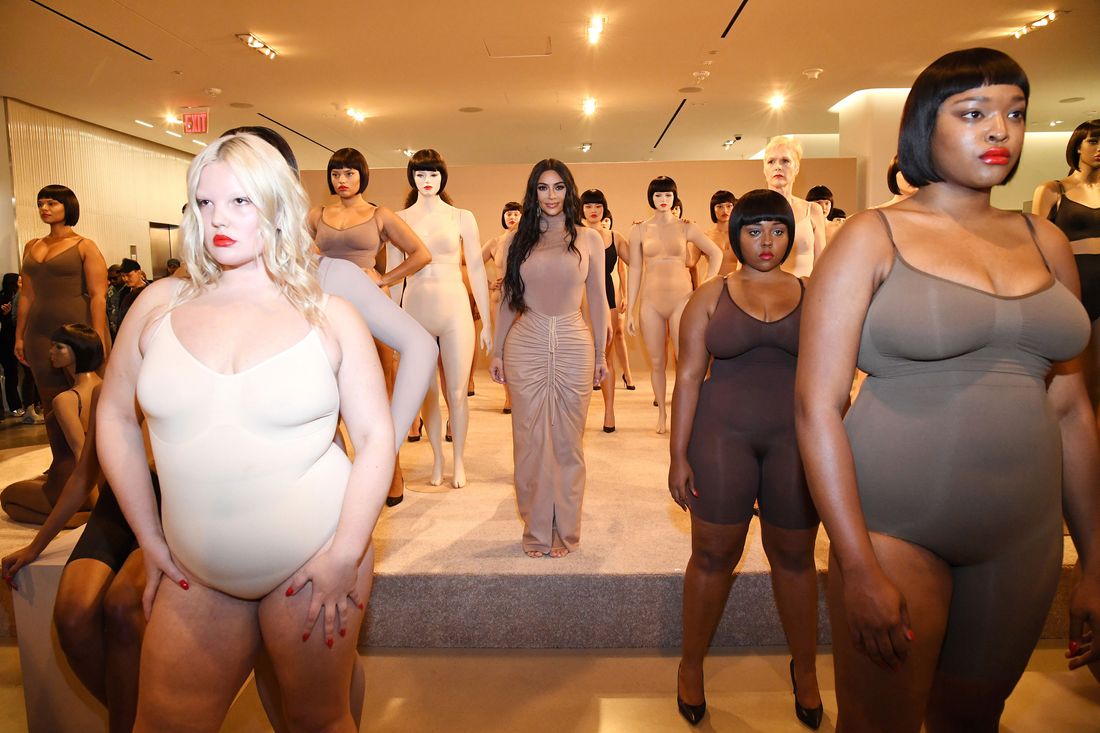 Kardashian West at the launch of Skims in February 2020.
Photo: Kevin Mazur/Getty Images for Nordstrom
"Don't judge me, but they're Skims."
That's the text I shamefully sent to a few of my Black girlfriends asking where I bought my underwear (and, last year, face masks in three different colors). At a moment when we were spending more time in our apartments than ever, my friends and I were obsessed with upping our loungewear and undergarment game, and I had to admit that Kim Kardashian West's brand was worth browsing.
"I love Skims 😩"
"Again … why is Skims so cute?"
"I bought some of the waffle drop."
"I'm about to place a big-ass Skims order on SSENSE 😩
Do you own anything that you'd recommend?"
It's not that I'm against celebrity brands. I have worshipped at the altars of Glow by Jennifer Lopez, Paris Hilton's many fragrances, Fenty Beauty, House of Deréon, and Sean John, to name a few. But supporting someone I constantly grimace at hits differently. This is the same Kim Kardashian West who coined the term "boxer braids" for … cornrows … and who is forever finding new ways to profit off Black culture. Skims itself was born in controversy: Introduced to the world as Kimono, its name was changed only after it faced a cascade of criticism (the mayor of Kyoto even put out a statement asking Kardashian West to consider the Japanese history of the word). I wondered if people would think my wearing Skims meant I didn't care about the aforementioned controversies or, worse, that I was a fan.
Still, I couldn't resist. I'm an underwear minimalist — I only wear nude, black, and white. I prefer no prints or frills, just plain old cotton. I once got into a fight with my ex-boyfriend because he assumed I would wear pink lace panties. He didn't get it! Skims, however, gets me. My first purchases were the ribbed cotton bra and boy shorts; I soon began swapping out most of my everyday underwear for Skims. They're breathable, buttery soft, and French cut, perfect for lounging and taking thirst traps. In particular, the thongs impress me; there's a dip in the front and rear ideal for low-back and low-waist bottoms and dresses, made for women who "started wearing less and going out more," which is most of us lately.
Then there is Skims' wide range of both sizes (XXS to 5X) and nude shades. In terms of what brands should be doing, this isn't exceptional, but in terms of what brands are actually doing, it is. I also like the neutral colors — I'm partial to bone — and minimalist branding. Scrolling through the website feels more like shopping for good basics than shopping for Skims — like I'm being marketed underwear for an adult woman, not for a man's fantasy. So that's why, despite my criticism, I caved. And I'm not alone.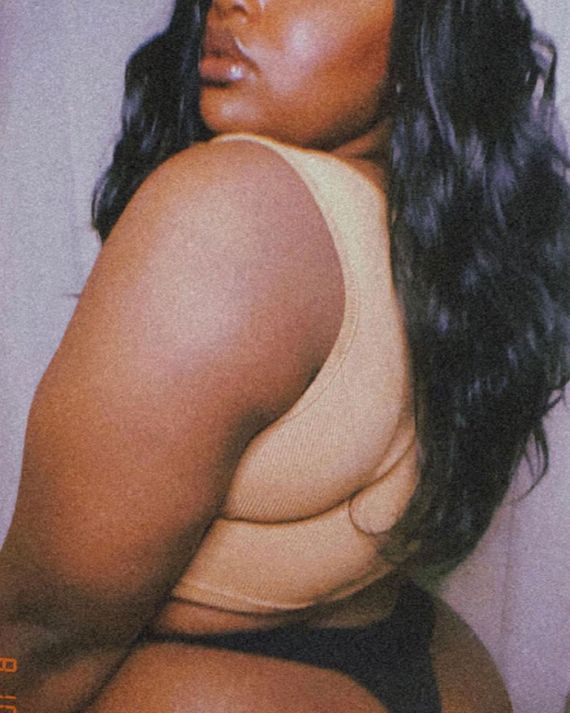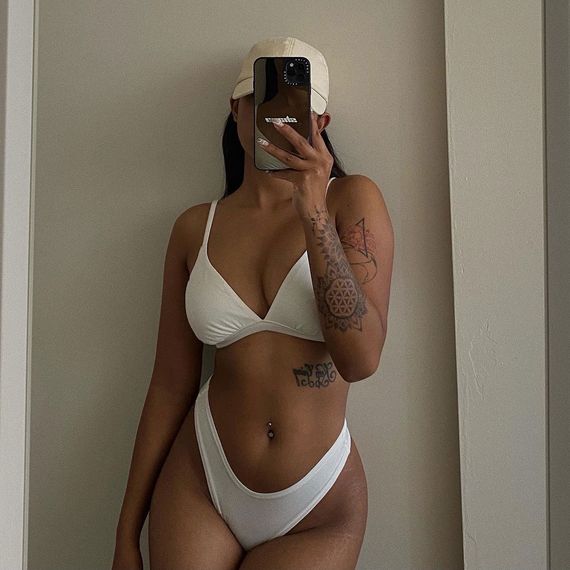 "It flatters me and stays in place all night," says 22-year-old Hagan Crear. She has been wearing shapewear since she was 16, back when the options available to her didn't match her skin tone. For Crear, supporting Skims as a Black woman is complicated. When she tells her friends that her shapewear is from Skims, it usually turns into a conversation about how they can't believe she gives the brand her money, "especially when they already take so much from me culturally.
"It's like either I can go back to being uncomfortable, to my life before Skims, or feel good about myself," she says.
Before Skims, says 33-year-old fashion buyer Topé Akinyode, "I remember going on a date wearing shapewear and having to go to the bathroom to take it off and then coming back to hook up with the guy. I just looked maternal and unattractive." Not so, she says, when she wears her Skims, telling me she was amazed that the bandeau bra actually held up her breasts. Still, she cringes at the brand's Kardashian Konnection. So she only buys secondhand, on Poshmark, taking advantage of a loophole — kind of like a carbon-offset program for problematic shapewear: "I think this is how we have to reconcile a lot of things."
Another loophole: lying. Twenty-five-year-old Strategist writer Tembe Denton-Hurst fell in love with Skims after her girlfriend bought her the matching ribbed cotton tank, briefs, and bra set (in bone — taste!). Whenever she gets a compliment on a Skims look, she tells everyone she's wearing Fashion Nova. "I don't want to be associated with anything that family does and don't want to be seen giving my coins to a brand like that," says Denton-Hurst. She only name-dropped Skims around close friends, until now. "Only to explain that KKW has me in a choke hold, and I hate that for myself," she says.
Other women vowed to never support a Kardashian, no matter how good the product is. Neither 30-year-old Ashley Van Heel nor her 28-year-old sister, Kasi, are Kardashian West fans, but they fall on opposing teams when it comes to Skims. "I just don't support people if I don't fuck with them," says Ashley. "Like, I love a lot of Kanye's sneakers; I refuse to buy any of them. I love a lot of Virgil's designs, but I refuse to buy them either."
Kasi, on the other hand, is able to separate the product from the person. After becoming a mother of two, she started wearing shapewear and likes Skims' quality and the price point. "I don't know what half of these other companies are doing, and I'm still buying their shit," she says. "I don't know what the person who created this app that my kid is using might be doing either; he just doesn't have a TV series that shows that he's an asshole to Black people."
"If you look up the background of any lingerie brand, you're going to find something that disappoints you," writer and lingerie expert Cora Harrington tells me. Its founder aside, she adds, "As far as the size range, colors, and range of products, Skims is probably better" than most.
Perhaps resistance is futile. "Kardashian has always been a source of entertainment to me, but I'd never been a consumer, ever," Recho Omondi, the 33-year-old designer and host of The Cutting Room Floor podcast, says of the shame around buying her first Skims bodysuit. "There is some sense of defeat that after ten, 15 years in the game, she got me. With all the products she's been peddling all these years, to have dodged them all felt like a success, and now I got caught in the cross fire." Since I chatted with her for this story a few weeks ago, Omondi tells me that she has spent $350 on Skims bodysuits, which, coincidentally, are next on my list to purchase.
More From fall fashion issue 2021
See All