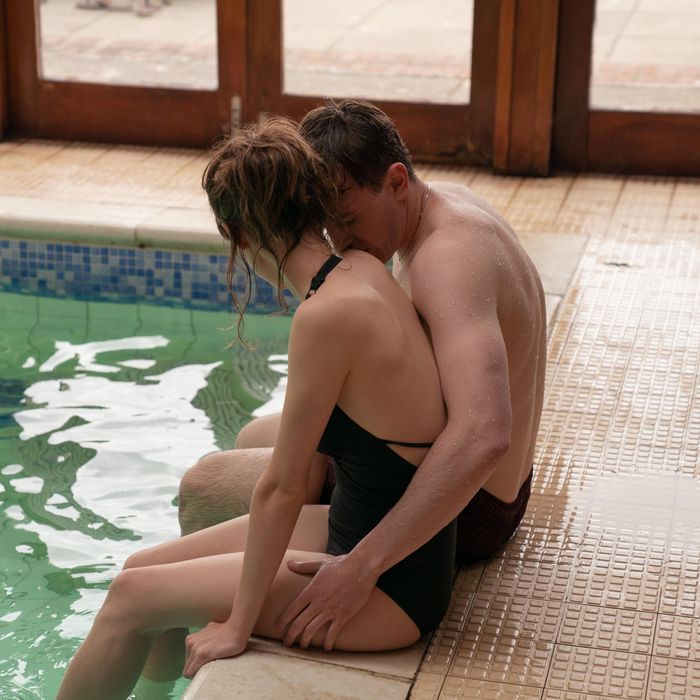 I grew up learning about sex through a steady diet of teen TV, where a moody slow-rock track always played in the background, both participants knew exactly what they were doing, and the bras always stayed on. And whether or not the CW's Tuesday-night lineup was your preferred mode of entertainment, many of us were under the impression that sex was pretty effortlessly sexy until we started having it. Realizing sex could be awkward and gross and funny and everything in between was a kind of unlearning that came with growing up.
Which is probably why the sex in Sally Rooney's books, which is hot at times but also awkward and tense and confusing, is so popular. The way Rooney writes sex has always felt distinctly, well, real — not to mention attuned to the many shades of human desire. It's the antidote to years of unrealistic sex conditioning. Her newest book, Beautiful World, Where Are You, is no exception.
But good horny books need not end with one very successful Irish writer. If her newest installment left you wanting more, or maybe something a little different, here are our recommendations.
If Normal People Felt a Little Too Straight
I read Jeanette Winterson's Written on the Body for the first time in college. I wasn't out yet, but Winterson's tale of a lovelorn narrator entangled with a married woman spoke to me. And it wasn't just the inherent queerness of the book's conceit (the narrator's gender is never revealed) or even the sex, which is depicted spectacularly. When the narrator learns that their paramour is ill, they dig in deep, wanting to understand every cellular function. What ensues are gorgeously sexy descriptions of her flaking skin, the bony ridges of her clavicle, the blood flowing through her veins. The narrator wants to understand their lover from the inside out — and honestly, I'm not sure what's sexier than that. —Kerensa Cadenas, senior editor
If Normal People Felt a Little Too … Missionary
Kink is a collection of short stories, co-edited by Garth Greenwell and R.O. Kwon, that navigates the tricky waters of when kink can be fun, when it can be vanilla, and when it can be downright bad. Compelling stories by the likes of Roxane Gay and Brandon Taylor run the gamut of pleasure, pain, and tension but never shame or try to explain kink away. —B.A. Parker, lead producer, The Cut podcast
If You Got Tired of Waiting for Marianne and Connell to Have Sex
For me, the most frustrating thing about Rooney's characters is their refusal to get out of their own way, an impulse that is pretty human but also excruciating by page 100. Luster takes a similarly frank, straightforward approach to desire but through the eyes of a woman who is not only sharp as hell but also prone to big impulsive actions. The object of her horn is, improbably, a generic feckless guy who still ghosts in middle age, but in Raven Leilani's hands, sex with him somehow fails to be embarrassing and winds up being hotter than he deserves. Her talent! —Claire Lampen, staff writer
If You Actually Do Miss Gossip Girl
Is there anything more romantic than a high-school crush? That's how I felt reading Normal People and also how I felt reading Prep, by Curtis Sittenfeld. Set at a fictional American boarding school, Prep hits similar notes as Normal People: A popular boy sneaks around to hook up with a smart, weird, not very popular girl — a dynamic I apparently find irresistible. It's the kind of book that kept me up reading late into the night, dying to know how things were going to end between these two doomed teens. —Erica Schwiegershausen, senior news editor
If You're Craving a Little Period-Piece Spin
The plot of Edith Wharton's 1920 novel The Age of Innocence goes something like this: A man on the inner rung of high society falls in love with a disgraced woman on the outskirts; they're clearly made for each other, but — drama — he's betrothed to someone else. What follows is hundreds of pages of longing, pleading, coming together and falling apart again, and bumping into each other on vacation. If that sounds pretty close to Normal People, that's because it is! Rooney's second novel is essentially a forbidden-love story, though the characters are kept apart not by strict social mores and divorce laws but by, uh, insecurity and communication issues, I guess? All the same, fans would love the Wharton novel (and when you're done, you can feast on the 1993 Martin Scorcese adaptation starring Daniel Day-Lewis, Michelle Pfeiffer, and Winona Ryder). —Jordan Larson, senior editor
If The Lighthouse Got You Wondering About Mermaid Sex
If I told you a book about hauling around and hooking up with a scaly, fishy merman — that is, when the main character isn't neurotically overthinking just how to haul around and hook up with a scaly, fishy merman — was can't-read-this-on-the-subway-level horny, would you believe me? Well. At the center of Melissa Broder's sharp, delightfully bizarre novel is Lucy, a Rooney-esque character: anxious, unsatisfied, deep in thought. And when she's eventually yanked out of her own head and into bed with a half-fish, half–hot guy, it's (somehow) as realistically sexy as two Irish college kids with communication problems. —Jen Ortiz, deputy editor
If You Want to Be Turned on But Also a Little Scared
This book was recommended to me by Book TikTok — I am 31, so this is brave of me to say. All I knew going in was that it's a buck-wild psychological thriller, equal parts dark, suspenseful, and horny, so that is all I will say to you. Also, it's a fairly quick read in case you don't feel like spending the next month tits-deep in a psychosexual book. —Mia Mercado, morning blogger
If You're Looking for a Coming-of-Age Story
Zaina Arafat's You Exist Too Much follows a Palestinian American woman from girlhood to young adulthood as she comes to terms with her sexuality, her eating disorder, and her feelings of otherness in a mainly white, straight world. Although the novel is emotional and full of tension, it also relies on the love and attraction the narrator feels to pace the story. Following a pivotal breakup at the beginning of the novel, the narrator lusts over her treatment-center therapist and her professor, only to fall in love with a visiting writer and have her heart broken again. I would add this painful and sexy book to all must-read lists. —Brooke LaMantia, intern
If You're Crushing on Your College Professor's Wife
At first glance, Susan Choi's My Education seems as if it might be your standard "graduate student has affair with married male professor" story — in other words, a dull cliché. But Choi isn't one to fall into that trap. Instead, her protagonist has a torrid affair with said professor's wife. It's messy and sexy, full of descriptions of C-section scars and rumpled bedsheets. But what may be its sexiest part is the unresolved wanting — the inability to claim the other as her own, the sneaking around, and ultimately the future they can never have. —K.C.