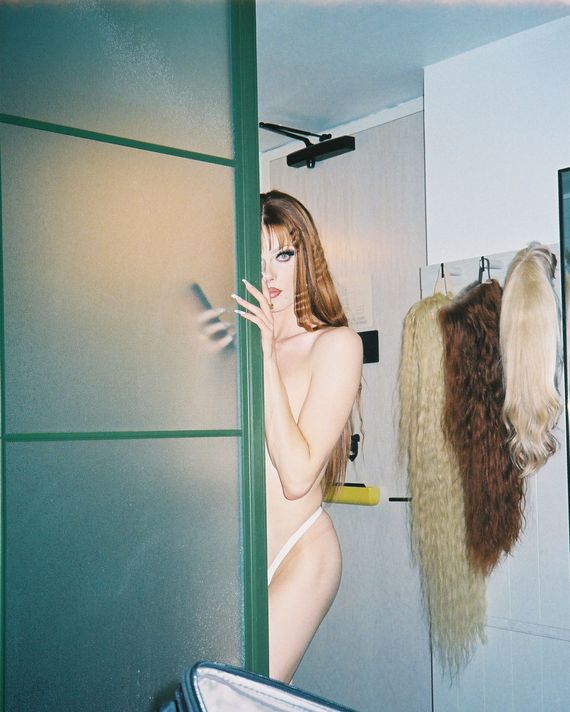 "I was on my phone, probably gluing down my wig. I always like to unpack and hang all of my wigs in my room. Before we went to the Christian Cowan after-party, I decided to just crimp some of the hair before changing into my Gaultier look." — Gigi Goode
Photo: Fields
When most people come to New York, their itinerary might include climbing the Empire State Building, strolling through Central Park, shopping on Fifth Avenue, or even visiting Bushwick (if they're feeling really adventurous). But the House of Avalon — a Los Angeles–based queer collective that got its start in 2014 throwing house parties in Arkansas, with members like Lizzo's stylist Marko Monroe and Symone and Gigi Goode from RuPaul's Drag Race — is not most people. Their weekend included New York Fashion Week, the VMAs, and the Met Gala.
These events, especially the Met Gala red carpet, are some of the most photographed and talked-about events of the year, but rarely do we get to see everyone attending let loose and, you know, have some fun.
"I've never consecutively not slept for so many hours," Goode told the Cut. "We just kept going because there was always something that was happening right after the next. It was the adrenaline of at all!"
So what does it look like when they all head to New York together with their makeup, wigs, and head-to-toe looks? Pregame shots! Messy after-parties! An impromptu belly-button piercing!
Just keep scrolling for a look at the after-party VIP access, the straight-bar invasions, the rare moments of downtime for introspection, and the belly-button piercings.