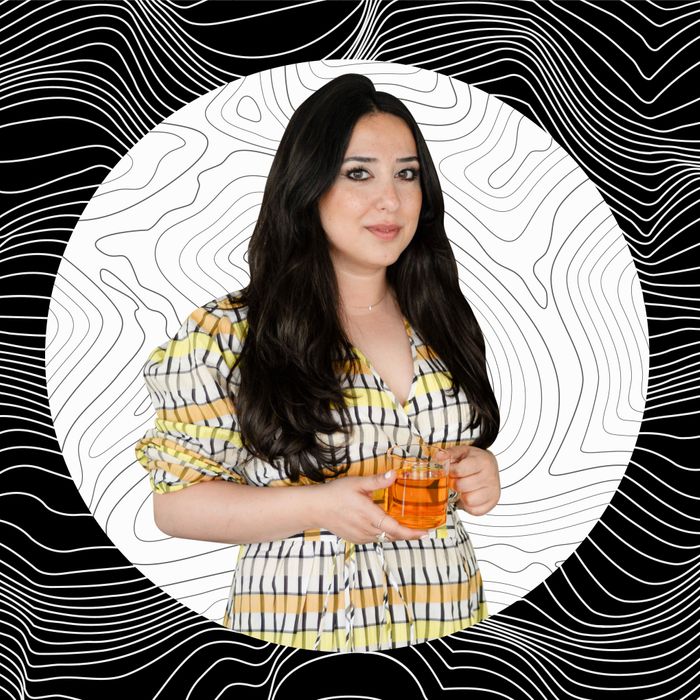 Photo-Illustration: by The Cut; Photo: Courtesy of Tahmina Ghaffer
Tahmina Ghaffer's saffron company Moonflowers was built on a dream to support Afghan women. The entrepreneur, who is originally from Kabul and resides in Washington, D.C., says, "Saffron harvesting is very labor intensive — over 50,000 flowers are harvested for just one pound of saffron — and 80 percent of the workforce is made up of women." She partnered with women farmers in the Herat province to create job opportunities, but with the Taliban now in power, the future is unclear. "The harvesting season has started, and women are scared to work," Ghaffer says. On her end, the founder is dealing with the logistical issues of exporting saffron shipments — Moonflowers currently has enough of the spice to last only through the spring of 2022. 
Ghaffer's family fled Afghanistan when she was 5 years old and sought refuge in the Netherlands. She is all too aware of the pain and struggle that comes with leaving your home, so as she tries to navigate her next business move, she's also spending a lot of her time and energy helping Afghan refugees arriving in the D.C. area. She's picking people up from the airports, cooking and delivering meals, and gathering clothing with her family. Here, Ghaffer shares how she keeps calm despite her busy schedule and the heartbreaking news coming out of Afghanistan.
On her definition of wellness: Wellness means taking care of yourself both physically and mentally. Part of wellness is also surrounding yourself with great people and great energy because that also affects you.
How COVID-19 changed her approach to wellness: Before the pandemic, I always had a full calendar, and every day there were so many places I needed to go and people to talk to and things that needed to be done, and my only breaks were going on vacation. Then the pandemic hit, and I got to spend more time with my family, and I really started appreciating all of the small moments, like just having tea and chitchatting or cooking food. I also spent a lot of time creating recipes, reading, and going for longer walks.
Unfortunately, I feel like it's human nature to forget and pick up wherever you left off, and I do feel myself going back to a lot of meetings and constantly being busy, so I'm trying to work on taking time for myself. That's something that I would love to do more.
On her mornings: I wake up around 8 a.m — even without an alarm. I've been dog-sitting for my friends, so it's been nice to go on a little walk first thing. When I'm back, I boil water for my saffron tea — I really want my mornings to start slow, and making tea is the time when I have a few moments for myself, where I don't have to be occupied with emails. I have whole cardamom pods, so I cut one or two open and add them to my pot, add hot water and saffron, and let it steep for about ten minutes. Then I have a simple breakfast; it's always toast with labneh and some kind of jam that I make.
On making her own jams: I started doing that during the pandemic because I really love jams, but I don't like supermarket ones because they have so much sugar that you can't taste the actual fruit. I thought, How hard can this be? Let's try it out. I learned a lot about canning techniques and how much sugar you have to use for different fruits because there's a certain ratio. When rhubarb was in season, I used to make it with cardamom. I'm obsessed with saffron-peach jam now, and blueberry-cardamom is also a really good combination. Preservation Society Home Preserves: 100 Modern Recipes is great if you want to learn how to make your own.
On creating her own recipes: I love trying new foods and learning different methods and recipes, but more than the act of doing, I love the research. Like, if I'm making a recipe from a different culture, I like knowing its history. I always try to find different recipes so I can compare, and sometimes, I like to use different ingredients. For a saffron flan that I made recently, I was Googling if you can use herbs or spices in flan and I found a recipe that had turmeric. I thought, I'll replace it with saffron, and it must have the same effect. Sometimes my recipes turn out great and sometimes they don't — the first time I made the flan with a friend, it tasted really good and it was the right shape, but in the middle, it had a crack that looked like a belly button. [Laughs.] But it's definitely a fun process, and I always like to be optimistic.
When it comes to cookbooks, I'm really obsessed with one called With Our Own Hands: A Celebration of Food and Life in the Pamir Mountains of Afghanistan and Tajikistan. An ethnobotanist went to the northern part of Afghanistan where the Pamir Mountains are. The people that live there don't have a lot of fertile ground because it's very mountainous and rocky. They only harvest things that can grow there like stone fruits and mulberries, which is considered a super-fruit. Their agriculture is entirely based on survival, and the book comes with recipes and more about their culture. When I really want to dive into something and not think about the current state of the world, I love to go through that one. I also really love Feast: Food of the Islamic World and Mexico: The Cookbook.
On hosting dinner parties: Cooking is something that I do for other people and with other people. Luckily, most of my friends are really foodies. Sometimes our dinners have a theme. Like, we'll call it the "Afghan Experience" and make everything — the appetizer, the main, the dessert — infused with Afghan flavors and spices. One time we did that, we started off with a yogurt-and-cucumber dip that you eat with bread. For the main, if you really want an Afghan meal, there has to be basmati rice, so we made basmati rice and topped it with saffron. You have to eat the rice with a stew. For dessert, we have something that is like rice pudding, and it has a cardamom and you can top it off with pistachios.
On helping refugees: The first few days that the Afghan refugee crisis started, I was gathering clothes and other products. Then the World Central Kitchen approached my family — my family owns some restaurants in the D.C. area (Sheesh Grill, JINYA Ramen Bar, and Paraíso) — and they asked if we could make meals for the Afghan refugees that were coming into the airports. At first, we wanted to serve something that we already make, like kebabs and rice. But then we thought, and given from experience, when you leave your home and you leave your country and you've arrived somewhere unknown, it's really nice to be able to eat the food that you know because the scent, the feeling, the flavors, they're familiar. So we've been making basmati rice with a curry that has chicken and chickpeas, and we've been serving about 1,000 meals a day.
On her nighttime routine: The night is really about skin care for me. It's good for your skin, but psychologically, it also helps me feel good. My routine is very simple. I start by washing off my makeup with Clinique Take the Day Off Cleansing Balm Makeup Remover and Bioderma Sensibio H2O Micellar Water. Then I use my Glossier Solution. Afterwards, I love to put on a serum. I use a lot of Kiehl's and I love their Powerful-Strength Dark Circle Reducing Vitamin C Eye Serum because it's very gentle on the skin. Sometimes I use Dr. Andrew Weil for Origins Mega-Mushroom Relief & Resilience Advanced Face Serum, and I also use a lot of Clinique because I have sensitive skin and their products don't have perfumes. I always wake up with glowing and hydrated skin after I use their Moisture Surge Overnight Face Mask.
Lately, I've been sipping tea at night because it makes me slow down. I've also been reading books. That's one way for me to not be in front of any screens. I've been reading The Idiot by Elif Batuman until I'm tired enough to fall asleep, usually around 1 a.m. I tell myself every night that I have to sleep earlier, but for some reason, it doesn't happen.