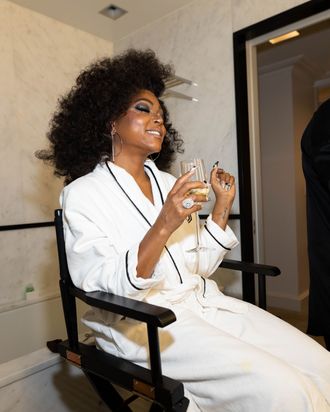 Photo: Photographed by Dani B for The Cut
It was a no-brainer that Taraji P. Henson wanted her look for this year's American fashion themed Met Gala to be an ode to Diana Ross. "Diana Ross is iconic. That's who I grew up wanting to be," Taraji says. "She's everything that embodies Hollywood, glam, and fashion. Growing up in the hood and watching her gave me something to aspire to be."
Working with her stylist, Jason Bolden, they leaned into cool references from American fashion and American music, specifically during the disco time period. "The flamboyance and courageousness of innately fashionable Black women during the time of disco inspired us," Jason says. Tapping Jeremy Scott for the gala was an obvious choice, not only because he and Taraji are good friends, but also because he's willing to "push the envelope," Jason says. "Jeremy steps out of the box and dances to his own music, so it was a perfect collaboration."
See: All the Looks From the Met Gala
While you may think everyone started preparing for the long-awaited 2021 Met Gala as soon as the sun rose today, that's not the case for Taraji. Her preparation for fashion's biggest night of the year is low-key and quiet. She spent the morning doing one last fitting for her embellished catsuit and then enjoyed her "me time." "I'm talking to my girlfriends and we're recapping my birthday weekend," Taraji says as she drinks her green juice and water and just chills until it's time to get ready. "I'm very low maintenance."
She started her prep yesterday with her manicure and pedicure, which she says is "therapeutic" to her. The 3D textured nails done by Temeka Jackson are blinged out to complement her Moschino look. "Each nail is art," Taraji says on her manicure. The nails are decked out with Swarvoski crystals, one finger with a blinged out ring and another a 3D black rose.
Next up is hair and makeup. Her skincare routine prep is a series of products by La Mer. Her makeup artist, Ashunta Sheriff-Kendricks is really focused on hydration of the skin, especially her under eyes. To continue paying homage to 70s and 80s American fashion and disco glam, Taraji is going for glowy and glassy skin. For a skin-like foundation finish, she's wearing one of her favorite foundations, Koh Gen Do. The glass skin look with a glowy cheek brings the attention to her intense smokey eye. "Think Donna Summer and supermodel Imani," Ashunta says. To top the look off, Taraji went with a neutral lip from The Lip Bar.
To complement her sexy smokey eye is her textured hair, inspired by Diana Ross — specifically her hair on the cover of her 1987 "Red Hot Rhythm & Blues" album. To prep her hair, Tym Wallace used her own hair care line, TPH by Taraji for a moisturizing shampoo and a leave in conditioner to help the hair be shaped. "I went in with a flat waving iron and a micro iron so the hair could have multiple patterns and textures," Tym says. The vision for the hair against her catsuit is drama and glamour, "almost like she has a fan blowing her." "It's big, voluminous, textured, and Hollywood glamour."
See below for photos of how her final look came all together.