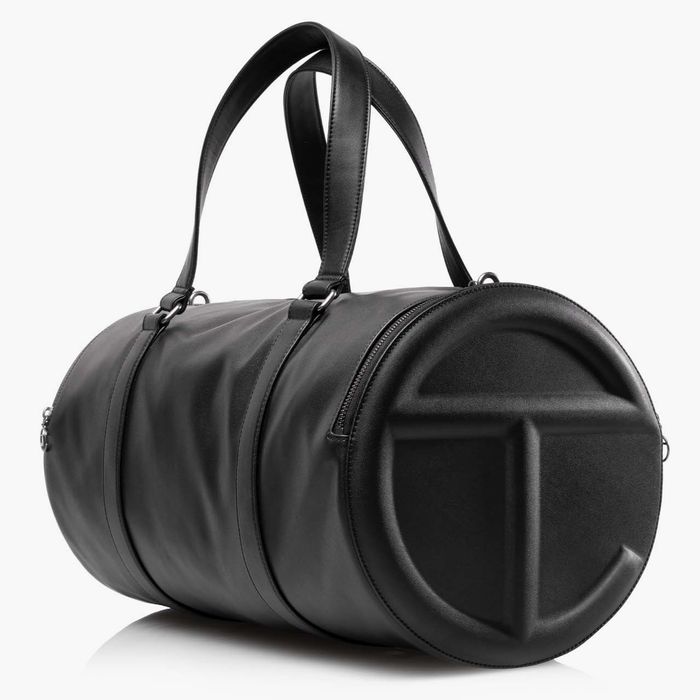 Today is the official launch of the duffel bag, Telfar's first bag to be designed outside its incredibly popular shopping bag, dubbed the Bushwick Birkin. Like the shopping bag, the duffel comes in three sizes: small, medium, and large. Right now, it only comes in black. It is designed with logo side pockets and detachable shoulder straps — for a weekend getaway, or for a work bag if you prefer a duffel over a tote.
During New York Fashion Week, the brand held a press conference to announce the launch of Telfar TV: a channel for the community dedicated to showcasing the work of artists, from music to shows, but it's also the new destination for the highly coveted launches, like the duffel, that the brand does.
The launches are now referred to as "drips." According to the brand, "A drip is not a drop, a drip is never announced." If 100 people are watching Telfar TV, 100 bags will be dropped, or "dripped," if you will. This is an attempt to cut down on bots, a.k.a. software programming that scoops up the bags faster than our human hands can reach for credit cards.
Here's how the launch was supposed to go: Viewers tune in at 12 p.m. ET to catch the first of three drips for today's debut. When a random "DRIP ALERT" pops up, a QR code that appears for one minute allows viewers to scan it and check out.
In true Telfar fashion, here's how the "drip" really went: At 12 p.m. ET, there was no content or QR code. Instead, there was a screen that read, "Please excuse us while we make a TV channel." It's humorous and genius at the same time because everyone is still tuned in. About an hour into when everyone tuned in, there was finally some action.
Our features writer Matthew Schneier got in on some of it: "At 1:05 p.m., in need of a break from writing, I opened Telfar.TV on my laptop browser. A QR code hovered. It took me a second to process: Was it always there? A rarity? Without any context, it was impossible to know, and there was no time to find out. Adrenalized by artificial scarcity, my heart began to race. I held up my phone to the screen, added a medium black duffel ($390) to my cart. In the time it took for me to put in my address, it sold out. Will I ever see it again? Ours was a brief but palpitating romance."
So even though the brand said there are enough bags to drop as there are people watching, did it really mean it?
New York Magazine's editor-at-large Choire Sicha also tried to add a bag to his cart with no success: "Watching Telfar TV continue to not offer a product for sale, with its gray Twilight Zone–meets–self-determination aesthetic (at one point, the screen flashed a definition of the word conspiracy), did exactly what every Telfar shopping situation does so well: Mostly, it makes you want a Telfar product. Any frustrations get washed away by the novelty and oddity of watching a TV channel that doesn't exist. How can you not love Telfar for keeping it so weird, even if you now don't have an expensive bag that you didn't need?"
Unfortunately, he can't find anyone online who secured the bag either.