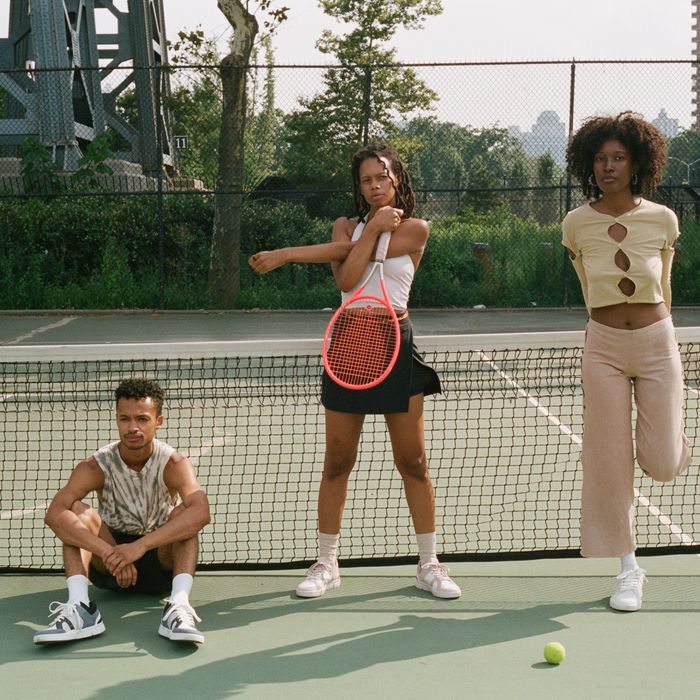 Photo: Satchel Lee; Photography assistant and videographer: Cameron Michael Debe.
If you haven't noticed, tennis is having a moment right now. Tennis dresses, retro white sneakers, polo shirts, and A-line skirts are all back in style, just as major international tournaments are putting the sport back on our screens again. But the trend isn't just about the professional players or the clothes. (Even though the clothes are pretty cute.) When the pandemic shut down cities like NYC last year, tennis became a popular way for residents to get outside and get active — even if they had never picked up a racquet before. The sport allowed city-dwellers to stay connected to one another while also maintaining the requisite six-feet social-distancing guidelines. That connection even happened off of the court: Marquis Rodriguez and Hillary Fisher, two NYC-based actors, hosted live streams of their tennis matches on social media to raise money for mutual aid funds last summer.
Rodriguez and Fisher are just two of the young, NYC-based creatives who found tennis to be an outlet to explore new parts of the city, get outside, and connect with their friends and family last year. In partnership with On, the cult-favorite sportswear brand, we spoke to the pair (and two more creatives) about how they stay active and inspired in NYC, and how they see tennis as part of the city's culture, community, and style. Although On is mostly known for their running shoes and apparel, they also have a new line of tennis-inspired sneakers, created in partnership with Roger Federer. The limited-edition Roger Clubhouse shoe is the most expressive in the line, with bold color options and a nostalgic, '90s style. (They're also designed to be comfortable all day long.) So, lace up those sneakers and read on for our Q&A with Rodriguez, Fisher, Aissa Rose Gueye, and Satchel Lee.
What does a typical day on the tennis court look like to you?
I am still a student of tennis, so my typical day is heading to the handball court or tennis court with my stepdad. We head together from his apartment after we've finished our early morning tasks, and we walk to Battery Park. Sometimes we have to wait for others to finish using the court before we can play, which is a lovely way to pass time because I get to watch more experienced players play and learn from observation. I always get pretty hyped by the time it's my turn to get on court because the energy is infectious. Tennis is a game that only gets more fun the more you practice.
Why did you start playing tennis?
I wanted to change my relationship with exercise and reintroduce play and fun into it, rather than have it be a purely results-driven endeavor. Tennis is a sport I am attracted to because I am starting from the basics, and I'm excited to grow my skill set and see what community and joy it'll bring to me. Tennis has a lot to do with my relationship with myself: It requires me to be more patient, and I am learning how to enjoy the process of building a new skill. This sport has shown me that I am capable of self-compassion as I grow, and I am open to new endeavors.
What "community and joy" has it brought to you so far?
Tennis has given me an excuse to explore more parks and communities where I can play the sport, and thus, meet people I would not normally meet. … The tennis community is kind, and the Black tennis community is hungry to grow, and they welcome you with open arms.
Satchel Lee, Filmmaker, Writer, and Photographer
How does New York City inspire you to be creative?
I love walking around the city during the summer. It's so easy to just walk for miles, listening to music, thinking things through. I definitely feel most creative in the parks. Central Park and Fort Greene Park are my favorite, but I've spent more time in Prospect Park this year, and it's been amazing. I love being able to escape the city noise for a moment and watch the breeze blow through the trees. … Being from the city is such a big part of who I am. I don't know who I would be if I weren't from here. When I write, I write New Yorkers, because that's who I know. When I make photographs it's of New Yorkers because they hold a piece of my heart.
How do you think the pandemic affected New York City's communities and culture?
I was in the city during the height of the pandemic, and it was like a ghost town. You would be the only person on the street, and it's never like that. But even though we couldn't come together in person, the city really came together as a community to take care of one another. And as things start to come back, I think there is a new air of gratitude — for the times we are able to be together and for simple things like health and wellness.
What trends have you seen in New York City style this summer?
Cowboy boots are huge right now, which is lucky for me because I thrifted a pair of white cowboy boots this spring. Athleisure and tennis wear is definitely a trend, too. I've seen lots of tennis dresses flouncing down the street this year.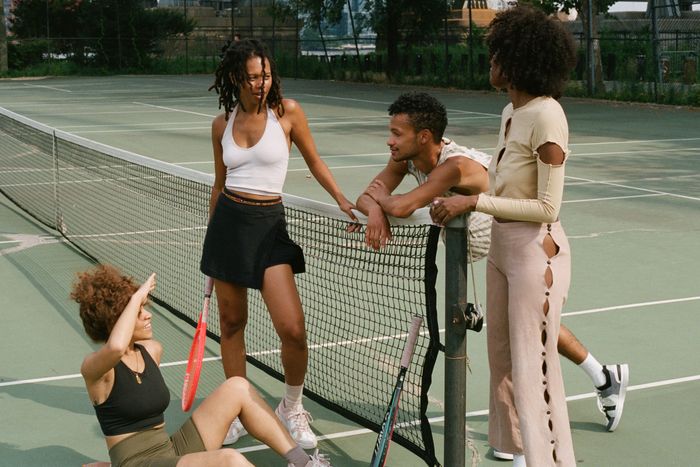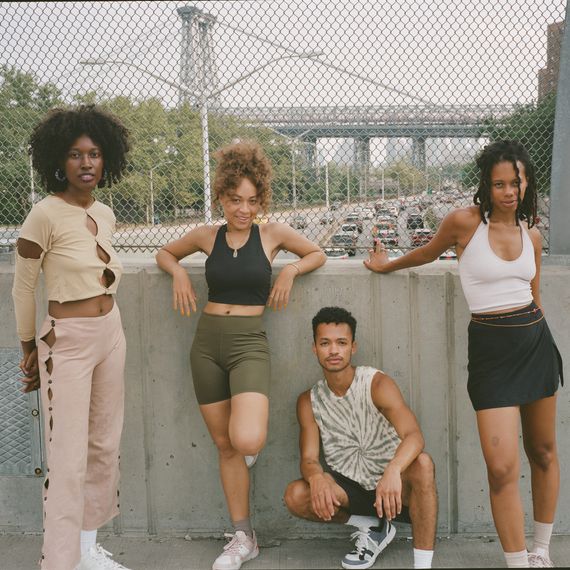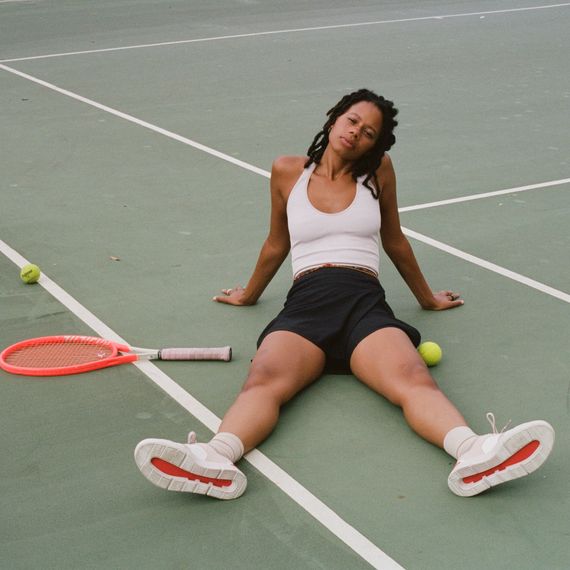 Do you see tennis fashion as a trend right now?
I think the drip that comes with tennis is undeniable. Tennis fashion is so, so dope and constantly reinventing itself, staying fresh. I think there are probably a ton of rich, old white dudes who would never be caught dead on the court without their "tennis whites," but I find that so boring, especially when there are just myriad options now. I think those options have bled into everyday streetwear in a really interesting way and may have even gotten more young people into trying the sport itself out.
How has tennis been a gateway for you into new communities or relationships?
A while back, Hillary and I were playing tennis in Virginia, and an older Black man was giving a private lesson on the court next us. … Our ball was constantly going into the next court, which meant we were constantly interrupting the lesson going on next to us. When they were done, the tennis instructor came over to us, and we immediately braced ourselves. I don't know what we expected, but it certainly wasn't for him to jump into a lesson with us. He called out every bad habit I was beginning to form, adjusted Hill's grip on the racket, made sure we both remembered how important it was to move our feet and step into the ball. He hit with us and taught us so much and redid the overgrip on both of our rackets and didn't ask for a cent. He said he didn't see very many young Black people on the courts and encouraged us to keep going. He told us someone did the same thing for him when he was young and that this was his way of paying it forward. Since then, I have seen tennis as an opportunity to form connections with people, and absolutely every chance I get, I offer to teach other Black people how to play. We belong on the courts just as much as anyone else.
What inspired you to start doing live tennis fundraisers last summer?
Last summer was heartbreaking in so many ways — it's tough to even begin to try and put it into words. I think one emotion that began to rise above the rest was hopelessness. … It was my brilliant partner, Hillary Olivia Fisher's, idea to begin to go live on [social media] and fundraise while we did what we had so recently and deeply fallen in love with: play tennis. I think during our best livestream we were able to raise about $3,000 for the Bail Project. I'm incredibly proud of how much we were able to get done and wildly grateful to everyone who donated.
How has tennis allowed you to deepen your relationships?
Tennis is one of the many beautiful things to come out of my relationship. [Marquis and I] bonded through fundraising, fresh air, and technique. So much so that when the winter hit, we relocated to the West Coast so that we could hit the courts and avoid being cooped up inside. We ended up bonding with my dad and brother there. We took my dad to the courts, and apparently he's amazing at tennis! We taught my brother, and he picked up quickly. It became a daily family affair. I bonded with my family in ways I would have never expected.
How would you describe your style?
I am definitely an athleisure type of gal. Since I am used to running around to auditions and workout classes, I like to feel comfortable. I am really good at making my outfit something that can easily transition from day to night with the switch of a heel or sneaker. The pandemic has also opened up a whole world of accessories for me: Since everywhere I am going is no longer for practical reasons, I've fallen in love with things like bucket hats, and dangly earrings. Deciding what to wear is honestly one of the most fun parts of my day. Needless to say, I have enough tennis skirts and dresses to last me a week.
Do you consider yourself to be an athlete? Has tennis helped you claim that space for yourself?
I think actors are athletes. Especially in theater, where we have to do eight shows a week. Whether you are a dancer or a leading lady, stamina is really important. … Being athletic brings me joy. Therefore, I am an athlete. The amount that I play tennis has also helped me feel confident enough to say that. It feels really good to work hard and be good at something just because you want to be. I find that everything has to be either monetized or excelled at, and that can be a real joy-sucker. Tennis has done the opposite for me.
These interviews have been edited and condensed for clarity. 
This advertising content was produced in collaboration between Vox Creative and our sponsor, without involvement from Vox Media editorial staff.