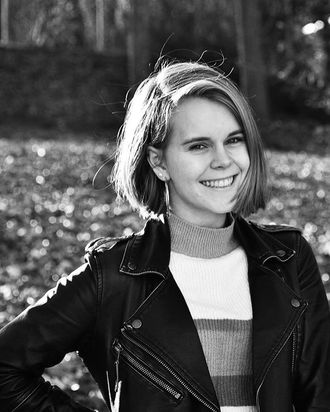 Tessa Majors, the Barnard student who was fatally stabbed on an early evening walk through Morningside Park.
Photo: tessmajors/Instagram
A Barnard student's murder in upper Manhattan in 2019 rattled the city. That December, freshman Tessa Majors was on an early evening walk through a park near campus when she was approached by a group of teenage boys, who reportedly demanded that she hand over her belongings. Police say the confrontation resulted in a struggle. Then, per the New York Times, one of the suspects stabbed her, leading to her death.
"We lost a very special, very talented, and very well-loved young woman," Majors's family said in a statement following her death. "Tess shone bright in this world, and our hearts will never be the same."
This week, one of the teenagers involved pleaded guilty to second-degree murder and first-degree robbery. Another teen, who has pleaded not guilty, has a court date scheduled for later in October. Here's everything we know about the case.
Tessa Majors, 18, was a freshman at Barnard.
According to the New York Times, Majors had recently moved to New York City from Charlottesville, Virginia, to start her first year at Barnard. She loved music and spent her weekends practicing with her band Patient 0, which had recently put out its first album. The Daily Beast reports that she had an interest in writing and interned at a local newspaper last summer.
On December 11, Majors was fatally stabbed.
Around 7 p.m., Majors was walking through Morningside Park when a group of teens approached her near West 116th Street and Morningside Drive, police department Chief of Detectives Rodney Harrison said. Police said the perpetrators attempted to steal Majors's money and phone, resulting in a struggle. Harrison said that one of the assailants then pulled out a knife and stabbed Majors multiple times, and that the suspects — detectives believe there were three in total — quickly fled the scene. Majors, severely wounded, made her way up a flight of stairs and out of the park, and collapsed near the street. After a campus security guard found her unconscious, she was transported to Mount Sinai St. Luke's Hospital, where she died later that night.
Hours after Majors was attacked, Barnard president Sian Leah Beilock wrote in a campuswide letter, "We mourn this devastating murder of an extraordinary young woman and member of our community." Mayor Bill de Blasio expressed similar shock in a news conference, saying, "It's terrifying to think that that can happen anywhere."
Three boys were charged in connection with the murder, and two have pleaded guilty.
On the morning of December 13, 2019, police arrested a 13-year-old boy and charged him with murder, robbery, and criminal possession of a weapon. He has since pleaded guilty to a robbery charge as a minor, and his name has not been released.
On February 14, 2020, NYPD officers arrested Rashaun Weaver, 14, in connection with the stabbing, charging him with two counts of second-degree murder, one count of first-degree robbery, and three counts of second-degree robbery, according to NBC. He reportedly told authorities that he and two other boys confronted Majors and tried to take her phone, but "she was hanging onto" it, so he "hit her with a knife."
A few days later, police arrested Luciano Lewis, also 14, charging him with second-degree murder and robbery in the first and second degree. According to the New York Times, prosecutors accused the teen of holding Majors in "some sort of headlock or bearhug" to keep her from fleeing the attack.
Lewis and Weaver, now 16, have both been charged as adults. Although New York recently raised the age of criminal responsibility to 18, the city can still try suspects who are younger than 16 as adults if they have been accused of violent crimes and prosecutors deem it appropriate.

In September 2021, Lewis pleaded guilty to second-degree murder and first-degree robbery. He went on to read a statement describing the attack in detail, saying that Weaver had kicked Majors and they had wrestled in two different places, when Lewis saw a witness and urged them to flee. Lewis said that using a knife was not a part of their plan, and that he did not see Weaver stab Majors. He said that he wasn't aware that Majors had been killed until the next morning, when he saw the news.
Lewis faces anywhere from five years to life in prison, pending his sentencing on October 14 . Weaver has pleaded not guilty and has a court date later in October in order to set a trial date.
This post has been updated.