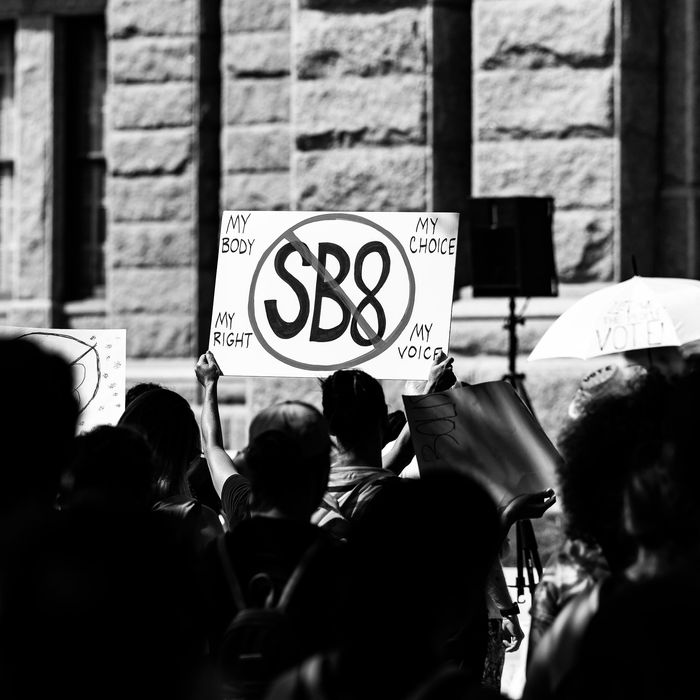 Abortion rights activists rally at the Texas State Capitol on September 11, 2021 in Austin, Texas.
Photo: Jordan Vonderhaar/Getty Images
Three weeks in, and already, Texas's extreme abortion ban is (predictably) proving to be a legal mess. On Monday, two plaintiffs — both disbarred lawyers from other states — have sued under the new law, but not because either agrees with the measure's aims. The first complainant, Felipe N. Gomez of Illinois, actually wants to see S.B. 8 overturned; the second complainant, Oscar Stilley of Arkansas, just wants money. Both are suing Dr. Alan Braid, a San Antonio OB-GYN who wrote in a Washington Post op-ed that he had recently provided a first trimester abortion in violation of the new law. Let's dive in, shall we?
First up: Gomez, disbarred in April for his "pattern of sending harassing and threatening communications to other lawyers." Identifying himself as "pro-choice plaintiff," Gomez filed his suit against Braid ("pro-choice defendant") on September 20, arguing that the terms of the measure are unconstitutional under Roe v. Wade, which protects abortion access until viability around 23 weeks. S.B. 8 incentivizes vigilantes inside and outside Texas to sue anyone suspected of "aiding or abetting" abortion after fetal cardiac activity can be detected — typically, about six weeks into a pregnancy — for at least $10,000 in damages. Gomez "alleges that Defendant did not violate Roe v Wade, and that the Act is illegal as written and as applied here until Roe v Wade is reversed or modified." As to why Braid is named in the lawsuit at all, it seems to be because he spoke out against the ban publicly. In his op-ed, Braid wrote that he "fully understood that there could be legal consequences," but didn't want the law to stand uncontested. In any case, Gomez is not asking for any financial relief in the case.
Stilley, on the other hand, hopes to receive anywhere from $10,000 to $100,000 from his complaint, and is suing because he can. Describing himself as "disgraced" in his lawsuit, Stilley is on house arrest, serving the 12th year of a 15 year sentence for "utterly fraudulent federal charges of 'tax evasion' and 'conspiracy,'" per his court documents. He does not take issue with Braid's actions, necessarily — "on information and belief, Defendant is kind and patient and helpful toward bastards, but ideologically opposed to forcing any woman to produce another bastard against her own free will," he writes — but understands that, in challenging them, he may be entitled to a payout. Basically, he is testing the limits of the law to see how lucrative all of this could be for him. "I'm going to get an answer either way," he told the New York Times. "If this is a free-for-all, and it's $10,000, I want my $10,000. And yes, I do aim to collect."
The majority of lawsuits filed under the law aim to block it, at least so far. The federal government, for example, sued Texas over the ban, the Justice Department filing an emergency request to block its enforcement last week. A hearing on that motion has been set for October 1. And although the legislation has had one of its intended effects — many providers have ceased offering abortion services and are instead sending patients to neighboring states — Texas Right to Life, the anti-abortion group that backed S.B. 8, seems dismayed by the tone of legal action so far. Somehow, they don't seem to have accounted for the probability that random people would sue simply to cash in on the reward. "Neither of these lawsuits are valid attempts to save innocent human lives," said John Seago, legislative director for Texas Right to Life, complained to the Times. "Both cases are self-serving legal stunts, abusing the cause of action created in the Texas Heartbeat Act for their own purposes." Who possibly could've seen that coming?