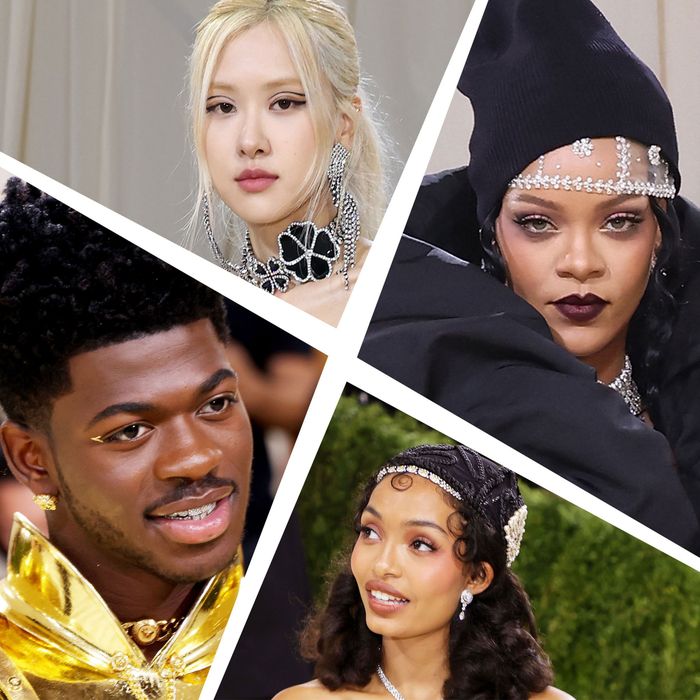 The best Met Gala looks are the ones that go beyond simply being a look and create a moment. Unlike other red-carpet events, the Met Gala is a chance to really go for it — "it" being anything from crowns to sculptural updos to green hair to just looking exceptionally beautiful. Here's a round of all of the biggest beauty moments from this year's Met Gala — the best and wildest looks from Yara Shahidi, Lil Nas X, Billie Eilish, and more.
See: All the Looks From the Met Gala
Best Neon
Emma Chamberlain has a blink-and-you'll-miss-it flash of neon. The neon came directly from the Syren shade in the BYREDO Eyeshadow 5 Colour Palette and was created by makeup artist Kelsey Deenihan.
Best Accent
If Lil Nas X's full metallic look was a play, then this triangle of golden eyeliner would be the denouement.
Best Skin
You might have some thoughts about J.Lo's hat and Western look, but we can all agree that her skin looks flawless and impossibly smooth as always.
Best Hair We've Seen Before
Timothee Chalamet's hair continues to look good.
Best Usage of Hairspray
To fully showcase her double inspirations of Haiti and Japan, Naomi Osaka really went for it (and the hairspray). Applause to Osaka for one of the most labor-intensive beauty looks, and prayers that she has help (and many makeup wipes) removing it all to sleep at the end of the night.
Best Unexpected Eye Color
Gemma Chan paid homage to Anna May Wong, the first Chinese American Old Hollywood star. She worked with makeup artist Daniel Martin to create an eye look with a subtle wash of green, featuring May's signature elongated eyeliner.
Best Green-Card-Application Photo
Grimes said that her look was inspired by Dune and that she hoped her green-card application would go through. Here's hoping it all works out for her.
Best Interview Makeup
No one worked as hard or as well as Keke Palmer this Met Gala. Her upbeat energy and good vibes ensured that the Vogue red-carpet livestream never got dull. But working almost as hard were her smoky eye and highlighter all evening long. Read more about Keke Palmer.
Best Lighting
Iman said on the Vogue livestream that she wanted her look to appear like a "bright light." With her headdress, golden-highlighted hair, and her dewy skin, she succeeded.
Best Bombshell
A little Marilyn Monroe, a little Grace Kelly, and a lot of Billie Eilish leaning into her new-yet-classic Old Hollywood look. Makeup artist Rom Rumsey used a mix of BYBI and Charlotte Tilbury.
Best Eyes
Hunter Schafer has urged us to find our "unique light." Schafer is so committed to it that she gave up some of hers with Storm-like blind contact lenses (the arachnid face accessory is a bonus). The look was created by makeup artist Sandy Ganzer, using Shiseido makeup.
Best Hair
Yara Shahidi demonstrates the 29th way to style your baby hairs and look very pretty while doing it.
Best Eyeliner
Why do regular eyeliner when you could make yours float like Blackpink's Rosé?
Best Sculpture
It's not just hair, it's art.
Best Crown
The Met Gala is always a great excuse to wear a crown, and Lorde sure took advantage. Her look was created by Cameron Rains for Matrix.
Best Red
Eiza González said that her beauty look was inspired by Rita Hayworth and the lack of Latin diversity in old American cinema.
Best Slime
Hair dyed to match?
Best Use of Studs
For once, we weren't looking at Alicia Keys's great skin but her pearl-bedecked hair.
Best Ponytail
There is a 75-inch ponytail behind Kim Kardashian West's Balenciaga look.
Best Lipstick Color
Rihanna wearing a lipstick color that she has created as part of her billion-dollar beauty business.