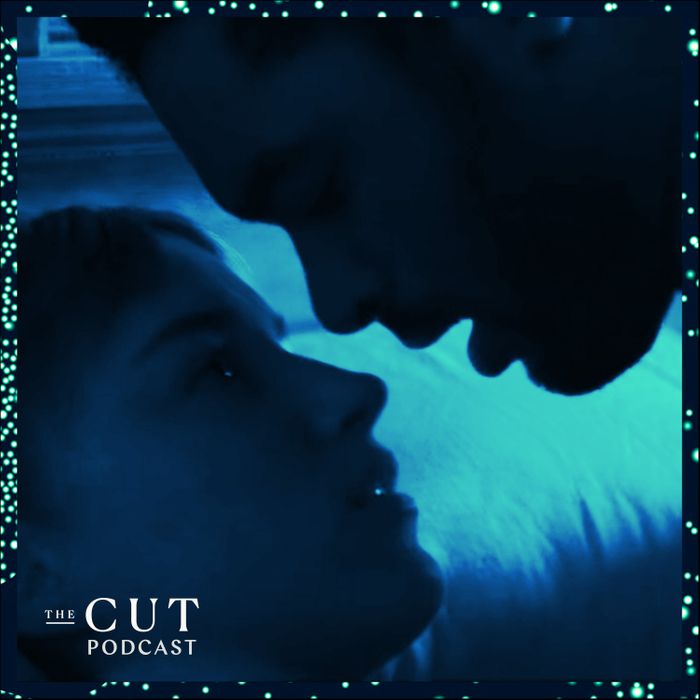 Photo-Illustration: The Cut. Photo: Netflix
On this week's episode of The Cut, co-host B.A. Parker gets to hear all about her mom's appreciation of sexy streaming content like Virgin River and 365 Days. She goes on to discuss exactly how TV has gotten so smutty with New York feature writer Allison P. Davis, and they get to figuring out why exactly Sally Rooney's Normal People was so damn hot to read and watch. Was it Connell's emotional intelligence, or was it just his infamous chain, which inspired a dedicated Instagram page? Then the creator of the Netflix hit series Sex/Life, Stacy Rukeyser, talks about female pleasure and that one scene that had everyone — everyone — talking.
To hear more about what exactly smut is and why it's taking over television, listen below, and subscribe for free on Apple Podcasts or wherever you listen. You can also read the full transcript below, and look to our list of the smuttiest TV shows to watch right now for some inspiration.
B.A. Parker: Hi, Ma.
MOM: Hi, B.A.
PARKER: What's the name of that show you made me watch when you came to visit me last month?
MOM: What? Virgin River?
PARKER: My mom likes to keep busy, now that she's retired. Which, given the pandemic, means a whole lot of streaming these days.
How fast did you watch all of it?
MOM: I want to say I started on a Sunday afternoon. And I went until maybe midnight or one o'clock.
PARKER: Damn.
MOM: You know how I feel about Jack in Virgin River. He's all messed up, but my God, he's got a dimple that you just want to look at for days. And here comes Mel into his life. He thinks that he would never find love again, but she's just as messed up as he is.
PARKER: But there's very specific content that she's also been watching.
MOM: At least we appreciate the 365 Days. Let me tell you all of us. Oh,
all of us.
PARKER: What do you mean all of us?!
MOM: We enjoyed watching Massimo's behind. Yes, we did.
PARKER: What do you mean by "all of us"? Who is "all of us"?
MOM: All of us on Facebook.
PARKER: Have you noticed lately, your moms, your aunts, your friends being really… aroused on main? Swooning during the pandemic. Even more so than usual? Just sexy streaming left and right. Netflix gems like Bridgerton… 365 Days setting a viewing record in so many countries that they've already filmed TWO SEQUELS. From Starz's P-Valley to Hulu's Normal People. The thirst tweets have been never-ending.
My mom's watching the Cook of Castamar.
Alison P. Davis: Oh, so is mine!
PARKER: Is that like a mom thing?
APD: I think we just have horny moms, which rules. Good for us.
PARKER: I spoke with Cut writer Allison P. Davis because she is my go-to sexy streaming expert.
APD:  I currently have my own erotic thriller in development. I'm writing a TV show that's playing on the tropes of the rom-com heroine and flipping it into an erotic thriller following a woman on a globe-trotting fuck-cation around Europe. So I'm helping the cause. I'm single-handedly trying to bring back the erotic thriller. Well, I guess there's other contributing too, but I am trying the hardest.
PARKER: It seems like over the pandemic people have gotten real horny on main, like with the shows that they watch and the things that they're enjoying. And I don't know, there's less feeling of shame about it because I feel like we were supposed to feel embarrassed before.
APD: Did you feel ashamed?
PARKER: I know I did. Back in the 90s, there were these shows like The Red Shoe Diaries and Taxicab Confessions. They were confined to the late-night pay cable landscape and the plots were… unimportant. The point was the intimacy, the sex, a morose David Duchovy walking an adorable dog beside a train track. Highly enjoyable! But not exactly something to brag about watching.
APD: I think the genre was looked down upon whenever women are out there expressing what they want. It's easily dismissed, but I think it's changing.
PARKER: Allison says it's a more complicated conversation now. That's because we've changed AND the smut's changed. Consent is hot. Women being adored is now hopefully the minimum. Pleasure is a must. And all of that is worth talking about… in public.
APD: Horny on main has been a thing, right? It's been percolating and people have been proudly horny on main in the past couple of years and television rose to meet it finally.
When I watched Sex/Life, I thought that it was basically Red Shoe Diaries. Right? I watched every episode and talked about it with my friends. The sex is good, it was really fun and frothy. And I think that's a show where we think "Hey, that was just like fucking for fucking's sake." We need more shows like that.
PARKER: And we're getting them. Because the age of streaming has opened up an entire universe of what horny TV can look like. There are the descendants of the late-night cable shows a la Sex/Life. But what we're getting more often than not are Hallmark Christmas romances and V.C. Andrews adaptations and corset intrigue.
Because even if we've grown more comfortable with our collective horniness on main, we're still a little squeamish when it comes to what we'll be horny ABOUT. A lot of us want our smut with a veneer of something… I dunno… "high brow."
APD: It's hard to make something that's purely smut for smut's sake. If you want to make something smutty, I feel like you've got to attach a lot of meaning to it so it gets by under the radar and doesn't offend anybody, like Bridgerton. Prestige sleaze. "Presleaze"? Does that work?
PARKER: [LAUGHS] I'm into it. Cause it's like a whole episode of them screwing around a castle. It's up for best drama at the Emmys this year.
APD: I'm happy about that.
PARKER: Our smut-filled streaming has now been packaged in a perfect "presleaze" bow. Making people more comfortable talking about what they're watching… and what they desire. But why do we need the bow in the first place?
APD: I want to talk about Normal People, right?
PARKER: Ok, is that "presleaze"? Because I feel like it's prestigious.
APD: It was shot like a Merchant Ivory film that Nicole Kidman would have been in in 1998. It was very serious and moody. But here's my whole thing about Sally Rooney. When I take away the need to raise it to the highest level of literary high brow, I'm like "this is good smut." Like I read Sally Rooney to get wet. I watched Normal People to be aroused.
So to me, it's the best "presleaze" we have. And frankly, I think we should just call it what it is. But it's a good, sexy soap opera. I believe It should never have been categorized as presleaze all the way.
PARKER: But when he starts crying during the therapy session because he's got anxiety and depression, I feel that. See, that's a guy I would stress out over.
APD: Oh, sure. It makes it more erotic because he's so in touch with his emotions.
PARKER: I guess that's all that is. Isn't it?
APD: Mm-hmm. yeah. We're just thirsty for emotionally intelligent men.
PARKER: That's all it took. God damn, see?! An emotionally intelligent man… who is naked.
APD: And wears his gold chain. Of course, we're so corny, but it works.
PARKER: And who cares about these labels anyway? It's beautiful, lustful people with drama that's not mine. And if that's "good" television, then what is?
After the break, the show Sex/Life teaches my mom something new.
MOM: That's when I found out about penis envy. The husband saw the man's penis. That's why he… um… he's a little upset.
STACY: Female desire has been seen as such a dangerous force for millennia. Women have been told to squash it. Don't be a "slut." If you have been then hide it. Lower the number of people you've had sex with, make yourself "marriage worthy," and then put all that stuff away.
Stacy Rukeyser is the creator of the recent Netflix hit series Sex/Life.
STACY: Sex/Life is about a wife and mom who seemingly has it all. She's living this life in the suburbs with her husband and her two kids, but she can't help but yearn for her old single in the city days and this impossibly sexy ex-boyfriend of hers. And so she starts writing about those days and nights in her journal and then her husband reads her journal.
PARKER: The character Billie reminisces about her grad school days, where she'd party all night, switch sexual partners with her BFF in the middle of their kitchen, and write brilliant psychology papers amid all that acrobatic sex.
STACY: As a wife and mom myself, I could understand some of those feelings that come late at night when you're up all night with your baby and in the nursing chair and wondering, "who am I now? And where did that other girl go?" You want to have that other wilder, steamier, and fun part of yourself back. And how do you meld that with being the person you are now?
What I found is that a lot of the most interesting explorations of female sexuality occur in lesbian stories on film or television because they care about female pleasure. In heterosexual stories, it often really was about the kind of sex the man likes and whether or not the woman will come to like that kind of sex too. And I was just not interested in putting more images of that out into the world.
PARKER: Billie is emotionally and sexually caught between two worlds. The current one with her straight-laced vanilla husband Cooper and their kids, and reconnecting with her bad boy ex-boyfriend, the aggro, leather-jacket wearing Brad, who sends mixed messages, and doesn't respect boundaries, and secretly sets up a FaceTime call so Billie can watch him have sex with her best friend… without said best friend's consent. Full disclosure, I'm a little bit biased.
What makes Brad so great?
STACY: That's awesome. You are Team Cooper.
PARKER: I am Team Cooper.  
STACY: That's awesome. With Brad, he saw and accepted all parts of her, even from the very beginning. He loved that she was a Ph.D. student. He wasn't afraid of a smart, successful woman, and he loved that she was wild and free. She has a big appetite and he is up for that and excited by that.
PARKER: He's too volatile for me. It's exhausting.
STACY: I get that, but I just think you're not necessarily in the place where Billie was. She hasn't had someone make love to her properly for a very long time, her life is boring, and she's wondering "is that going to be enough?" But I think everybody is trying to get some piece of zhuzh back in their life, which is why they watch these shows too because then you don't have to leave your husband. You can just watch Billie do it and live vicariously through her.
PARKER: We have to talk about episode three, Stacy.
STACY: Okay.
PARKER: Cause there were a lot of comments and questions.
STACY: I didn't see that. Did that turn into a meme or a TikTok thing?
PARKER: Maybe. Maybe? Because there's that scene. You know the scene.
STACY: I do. Yes.
PARKER: Sex/Life went viral this summer, when TikTok users were challenging each other to blind react to Episode 3 at 19 minutes and 50 seconds.
PARKER: If you don't wanna know what happens, fair warning, I'm about to spoil it for you.
Billie's husband Cooper locates her ex… friggin Brad, and starts to follow him around town…
STACY: The way that it was written and how it was conceived was really a story point for Cooper because it's intended to show how far down the rabbit hole he's gone and how obsessed Cooper is. It starts with him masturbating, reading his wife's journal, and going like, "oh my God, what the heck is this? And I'm so confused. Like I'm turned on by what I'm reading, but I'm kind of horrified by what I'm reading." And so he goes to see Brad in person.
PARKER: Cooper ultimately follows Brad into the showers of a gym. He buys a gym membership and strips next to him in a shower…
STACY: Then again, he's going into the shower. "I should not go into the shower after him. I'm going into the shower. Now. I should not look. I should not look, I should not. I'm going to look."
PARKER:  And the camera pans to Brad and his formidable penis.
STACY: You know, yeah. It was written as impressive. And this tool that had given his wife so much pleasure, to be sort of intimidating in that way, but to really be about how Cooper has gone down the rabbit hole himself.
PARKER: How do you cast a penis?
STACY: Well we did not ask anyone to drop trout. It was not a body double. The question that people ask me is, was it a prosthetic or not? And I will only say what Adam Demos says, which is that a gentleman never tells. So I leave that up to the viewer's imagination.
PARKER: Was the point of showing Brad's big, beautiful penis to counter the fact that Brad is the worst?
STACY: [LAUGHS] That's awesome. You should put that on a t-shirt. You should put that, "he's the worst" and on the back "but he has a big dick".
I'd like to think that he has offered a couple more things in addition to that, but it's all about what floats your boat, whatever does it. It's like he buys all of the magazines that include your first published article. That's what does it for some people. And a big penis is what does it for others.
PARKER: Get you a guy that can do both.
But the reason Sex/Life was so popular wasn't about support or size. It was about the master plan of the series as a whole.
STACY: This is the kind of sex we want. This is how we want men to touch us. This is what we dream about. This is how we want it to feel. And then in filming, it was all about her experience instead of the woman being objectified or the camera hanging on the woman's body for our pleasure.
It's all about Billie's experience and the camera hangs on the men's bodies because that's what her gaze and her pleasure are found. It really is about her pleasure. That is the focus story-wise in each of the scenes. And then of course it's wrapped up in what I as a woman think is sexy, which is a lot of slow-motion and jewel-tone lighting and these beautiful needle drops of songs.
So it's sort of wrapping all that up in this elevated package and honoring it. it's a way of saying this is worthy of filming in such a way. This is a story that's worth telling and really honoring female sexuality in that way.
Esther Perrel talks about a lot of mating in captivity. And how do you get the security and the safety and the connection that is a very human need that we all crave, but also that zhuzh and the eroticism and the fun? It's finding a way to have both of those things with one person and they haven't gotten there yet.
PARKER: This is why we need a polyamorous season two, Stacy.
STACY: Yes, that is one way to go. As I said, I read everything. I know the people who want Brad and Cooper to hook up. I know people who want an open marriage or polyamory. It's an exciting time in television, where we are saying that it's okay to have desires. And here are a bunch of stories that are saying it's okay to have it and it will burst forth from you if you try to deny it or put it in a box.
PARKER: You don't need a nudge to say "it's ok to express your desires." You know that already. Be it with friends on Twitter… or with your mom. Because the way streaming is headed it seems like someone's finally listening.