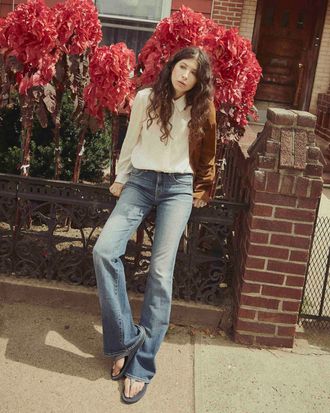 Photo: Courtesy of Pamela Love
Pamela Love is a CFDA Award–winning jewelry designer inspired by many things: astronomy, astrology, alchemy, and early American and Mexican silver traditions, to name a few. It all translates to handmade pieces that sort of look like ancient treasures. This spring, her signature design aesthetic carried over to "Ceremonial," a new collection of nine engagement rings and five bands.
The designer had created custom bridal and engagement pieces in the past, but this is her first full collection, intended to celebrate "commitment, ceremony, and love of all kinds," she said in a statement. Each style is handmade in Brooklyn using recycled and fair-mined 18-karat gold with ethically sourced diamonds, layered and woven together imperfectly to reflect her ideas of love — "the weaving together of souls," she said.
We spoke with Love about her favorite engagement ring, Desperate Housewives, and UGGs.
What's one piece of jewelry from your brand that's especially meaningful to you?
I'm in love with my new "Ceremonial" collection, especially the Helia ring. So much work went into getting this piece just right — many hours on the bench getting this texture and finish perfect. When it was finished, I wasn't sure I could even part with it.
How do you thank someone for a gift?
Usually a note or a gift in return.
What would you never wear?
I don't like to limit myself.
What's your dream vacation? 
Right now, I'm dreaming of the Maldives, but I also would love to go to Nepal.
What's a good book on your coffee table right now? 
Karma, by Sadhguru.
Last show you binge-watched?
Desperate Housewives.
What's your guilty pleasure? 
Desperate Housewives.
Secret to hosting a good party? 
An amazing playlist and dim lighting.
What is a trend that you like right now? 
Baseball caps.
One you don't understand?
The return of UGGs.
Favorite restaurant in New York?
Lately I've been really loving Birds of a Feather in Williamsburg and Oxomoco in Greenpoint.
What's the one thing you could eat every day for the rest of your life?Hamachi Jalapeño from Blue Ribbon.
Shoes you wear most often? 
Vans.
What are five inanimate objects that bring you joy?
"I just got these, and I'm totally in love. They look great with dresses and with trousers. I love wearing them with funny socks."
"These pants are the most important staple in my wardrobe. I have several pairs in black so that I always have clean ones to wear. They have become a real uniform for me."
"The best sunglasses ever, which I sadly lost. But they really are the most flattering."
"I love this piece from my friend Marla Aaron. I wear it on a snake chain from my mother."
"This is the only cut of jeans I ever want to wear for the rest of my life. The black is especially amazing."