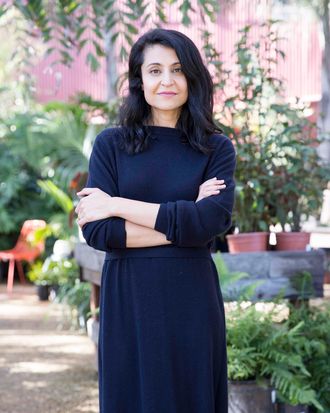 Photo: Courtesy of Rati Levesque
Rati Levesque was the RealReal's very first employee, before it was the luxury consignment destination we know today. And now she's the president. After Levesque met its founder, Julie Wainwright, the two shared a vision of transforming luxury resale and got to work, including cataloging products and driving a U-Haul to do their first consignment pickup.
"When I compare that to where we are today as a public company that is meaningfully changing people's shopping habits to move away from fast fashion and driving forward a more sustainable future for fashion through continued innovation, I couldn't be more proud," Levesque told the Cut.
Levesque recalls when there was a stigma to buying used clothes. Now, resale has become an inherent part of how consumers shop, especially as they realize the sustainable benefits of extending the life cycle of luxury items. "We're also at a time where people are shopping their personal style rather than just following the next trend," she said. "Resale allows consumers a unique opportunity to shop styles and trends from any decade at any time. Now it's like a badge of honor to say, 'Thanks, I bought this secondhand!'"
We spoke with Levesque about TikTok, inclusivity, baggy jeans, and scrunchies.
What's an item on the RealReal that's especially meaningful to you?
The first thing I bought on the RealReal were Celine shoes I wore to my wedding. I just consigned them recently.
How do you thank someone for a gift?
I like to gift body oils as a thank you. They're something you don't always buy for yourself but feel so luxurious. Or I do something nice in return like bring over dinner or watch their kids.
What would you never wear?
I would say never say never.
What's your dream vacation?
Korčula in Croatia with my family.
What's a good book on your coffee table right now?
Sara Cwynar: Glass Life. She's a collage artist who did the wallpaper in our Chicago store and our holiday packaging last year.
What's your guilty pleasure?
TikTok.
Secret to hosting a good party?
Get the event catered or make it a potluck so you can enjoy the people around you.
What is a trend that you like right now?
Inclusivity. I am hoping it is not just a trend. I also really like the baggy-jean trend.
Favorite restaurant in New York?
Her Name is Han.
What's the one thing you could eat every day for the rest of your life?Nachos.
Shoes you wear most often?
Right now, my Marni fisherman sandals.
What are three inanimate objects that bring you joy?
Photo: Retailer
"They're fun to accessorize with."
Photo: Retailer
"I paired this recently with a black slip dress and a scrunchie. It added something special to my outfit without trying too hard."
Photo: Retailer
"This peppermill sparks joy with its bold colors."