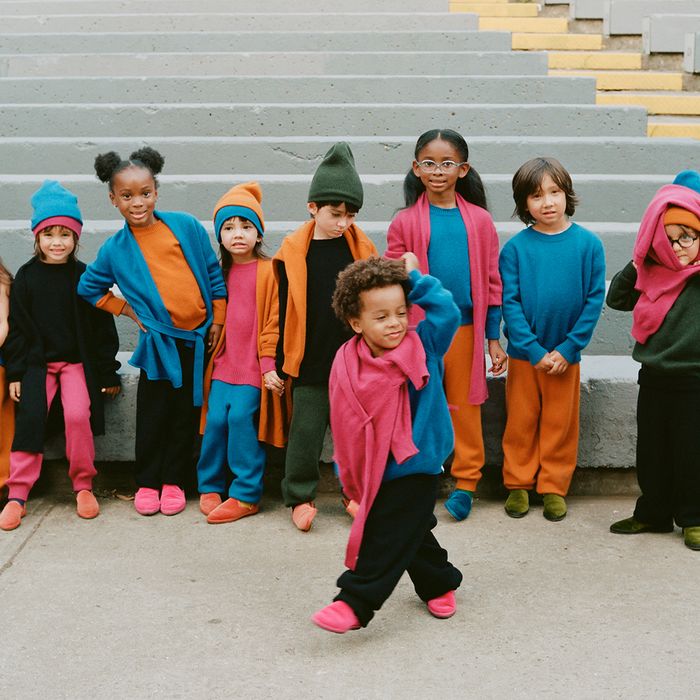 Photo: Courtesy of The Row
The playground just got a lot more chic. You may now send your kids to school in polished cashmere pieces from The Row. Yes, the minimalist luxury brand known for its chic cashmeres. (We would probably recommend keeping the kids out of the sandbox in this case.)
The Row, the Olsen twins' fashion label, has created a children's capsule collection in sizes for 2- to 10-year-olds. Is it really necessary for kids to have cashmere priced at over $350? Probably not. But to each their own.
The prices start at $390 for velvet slippers and go up to $650 for a belted shawl cardigan.
Who will buy these pieces? The brand has a specific niche customer: sophisticated, knowledgeable about fabrics and materials, and, oh, nine times out of ten, rich. So the children's collection will likely be for their kids.
Unlike the traditional capsules from The Row, which are typically neutral, this one features more color for a younger audience. The children's cashmere sets come in fuchsia, royal blue, orange, gray, and forest green. The velvet Venetian-inspired slippers come in three colors.
To help steer the design direction of the collection, the Olsen twins held conversations with kids. "Kids bring out a sense of playfulness. They were very vocal and opinionated about what they liked and didn't like … We loved listening to their free minds," Mary-Kate Olsen told W Magazine.
So next time you're in Soho and see a toddler wearing bright cashmere to match their parents, it probably is in fact, from The Row. What a life those kids live without even knowing the level of quality and luxury on their bodies.