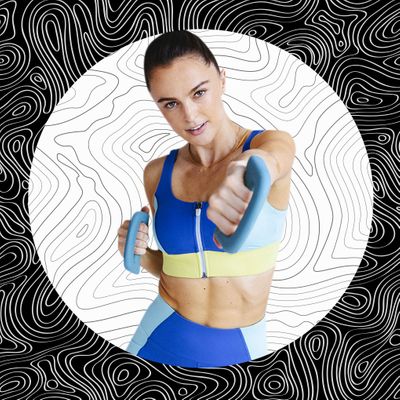 Photo-Illustration: by The Cut; Photo: Liana Tarantino
Megan Roup has had a busy year. Over the past 12 months, the trainer wed her fiancé, Morgan Humphrey, in a 14-person micro wedding, welcomed her first baby, and launched her pre- and postnatal program on The Sculpt Society, her workout app. Next up, the celebrity trainer — she's a favorite of Shay Mitchell, Sofia Richie, and Elsa Hosk for her sculpt and dance cardio sessions — will embark on her first-ever live tour to celebrate TSS's second anniversary. The tour will kick off on October 3 at New York's Public Square and Gardens at Hudson Yards and then head to three other U.S. cities, Boston, Chicago, and Los Angeles (tickets are available for purchase here). Below, the Cut caught up with the trainer to chat about the wellness practices that keep her grounded, from her workout "quickies" to her skin-care routine, as she prepares for a busy fall.
How COVID-19 has impacted her idea of wellness: Pre-pandemic, my schedule was so crazy. I was teaching classes, doing multiple private trainings, and recording for The Sculpt Society app, and it was all physically super-demanding. Before the pandemic, I would definitely get more massages and acupuncture, and my "wellness routine" was probably longer. I was physically doing so much more, which I wouldn't recommend — you don't need to be working out eight hours a day. The pandemic allowed me to see just how unsustainable it all was. A good thing that has come out of it is that my schedule has evened out a little bit more and is less chaotic.
I've come to define my wellness through smaller acts that make me feel grounded and positive throughout the day. In the morning, I've started to dry brush, and it takes two minutes, but it honestly feels like a cup of coffee because it gets my circulation going and makes me feel awake. Also in the mornings, and before I go to bed, I try to do either short meditation — I really connect with a guided meditation so I do meditations with Kelsey Patel and Ameerah Omar that run anywhere from 5 to 15 minutes on The Sculpt Society app — or a gratitude list. Like, "What are three things that I am grateful for?" As cheesy as it sounds, it really makes a big impact when you are doing that on a daily basis.
On her mornings: They've definitely changed since having Harlow. I try to get up a little bit earlier than she does so that I can take my time and have a moment to myself before the day gets started — it's the calm before the storm. As small an act as it is, when I work from home and as someone who has a baby, just getting dressed and putting on a little bit of makeup sets the tone for the day for me. It can be really easy, and it was really easy during the peak of the pandemic, to stay in my pajamas all day, even during Zooms, and not necessarily get dressed, but I feel so much more put together and ready to go when I do.
I really like to have lemon water in the morning, so I do half a lemon with room-temperature water as I'm making my French press coffee. If I have extra time before the baby wakes up, I will do a very short dry brush and then either a gratitude practice or a short meditation. Then Harlow gets up around 7 or 7:15 a.m. — 7:30 a.m. on a good day — and we have our morning routine, which has been changing her, giving her her bottle, and then spending some time with her.
On the power of affirmations: If I'm ever having a moment of doubt in the day or if I'm feeling a bit low, affirmations are really great. For anyone who wants to try it, the key is to find affirmations that you connect with, and they may be different year to year, but they should make you feel safe and positive. When you're going, going, going, maybe you're feeling anxious, or whatever is happening in your day, they bring you back down and force you to ask, "What is it about life that is filling me up? What is making me happy? What am I actually grateful for?" Especially coming from New York, when I was in such a hustle and grind, pulling that back and being like, "Wow, I have so much in my life to be grateful for. Let's concentrate on that," it was really grounding.
On her food philosophy: I am so not about a diet; I am very anti-diet culture. In my early 20s, I did every diet under the sun; I was a yo-yo dieter, I binged, and it was just a really ugly cycle. Until I found intuitive eating, I was just hopping from one thing to the next. So what does eating intuitively mean? For me, it's striving to eat real, whole, unprocessed foods. Does that mean that I don't go out to eat and have a burger and French fries? Absolutely not. It's important to take down all of the confinements around food and realize that there are no "good" and "bad" foods. You just have to find the foods that make you and your body feel good and energetic. You know, I vilified fruit for so long, and I wouldn't have fruit in my early 20s because it had too much sugar, and now I think back and it sounds so ridiculous.
On exercise "quickies": I think we, including someone like me who does fitness for a living, all feel overwhelmed by exercise sometimes. I truly do love movement, but there are certainly days where I don't want to do a full 45-minute workout. So I developed a "quickie" program for anyone who is overwhelmed or doesn't know where to start. What I always say is, Take the commitment down. Throw on a five-minute quickie leg workout or a five-minute arm workout or a ten-minute booty workout. Commit to just a couple of minutes a day. Every single time I do that, I'm like, Oh my gosh. That was amazing. I'm so happy. Sometimes I end up doing more quickies, and before I know it, I'm 30 minutes in and I'm sweating.
If you're starting at zero, and you say, I'm going to do an hour workout, seven days a week, you're going to burn out. So take the commitment down. That way, you're not setting yourself up to fail, right? Start by doing ten minutes two or three times a week, and then slowly start to add on. Your body's going to start to crave it because you're going to see yourself getting stronger.
On the importance of gut health: Let me first say that I'm by no means an expert on gut health, but the correlation between your overall well-being and your gut are so tightly knit. Unfortunately, a lot of people aren't regular, and even when it comes to mental health, a lot of people don't understand how much their overall brain fog is affected by their gut. I think probiotics can be really, really helpful. I've been taking one from Seed for over two years, and it has been a game changer. They can even help with your overall skin.
On her beauty routine: I have thin hair, but because of my job, my hair is mostly up all the time. So I try to only wash it once or twice a week. For the rest of the time, I'm a big dry shampoo person. Prose has a really great one that I use regularly.
For skin care, I recently discovered Naturium Skin Care when I was looking for safe products to use while breastfeeding and pumping for Harlow. During the day, I will start with their Vitamin C Complex Serum, then layer on their Plant Ceramide Rich Moisture Cream, followed by sunscreen. I have been wearing Supergoop! products for years now, and the Glowscreen SPF 40 and Unseen SPF 40 are my absolute favorite. The Unseen Sunscreen is perfect as an invisible primer and leaves your skin feeling super-silky, and the Glowscreen mixes perfectly into your moisturizer or gives you a glowy, dewy look on its own, On days when I don't want to wear too much makeup and I'm looking for a little bit of coverage and tint, I love the Tula Supersize Face Filter Blurring & Moisturizing Primer. Throughout the day, I love MegaBabe's Squeaky Clean Hand Sanitizer. It came out right as COVID hit and is hands down my favorite out there.
At night, I like using the KORA Organics Milky Mushroom Gentle Cleansing Oil. It smells so good, and I often use it in the shower to give off some aromatherapy. It's so light, and I love that it doesn't dry out my skin. Then I like Naturium's 10% Azelaic Acid Emulsion, followed by their Plant Ceramide Rich Moisture Cream and Intense Overnight Sleeping Cream. I also recently discovered the Lip Butter Balm from Summer Fridays, and I am completely obsessed. Either on its own or over lipstick, it is so, so, so good. Plus, a little goes a long way.
On her wellness struggle: I'm still in such early days postpartum, and I have to keep reminding myself to take the pressure off to "bounce back." That's a constant conversation, and a lot of women feel that pressure, too. Harlow took 40 weeks, right? I have to take all of the suggestions that I tell my clients and give myself the same advice and grace during this time.
On her nighttime routine: I am such a grandma these days with Harlow. I try to unwind around nine o'clock. I'm a workaholic so the last week I've been editing until then, and then I try to stay away from screens. That's kind of a joke because it doesn't normally happen, but it's always the goal. I love to have magnesium at night. Especially when I was pregnant, I was getting really anxious and I couldn't take CBD — I like Equilibria CBD Daily Drops and Highline Wellness CBD Night Oil — so I started taking powdered magnesium. Moon Juice has a really great one called Magnesi-Om, and the CALM one is also good. If I have extra time and energy, I'll do a quick, five-minute gua sha on my face. That's been really calming. Then I try and get into bed and read my book, but I usually only last two pages before I call it.