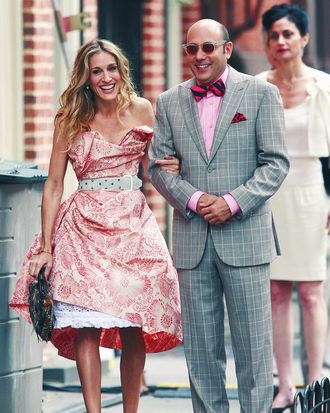 Photo: Marcel Thomas/FilmMagic
Willie Garson, the actor known for his role as Stanford Blatch on Sex and the City, died on Tuesday. The actor, who had pancreatic cancer, had returned as Carrie's iconic best friend to film the reboot, And Just Like That … Following the news of his passing, his castmates took to social media to share their remembrances.
Sarah Jessica Parker did not post or speak about Garson's death until Friday. She posted photos of the two of them, with the caption "It's been unbearable. Sometimes silence is a statement. Of the gravity. The anguish. The magnitude of the loss of a 30 + year friendship."
Kim Cattrall, who played Samantha Jones in the original (and did not return for the reboot), tweeted, "Such sad news and a terribly sad loss to the SATC family. Our condolences and RIP dear Willie xo."
Both Cynthia Nixon and Kristin Davis, who play Miranda and Charlotte and were working with Garson on the reboot, shared their admiration, recalling Garson's dedication as both an actor and a father.
Nixon wrote, "So deeply, deeply sad we have lost @Willie.Garson. We all loved him and adored working with him. He was endlessly funny on-screen and in real life. He was a source of light, friendship and show business lore."
"I really want to pay tribute to his fearless commitment to single fatherhood," Davis's caption read. "We spoke about being single parents through adoption often. And nothing gave him more joy and pride than his son Nathen." She added, "I am thankful for all of the time we had and grateful that so much of your bright light is on film forever."
Mario Cantone, who played Stanford's husband from Sex and City 2, posted a photo of the two of them, writing, "I couldn't have had a more brilliant TV partner. I'm devastated and just overwhelmed with Sadness. Taken away from all of us way soon. You were a gift from the gods sweet Willie. Rest … I love you."
Chris Noth, who played Big, posted a photo captioned "Willie" with a red heart. Evan Handler, who played Harry, shared a funny photo of the two of them, writing, "Willie Garson, or, 'The Mayor.' Invitee to the weddings of Sir Elton and Elvis Costello. Friend and/or acquaintance to … well, everyone. Of greatest significance, adoptive father to a foster child. My heart grieves for his son, for the entire #SATC and #AJLT universe, and for the world at large."
Candace Bushnell, who wrote the novel that inspired the series, tweeted her appreciation, writing, "Stanford Blatch is so beloved to me and Willie brought him to life so beautifully. What a gift to us all."