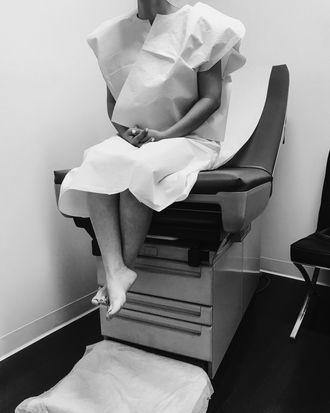 Photo: Tuan Tran/Getty Images
The nation's most restrictive abortion ban, Texas Senate Bill 8, went into effect on Wednesday, and the U.S. Supreme Court didn't lift a finger to stop it. For the past 17 hours, abortions after six weeks of gestation — i.e., before most people know they are pregnant — have been banned in the state. And if that weren't horrific enough, S.B. 8 has empowered private citizens to sue anyone who they believe is either providing or aiding people with access to abortion care.
The Court has yet to provide an injunction against the law, as of this writing, and its cruel inaction has resulted in widespread fear and chaos.
Shae Ward is the hotline director at the Lilith Fund for Reproductive Equity, the oldest abortion fund in the state. She spoke with the Cut about the devastating impact the ban is having on Texans seeking abortion care and how people can offer their support right now.
Normally we get 30 to 50 calls each day to our hotline. Today, we had less than ten callers, and the people that we were able to serve were folks who already had appointments at clinics out of state. There were already a lot of barriers to care. But this bill just devastates whatever access there was and the infrastructure to support people. It directly attacks the organizations that support people who get abortions.
Before today, it wasn't easy to access an abortion in Texas, by any means. We already have fewer clinics, which requires people to travel long distances. You have to make an appointment, and then you have to go through mandated bias counseling. The provider has to say these things to people that had medical misinformation on it. Then you have to wait 24 hours after that first appointment to get your procedure done when that also isn't medically necessary, so you have to make two appointments. That, again, requires travel, taking time off work, finding child care. And the cost? Your health insurance doesn't pay for care, so people are paying for it out of pocket or relying on the assistance of abortion funds and other community organizations. We know that most people don't even know that they're pregnant by six weeks, and so the choice has been removed for them. Folks now have to figure out where they're going to go outside of Texas. How are they going to be able to pay for that? Who will watch their children? Can they get off of work?
A lot of the time, we see people go to the bordering states. You see people go to New Mexico for care. Sometimes you see people go as far as D.C. But it was already pretty difficult for people to be able to travel out of state to seek care. Most of the folks that we serve are people of color who are in low-income communities. These people might have to travel thousands of miles, find somebody to go with them.
We have been sending folks over to needabortion.org, which is an updated resource for Texans to figure out where they can go out of state, which clinics have the capacity to support Texans, and organizations that might be able to assist them on the ground or help them get to those states. Now is a great time to donate to Texas abortion funds and practical support organizations that are doing the work to help folks access this care. You can also make sure people on the ground have access to the resources they need, so go to our social-media pages and share those resources so that the folks who need that information have it readily available to them.
It's sad and heavy when you think of all the Texans that are going to have to struggle even more just to get care. I feel like what we've been focusing on is, what are our options? How can we comply with the law and still make sure that people can get seen? But while there is that anger at what's happening, there's also work that we're going to continue to do to take care of one another.