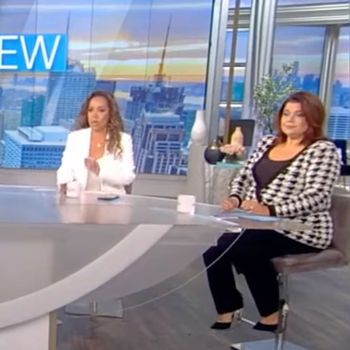 Photo: Screenshot via ABC
This week's uncomfortable morning-news-program moment is brought to you by The View. On Friday's show, hosts Joy Behar, Sara Haines, Sunny Hostin, and guest host Ana Navarro were set to interview Vice-President Kamala Harris. That is until a producer asked Hostin and Navarro to "step off for a second" in the middle of the show. There was obvious confusion as Behar said to the audience, "We'll tell you why in a couple of minutes," and a producer chimed in, "It's a tease!" He-he, how fun!
When Behar asked if she and Haines should continue to introduce Harris as planned, one producer said "Yes" while another yelled "No!" We are in the golden age of television! They cut to a commercial break, during which the desk was apparently wiped down and rearranged to seat just Behar and Haines. When they returned, Behar said, "Okay, since this is going to be a major news story any minute now, what happened is, Sunny and Ana both apparently tested positive for COVID." She added that both hosts are "vaccinated up the wazoo" and "probably have a breakthrough case." Quite the tease, indeed!
To make matters more uncomfortable, Harris was apparently backstage while all of this was happening. According to a tweet from NBC White House correspondent Monica Alba, Harris "had no contact with hosts prior to the show," and they planned to conduct the interview with the vice-president in a different part of ABC studios. With about ten minutes left in the show, Harris appeared remotely, per USA Today. "Sunny and Ana are strong women, and I know they're fine, but it really does also speak to the fact that they're vaccinated," Harris said, "and vaccines really make all the difference, because otherwise we would be concerned about hospitalization and worse."
The saga continued through the weekend, when it was revealed that both tests were false positives. According to "Page Six," the two hosts are set to return to The View this week. On Saturday, Navarro tweeted that she'd gotten a third negative PCR test and was heading home. Whether Harris will be returning for an in-person interview is unclear.
What an absolutely wild time to be alive.
This post has been updated.