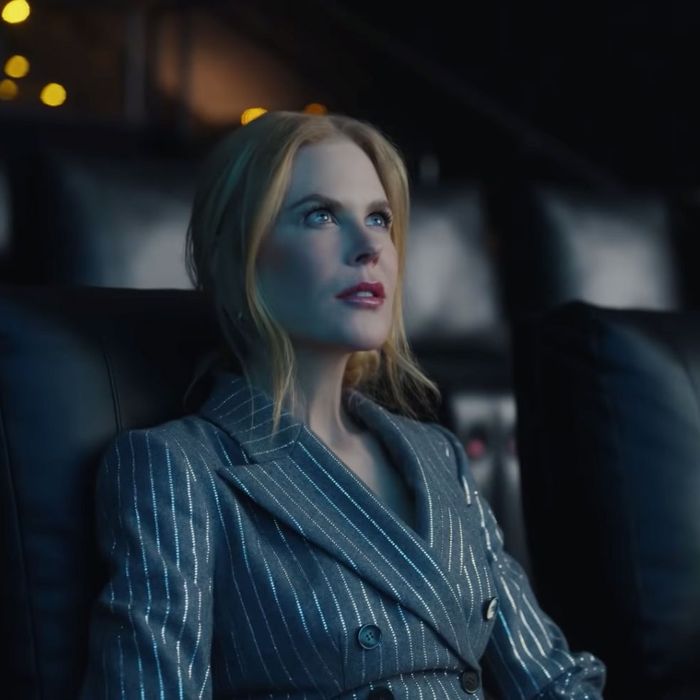 Photo: AMC Theatres/Youtube
Movie theaters — ever heard of them? Nicole Kidman has, and she wants you to know that they are incredible and she definitely goes to them. At least that's the vibe I'm getting from this new AMC commercial featuring the Nine Perfect Strangers star. "We come to this place for magic," she says in her native Australian accent — a real missed opportunity for her to flex one of the many vocal stylings like "Russian, kind of" and "Sydney, California." "We come to AMC theaters to laugh, to cry, to care," Kidman continues. "Because we need that, all of us." Spoken like a woman who has absolutely stepped inside a movie theater in the last three decades.
The ad opens with Kidman showing up to an AMC theater in a hooded trench coat — ominous! Then, the coat is nowhere to be seen. Where did she put the coat? Does she think movie theaters have a coat check? Now wearing a pinstripe suit — a normal movie outfit — she walks into an empty, suspiciously clean theater. She takes a middle seat to watch … more movie commercials? She watches a scene from Jurassic World, another from Wonder Woman, a dance sequence in La La Land. She is amazed! In awe! She loves the theater! This image of Nicole Kidman watching clips of five-year-old movies in an empty theater is cinema. Give it an Oscar! Also, now she has a drink? Where did she get the drink? Nicole, you can't just take other people's leftover drinks in the theater!!
According to Kidman in this commercial, we go to the theater to be "not just entertained but somehow reborn, together." I was reborn both times I saw Magic Mike XXL in theaters. "Stories feel perfect and powerful," she concludes. "Because here, they are." Hmm, that means … nothing? Go to movie theaters because that's where movies are? I would have preferred Kidman to reenact this gorgeous monologue (?) in which director David Lynch screams about how watching a movie on your phone is bad and doesn't count. I would be much more motivated to go to the theater were I to hear Nicole Kidman say, "It's such a sadness that you think you've seen a film on your fucking telephone. Get real."