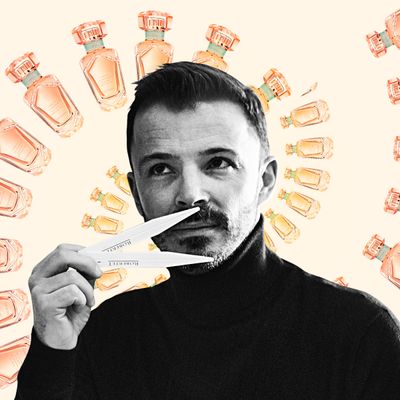 Jérome Epinette.
Photo-Illustration: The Cut. Photos: Courtesy of Tiffany & Co.
Jérome Epinette, the perfumer behind cult-favorite scents like Byredo's beloved Gypsy Water and Sol de Janeiro's spritz (inspired by the best-smelling lotion in the world,) recently created Tiffany & Co.'s new Rose Gold Eau de Parfum. At the heart of the fragrance is a hybrid of Japanese rose and violet that nods to the brand's signature shade and gives the fragrance its uplifting quality. The Cut caught up with Epinette to talk perfume trials, one scent he likes and most people don't (Hint: It has to do with freshly paved roads), and stopping to smell so many roses.
My first scent memory is: My mom's perfumes. They were very specific: Poison from Christian Dior and Shalimar from Guerlain. She worked in a perfume store, so she had access to all these perfumes and wore a lot of them, but those two were her favorites. They're like a part of her, almost a signature; I grew up with those scents. I can still smell them now; they smell like comfort to me.
Happiness smells like: Citruses. They just smell happy and make you smile. More specifically, orange and bergamot, which is sparkling, really put me in a good mood as soon as I smell them.
Friendship smells like: Vanilla, a comforting smell. When I think of friendship, I think of being close to each other; not just physically, but emotionally, and that's vanilla for me. It's like a confidant that makes you feel safe.
Regret smells like: Regret makes me think about nostalgia, and to me, that smells like powdery notes, like heliotrope, and mimosa, because nostalgia feels old fashioned.
Success smells like: Something that is bold and electric, with a lot of facets, like Tiffany Rose Gold. In terms of notes, I would say boldness smells like blonde woods, like cashmeran, or even iris, and some spices as well, like pepper.
My ideal vacation smells like: Something that will put me in a good mood, like lavender or gardenia. For some reason, those kinds of scents make me want to travel. I'm lucky I have a terrace where I live, and I grow all those those plants; lavender, gardenia, jasmine, honeysuckle. Salty air is also a fantastic vacation smell.
My home smells like: A combination of scents. I try to create an environment with diffusers or candles depending on the room. For example, in my living room, it's a very clean scent; in my kitchen, it's something more aromatic that tends to go well with cooking, and I don't have anything in my bedroom because I want to shut everything down and reset my nose for the night.
The first thing I smell in the morning and the last thing I smell before bed: My wrist. I'll test a fragrance on my wrist to follow it from the top to the dry-down and see how it changes from day to day. It's a good method for me because I'm always excited to wake up and smell my wrist, to see what happened overnight; how it lasts, how it changed, how it evolves. Based on that, I can go to work the next day and increase, reduce, or push some notes.
A scent or smell I like that others usually don't: You know when they remake a road and it has that specific smell? Not the smell of concrete, but that boil-y, dark tar scent when they make the roads very sleek? I'm obsessed with that scent. It almost smells like gasoline, or even the tarmac of the airport, and I love that scent even though people think I'm crazy.
On what Rose Gold's rose smells like: I think when we talk about roses, people generally associate that scent with something that is rich, but kind of heavy and old fashioned; something very traditional. To me, the rose accord in Rose Gold is something much fresher. It's amazing. It's more like rose water than rose; really sparkling, really delicate, transparent, and not heavy at all.
I'm lucky to work at Robertet. They have so many varieties of roses. There are hundreds, between rosewater, rose absolute, and rose concrete, between a rose from Turkey, a rose from France, a rose from Bulgaria. I think most people would say, a rose is a rose; the color could be a little different, but they smell the same. But they all have their specific scents.