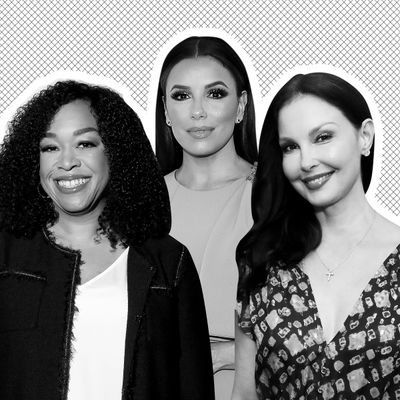 Shonda Rhimes, Eva Longoria, and Ashley Judd.
Photo-Illustration: by The Cut; Photos: Getty Images
Weeks after Time's Up CEO Tina Tchen resigned over the fallout from sexual-harassment investigations into Andrew Cuomo, the organization's entire board — including Shonda Rhimes, Jurnee Smollett, Eva Longoria, and Ashley Judd — plans to step down. In a statement posted September 4, the governing board of directors for the initiative, which aims to combat gender-based discrimination in the workplace, announced imminent housecleaning.
"We see the current crisis within TIME'S UP as an important opportunity for growth and change," it reads. "TIME'S UP is ready for new leadership, and we want to move forcefully toward its new iteration."
After New York attorney general Letitia James announced the findings of her office's independent investigation into the ex-governor, affirming the sexual-harassment allegations by 11 women, Time's Up attorney Roberta Kaplan stepped down on August 9. Kaplan allegedly had a hand in covering up the Cuomo scandal: According to investigators, she reviewed the draft op-ed attacking former Cuomo aide Lindsey Boylan — who, in December, became the first woman to accuse Cuomo of misconduct — the governor's secretary, Melissa DeRosa, shared with her. The investigators viewed that letter as part of a retaliatory effort against Boylan, and what's more, Kaplan's firm also represented DeRosa during the attorney general's investigation. Her involvement catalyzed complaints from sexual-harassment and assault survivors that "TIME'S UP has abandoned the very people it was supposed to champion."
When Boylan made her initial allegations against Cuomo, many Time's Up members planned to make a statement of solidarity — until Tchen directed them to "stand down." That's according to the Washington Post, which reported that Kaplan shared the op-ed with Tchen, who ultimately discouraged members from outwardly siding with Boylan. Tchen subsequently resigned, explaining in a statement that "now is the time for Time's Up to evolve and move forward as there is so much more work to do for women," and that "it is clear that I am not the leader who can accomplish that in this moment."
Monifa Bandele took over as interim CEO, and will put together a new leadership team as its current members resign over the next 30 days. Four members, including Judd, will stay on temporarily to help with the transition. Time's Up has also hired outside consultants to conduct a "comprehensive assessment of the organization," per the statement.