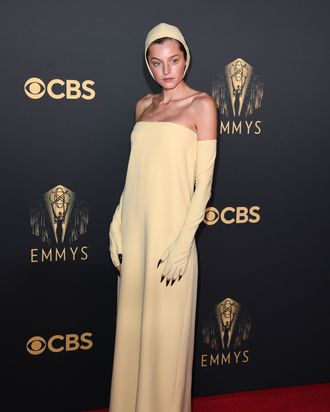 Photo: Gareth Cattermole/Getty Images
Emma Corrin played a woman who chafes at the confines of royal life, and no wonder: This actor does not abide by rules, royal or otherwise. For her 2021 Emmys look, she arrived at the London red carpet in a Miu Miu bonnet and fingerless gloves — an ensemble that's partially taken from the label's Fall/Winter 2021 line, which features a collection of fuzzy chin-strapped bonnets over puffy coats and glittery dresses. Imagine walking around in a world that doesn't let you put half a balaclava on top of your red-carpet dress. Sounds oppressive to me!
The bonnet tops off a matching pale-yellow strapless dress and long fingerless gloves, which has the effect of making Corrin look like a pilgrim who shops at The Row — which is, if you ask me, aspirational.
Actually, scratch that — she's a goth pilgrim who shops at The Row. The cherry on top of the whole look is Corrin's nails, which are incredibly long, incredibly pointy, and jet black. While I cannot imagine these nails would serve her on actual ski slopes, they could probably get her a spot as an extra in that House of Gucci skiing scene. Maybe as the spoon Lady Gaga is using to stir her espresso?