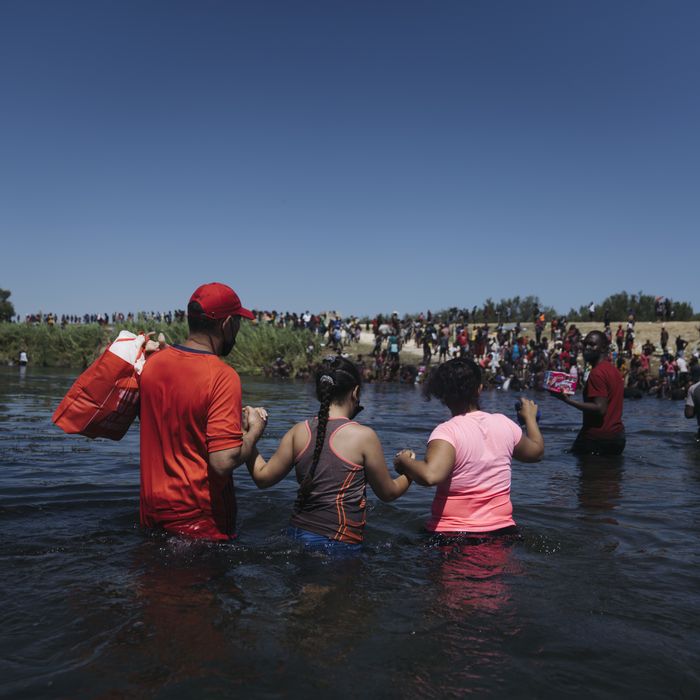 Migrants cross the Rio Grande River near the Del Rio-Acuna Port of Entry towards Del Rio, Texas, U.S., on Sunday, Sept. 19, 2021.
Photo: Bloomberg via Getty Images
Despite President Biden's promises to take a more humanitarian approach to immigration than his predecessor, his administration deported more than 300 Haitian asylum seekers on Sunday — and plans to expel many more.
In recent weeks, nearly 14,000 refugees have set up camp in the Texas border community of Del Rio, and Haitian authorities believe all of them will be expelled from the U.S. The Caribbean nation has been experiencing political and economic instability for years, but the assassination of President Jovenel Moïse and a devastating 7.2-magnitude earthquake earlier this summer have further deteriorated living conditions.
Over the weekend, around 3,300 Haitians in the Del Rio encampment were apprehended and either sent to detention centers or put on flights back home, said U.S. Border Patrol chief Raul Ortiz. The agency expects to remove the remaining asylum seekers within the week.
Following the earthquake that left 2,200 dead and 30,000 people homeless, desperate Haitians have said receiving aid has been a disturbingly slow process — and that their needs supersede the assistance they've received so far. According to the United Nations, an estimated 650,000 Haitians are still in need of emergency aid. "I left Haiti to go find a better future, because here in Haiti all of us young people — despite finishing our studies — can not get any work. We are on the streets with nothing," a deported asylum seeker named Stephanie told Reuters. Stephanie said she was detained, taken to a facility, and then put on a plane back home. According to Reuters, several of the migrants were not told they were being sent to Haiti.
The U.S. government is able to quickly expel migrants without giving them a chance to file their asylum claim because of a Trump-era CDC rule called Title 42. The directive, which was established in March 2020 and overrides all other federal laws, uses an obscure 1944 public-health statute to justify indefinitely closing the border to "nonessential travel," even though the statute had never been used to regulate immigration before.
Last year, Vice-President Kamala Harris was one of the senators who signed an open letter criticizing the policy. "A public health crisis does not give the Executive Branch a free pass to violate constitutional rights," the senators wrote to then–Acting Homeland Security Secretary Chad Wolf. But once President Biden came into office, the administration quietly kept the rule — even after repealing other harmful Trump-era anti-immigration policies. The administration then renewed the directive last month and is currently appealing a judge's decision that would put an end to it on October 1.
In the meantime, the U.S. is expected to begin seven daily deportation flights starting on Wednesday.