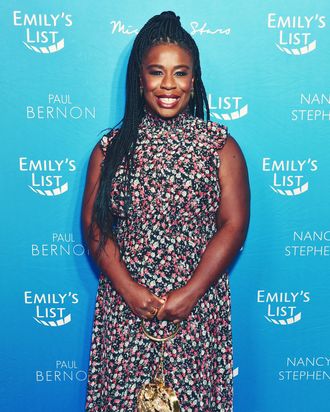 Photo: Gregg DeGuire/FilmMagic
It seems all the celebs are settling down. Just in the past week, we've had multiple pregnancy announcements, an engagement announcement, even a secret baby announcement. Now, we've learned via Instagram that actress Uzo Aduba got married! Last year! Surprise!!
On Sunday, the Orange Is the New Black star shared what appears to be a wedding photo of herself and director Robert Sweeting in honor of their one-year anniversary. Her Instagram caption began with a quote from When Harry Met Sally: "When you realize you want to spend the rest of your life with somebody, you want the rest of your life to start as soon as possible." A nice reminder that stars are often as sentimental and corny as the rest of us. She continued, "For some of us, it can feel like we spend our whole lives waiting for our special someone. My heart, my love — I'm so happy my life started last year with you. You're the best thing that ever happened to me." Further proof that now is a great time to secretly get married.
Sweeting also shared a little photo dump in honor of his anniversary. "One year ago I married this gorgeous, talented and incredible woman," he wrote. "This past year has made me appreciate the fragile nature of life and the importance of living it. At a time where the world is upside down, we learned to find joy and peace in each other. You are the greatest person I've ever known, and I'm proud to be your husband." A belated congratulations to these two on their nuptials!