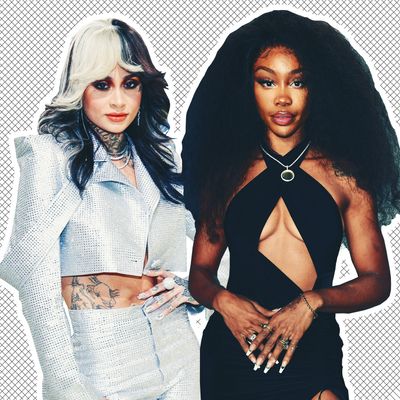 Photo-Illustration: The Cut; Photos: Getty Images
Though I barely noticed Met Gala newbie Kehlani on the red carpet, and SZA was not in attendance, they were all I could think about the day after. And there was a lot to think about. Alexandra Ocasio-Cortez attended in a white gown sloganed with "Tax the Rich" in a room full of rich people. Bennifer kissed with masks on … again. And Kim Petras showed up wearing a horse head.
But it's a single video that I can't get over: Looking like a dream pair in a striped navy suit and green silk dress, Kehlani and SZA were spotted holding hands on their way to Rihanna's after-party on Monday night. And for the second time! Does this mean what I think it does?
While nothing has been confirmed (sigh), we do know a few things. In April, Kehlani, SZA, and Lizzo were all spotted hanging out together at an LA restaurant. When they left the restaurant, Kehlani and SZA were holding hands. Later that month, Kehlani came out on TikTok: "It's true, I am gay gay gay gay!!!" she said. "I finally realized I'm a lesbian."
She later deleted the video, but Kehlani has been open about her sexuality since the release of her 2017 hit "Honey" and has identified as queer for quite some time. While SZA has never publicly commented on her sexuality, she's never really talked about any relationships publicly — giving us hope that this could mean the two singers really are together.
Maybe Kehlani's new album Blue Water Road, set to be released this winter, will reveal what we all want to know. In the meantime, I'll be listening to her latest release, "Altar," on repeat.