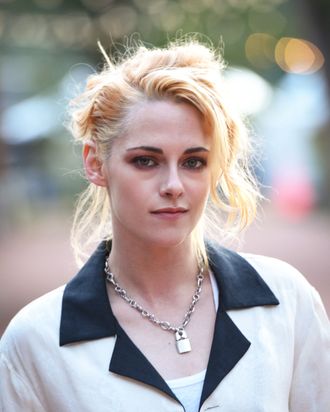 Photo: Vivien Killilea/Getty Images
Probably a good 15 percent of all entertainment ever created is devoted to dissecting various moments of Princess Diana's life and the inner workings of her mind. But I'm now convinced no one understands her better than Kristen Stewart, who implied in an L.A. Times interview this week that she has communed with the ghost of Diana herself.
Stewart is playing Diana in the Pablo Larraín–directed drama Spencer, which follows the princess during the three days leading up to her decision to divorce Prince Charles. Apparently, she does it very well — and I'm not surprised, considering this revelation.
"I felt some spooky, spiritual feelings making this movie," she said when asked if she's ever had any paranormal encounters. "I felt like there were moments where I kind of got the sign-off." She continued: "[Diana] felt so alive to me … there were moments where my body and mind would forget she was dead." In other words: Kristen Stewart consulted Princess Diana's ghost while playing her.
Stewart also said that Diana has a "feral cat feel" and talked about profusely sweating at a dance party after the movie's Venice premiere, which really does make her the People's Princess. If she hasn't logged some time with Di's ghost, I don't know who has.