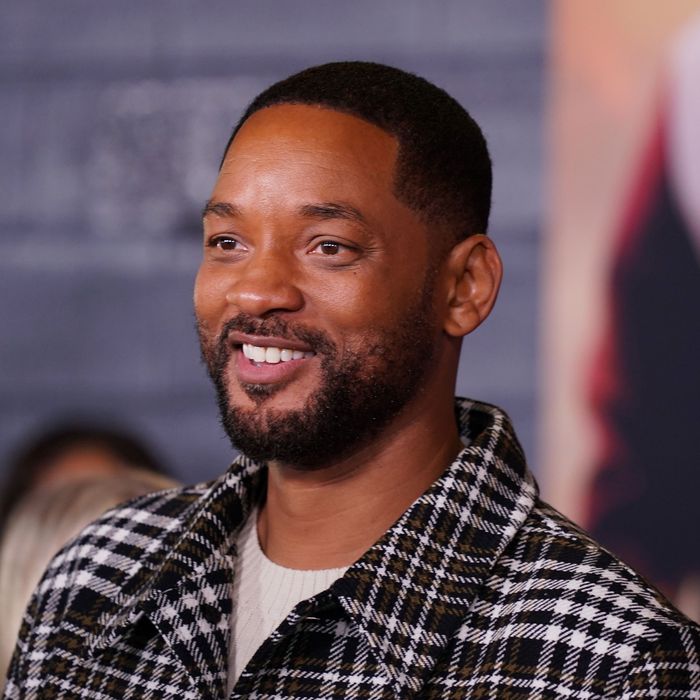 Photo: Jemal Countess/FilmMagic
Will Smith has reached something he calls his "fuck-it 50s," where, apparently, he "gave himself the freedom to do whatever [he] wanted to do." According to a new interview with GQ, this new liberated era of existence has included over 12 (TWELVE!) ayahuasca trips, dabbling in stand-up comedy, and writing a memoir.
It also includes revealing some choice details about his sex life. Specifically, a very vivid fantasy he once had that involved traveling the globe with "a harem of 20 women," according to the profile, that he "loved and took care of." Which … hmmm!
Why was Smith talking about his sexual fantasies for an interview with GQ, you might ask? Apparently, he brought this up in the context of discussing the years he spent working with an intimacy coach to process his repressed Christian upbringing. He also explained that part of unpacking this particular fantasy, which he wisely suspects came from his teenage years, was naming the women he'd want in said harem — a list that includes Halle Berry and Misty Copeland.
And yes, it gets stranger. According to his recollection, he and the intimacy coach researched more women to add to the mix and then made plans to contact the women. Smith did not reveal what the message might have been, nor did he mention how he would have sent it. (Instagram DM? Gchat? In a bottle?)
Fortunately, somewhere in all this researching, Smith came to the realization that, actually, he didn't want to travel with a pack of 20 girlfriends. He says, "After we played it out a little bit, I was like, 'That would be horrific. Can you imagine how miserable?'" Honestly, I cannot! Never have I realistically pictured myself toting around a mid-season Bachelor cast, only to realize it would be less fun than I initially pictured.
I, for one, am thankful Smith was talked down from executing this dream, and I have a feeling he is, too. He also confessed in the interview that he was having extramarital relationships during his wife's years-old affair with R&B singer August Alsina, which went public last year and famously caused Jada Pinkett Smith to bring both herself and her husband to the Red Table.
He confirmed the long-standing rumor that he and Pinkett Smith are now in a nonmonogamous relationship, saying, "We have given each other trust and freedom, with the belief that everybody has to find their own way." He continued, "The experiences … we've given one another and the unconditional support, to me, is the highest definition of love." It's true, that does sound nicer than a harem.
Smith's memoir, Will, comes out in November and may or may not include more of his elaborate fantasies.