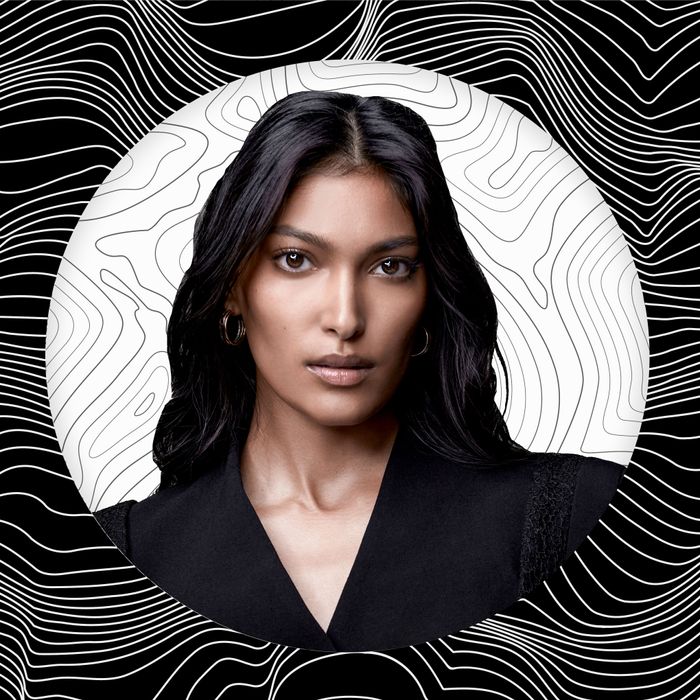 Photo-Illustration: The Cut; Photo: Courtesy of Pritika Swarup
Even in the midst of 2020, when COVID-19 forced a lot of people to stay home, Pritika Swarup's days were anything but dull. The model, who has appeared in campaigns for Fenty Beauty, M.A.C, and Clinique, and in the pages of Vogue, Elle, and Harper's Bazaar, was enrolled at Columbia University working toward her Bachelor of Arts degree in financial economics. She was also running Praetorian Management, LLC, the "largest student-run investment fund at Columbia," which she founded in 2018, and developing Prakti, her skin-care line, which launched today. Below, the "world's most fabulous financier," as she was dubbed by the New York Post, talked to the Cut about how she stays calm through it all.
On her definition of wellness: Wellness means taking a holistic approach to balance the mind, body, and soul. I grew up with the key principle of Ayurveda — which is all about balance, and if one of the elements is not balanced, then issues in the body will manifest — and made it a part of my lifestyle.
Wellness changed for me in the past year because now I focus more on my mental well-being. Before, I'd push through certain difficult or stressful times because things happen so fast in our world. But last year actually gave me the time to reflect and focus on how I want to feel and what I need to do to maintain a healthy lifestyle and mind-set. It's all connected, right? And it doesn't mean that I slowed down, but it means that I took the time to focus on another aspect of wellness that I didn't think that I needed to focus on.
On her mornings: It really depends on where I am and what I'm doing, but I try to get up between 6:30 a.m. and 7 a.m. — lately, it's been on the 7 a.m. side. And then I stretch and meditate.
Usually, I shower at night if I have a job the next day because you don't want your hair to be too clean — it's harder to style if it is — but maybe I'll take a cold shower in the morning to wake me up. Sometimes I'll do a really quick skin-care routine with a light, cream cleanser and moisturizer. If I have more time, I use a cold jade roller all around my face to stimulate blood flow and circulation. Maybe I'll have a light breakfast like oatmeal or yogurt — I never eat too much in the morning because I feel like eating super-heavy meals makes me a little slow. And I try not to take so much caffeine. If I need to do something really early, I'll drink espresso, but it makes me so jittery so I try not to.
On her skin-care philosophy: I've always had the idea that less is more, and especially after the pandemic, my routine has even become more simplified than before. I based my routine around these pillars: purify, protect, pamper, and polish. And I love homemade masks — try turmeric, chickpea flour, lemon, honey, and yogurt to reduce dark spots. I also take half a teaspoon of turmeric with clarified butter and black pepper. It contains antioxidant and anti-inflammatory properties, and clarified butter is the vehicle — you need to mix it together to really digest the turmeric.
Spirituality is so important in skin care because the radiance of your skin comes from within. Spirituality brings a sense of inner peace and balance between the mind, body, and soul. This all shows on the surface. If someone is struggling or stressed and anxious, this tension in the body will show on his or her skin. I chant ek ong kaar, sat gur parsaad sat gur parsaad, ek ong ka before, and sometimes during, my skin-care rituals each day. This mantra connotes the feeling that every pore of the body becomes an all-seeing eye and represents knowledge that comes through the soul and intuition. Then all knowledge and bliss flows through you. It really changes your overall vibe to positive.
I actually came to the idea that I was going to develop my own skin-care line because I was trying to understand why Indian beauty hasn't reached a global scale and why Indian beauty hasn't been able to resonate in this country. I grew up in the U.S., and I'm comfortable and happy with my Indian culture and also very happy with my upbringing in America. I never felt caught between my two cultures and dual identity, so why didn't that space exist in the beauty market? Why was the market caught between the two? That's how Prakti's hybrid concept came about. It's not strictly an Ayurvedic brand, but it does take certain aspects of Ayurveda and certain Ayurvedic practices and ingredients, like turmeric, amla (gooseberry), and sandalwood, and combines them with innovative textures and formulas, which we've spent a lot of time on to ensure that they're the best vehicles for these ingredients to be absorbed in the body.
I'm so proud to launch Prakti with PritiPolish. It's a next-gen face scrub that uses a delicate fine rice powder made by an advanced milling technique to gently exfoliate skin to luxuriously soft, velvety perfection. I added a blend of nourishing Ayurvedic ingredients to deliver an antioxidant boost to keep skin incredibly glowy. It also adds a little magic to your routine — mixing just a few drops of water turns the white powder to a beautiful shade of amethyst. After one use, you immediately see the difference in your skin. Our custom made spoon is copper, which has antibacterial properties, and is calibrated to measure the exact amount of product you need for each use.
On the importance of meditation: I've always been into meditation, but I started doing it every morning during the pandemic. Even just five minutes of meditation where I chant a mantra is very powerful because it clears your subconscious and makes you feel more aware and present. That's something I struggle with, especially because my schedule is such that I'm changing gears so much: One minute I would be in class, the next minute I would have to be at a photo shoot, and the next minute, I'd be talking to a consultant for Prakti. I'm trying to be more present and not always think about what's coming next and what I have to do and where I have to be.
On her diet: I grew up as a vegetarian. My family, they were really strict. We never had fast food. It always about being aware of what you're putting in your body. So I try to stick with vegetarianism primarily, and sometimes I'll eat fish and chicken. And obviously, I don't eat red meat — cows are sacred in India, and it just wouldn't work with my body. Ayurveda has three different diets, pitta, vata, and kapha, depending on what your body type is. I'm not on an Ayurvedic diet, but I know what works for me. And I don't deprive myself. Since Ayurveda is all about balance, if there's an imbalance in your diet, you'll feel it and you need to be able to act on it. You can't just cut out all salt or all sugar. It doesn't work that way.
Believe it or not, I never cooked before the pandemic. I guess I made excuses for myself. I was like, "Oh, well, I live in New York City." And especially making things like Indian food, the kitchen gets messy. So I started with basic things. I would bake salmon and use different types of seasoning, maybe some salt and pepper, some cayenne, keeping it very simple. Then I got a little more adventurous. Maybe I'd make a dal, which is lentil soup. I kind of spice up everything. Actually, I had COVID in December, and I lost my sense of taste and smell, so I've been making everything so flavorful and spicy since then. I still can't say that I taste everything, and I can't even smell fresh flowers.
On drinking warm water with lemon: I've been doing this since I was really young. It's supposed to purify the system, and since the internal temperature of your body is 98 degrees, we should drink water that is close to this temperature for better absorption of food and other nutrients. The main thing is not to shock your body.
On exercise: I really like going to classes and going with a trainer to the gym because their energy makes me feel super-motivated. On my own, I do different things like jumping rope, running, and my mom is a yoga instructor, so I've grown up with yoga. But classes are really great for me. It makes me so motivated to see other people sweating it out. I actually hadn't been to a Barry's Bootcamp class in like 18 months, and I just went recently. It was the butt and abs class, and now, I can't even sit right. I don't know what it is about lighting in a Barry's class, but it's this reddish lighting that for some reason makes everything look good. It makes your skin look great, and you're like, "All right, I'm sweating it out, and I'm doing something great for myself." I also did an SLT class recently, and it wasn't my first time going, but it was still so hard to get through one class. By the end, I could barely do a plank.
On alternate-nostril breathing: It's actually called nadi shodhana. There are three main channels of energy in your body — central, left, and right — and energy moves between them. It's amazing what you can do and control with breathing exercises. It can help reduce anxiety and calm your thoughts. Sometimes I'll feel super-anxious, and I'll be like, "Okay, I woke up late today. I didn't do this, this, this, and this." And then I'll do this breathing practice, and it slows everything down. To practice alternate-nostril breathing, you regulate your breath from one nostril at a time, you hold it for four beats, and then you release it from the other one, and then you alternate the process. Before photo shoots, or sometimes during a shoot, there can be a lot going on that's very stressful and that you may not have control over, so you have to do something to help you recenter, and alternate-nostril breathing is it for me. Since it allows more oxygen to reach the brain, I feel more aware and alert, too.
On her nighttime routine: Before bed, I'm very careful about removing any makeup, and then I cleanse my skin. I usually apply a mask a couple of times a week; either a detox mask or something more pampering and hydrating. To exfoliate, I'll mix ground-up orange peel, glycerin, honey, lemon, and sugar. I use these same masks and peels on my face and body. I also love using oil in my hair and on my body: sesame oil in the winter and coconut oil in the summer.
A few times a week, I do abhyanga, which is an Ayurvedic nourishing massage. You massage the body and face with warm oil for at least 20 minutes and then take a bath or steam after. I apply slight pressure to relieve tension, and it actives blood circulation and removes dead skin cells. It also improves skin complexion and brings out a glow.
I usually fall asleep quickly since my days are really busy. I keep a notebook on my nightstand, so if I can't sleep, I write down my thoughts or the things I am thinking about. Once they are on paper, my mind feels clear.
On reading before bed: I've been reading different fantasy books. This is gonna sound kind of cheesy, but I had an obsession with the Twilight series when I was in middle school — I'm Team Edward, but when I was reading New Moon, I was Team Jacob. I made my dad go to every midnight showing with me, and now my boyfriend's reading the first book in the series. I'm reading Midnight Sun right now, and it's very exciting. You get so much more from it because Edward can read everyone's minds. I like knowing what he's thinking. When you hear the story from Bella's point of view, there are so many gaps. I'm not even halfway through, it's a very long book, so I read a chapter a night.