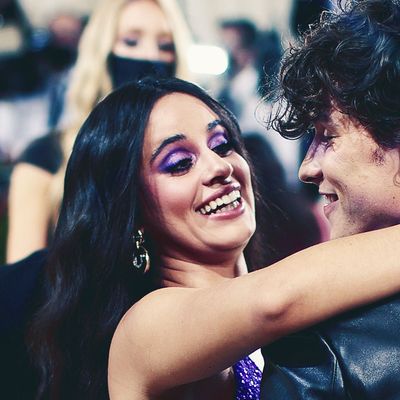 Photo: Dimitrios Kambouris/Getty Images for The Met Museum/
There is a moment at every Met Gala that becomes The Moment for me. In 2018, it was the presence of our Lord and Savior Pope Rihanna. In 2019, it was Karlie Kloss "looking camp right in the eye," and then showing up in … this. For the 2021 Met Gala, the thing that will undoubtedly stick with me won't be spooky Kim Kardashian nor will it be Kim Petras as a Horse Girl, though I wish it were so. Instead, the thing I will see tonight when I close my eyes — and every night, forever, until I die — will be this three-second clip of Camila Cabello doing something I am unable to explain in words. Is she practicing her poses? Is she just in a silly, goofy mood? Please, help. I cannot look away.
The lean! The downward head tilt! The smile morphed into some kind of duck face-lip snarl hybrid! The little eyebrow going up at the end! It's all made exponentially better by the fact that Cabello's outfit is giving me Maddy's carnival jumpsuit from Euphoria meets Windsor prom dress.
You may be wondering whether the full video of the singer's red carpet interview gives more helpful context. And you will be pleased to know that it absolutely does not. Keke Palmer, who served as on of Vogue's red carpet interviewer, was talking to Shawn Mendes about how he started his career on Vine. (Remember Vine?) So, Cabello took this as an opportunity to check out and do whatever it is she is doing with her face.
Incredible. My favorite look of the night, hands down.