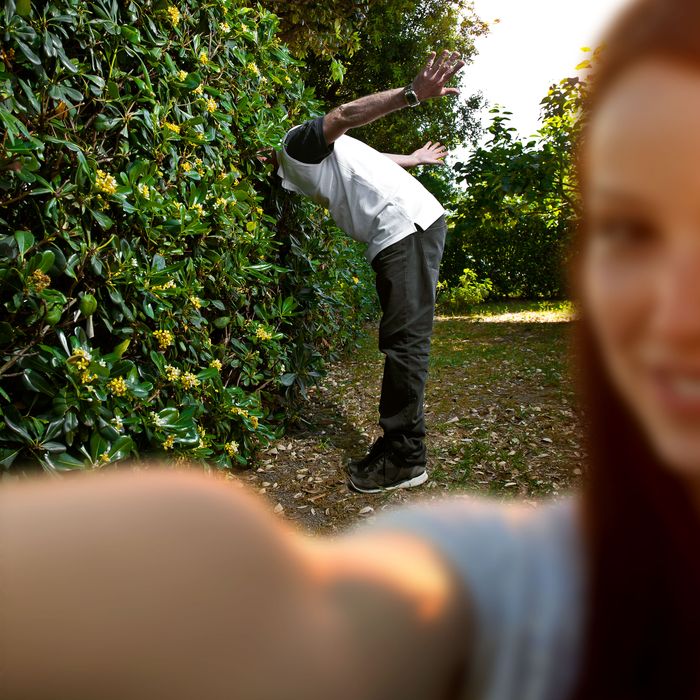 Photo-Illustration: by the Cut; Photos Getty Images/Francesco Cart
The premise is simple — you want people to know you're seeing someone new, so you post an Instagram pic of the two of you, the newly officially happy couple. Maybe you're having coffee in bed. Perhaps even a romantic holiday in Greece with everyone else. Thing is, your followers can only see you. And … is that an elbow? That must be their wine glass, right? Wait, the back of their head?
The relationship, you see, hasn't solidified enough to reveal a full face. Remember how Bella Hadid debuted her new boyfriend Marc Kalman to the world earlier this summer? Well, it was a blurry photo (since deleted), so I don't blame you.
The vagueness in Lil Ahenkan's posts, she says, is intentional. "The strategy is to be flattering with very little detail," she says. "No name or identifiable information." She's never actually posted (or "hard launched") her current relationship. "Just a contextually sweet post if I'm feeling like I want a moment to bask in romance without consequence," she says.
The timing is right for all this. As we collectively (literally and emotionally) spiral toward colder weather (and, subsequently, cuffing season), this transitional month has been dubbed "soft-launch September" by the people who dub things on the internet. Behold: TikTok "tutorials" on how to soft launch. (Tip: Try posting a pic of your new S.O.'s dog or maybe their back at an art gallery — the human, not the dog). You can soft launch other things too: your breakup, moving cities, even your sexuality.
The origin story of the "soft launch" phrase stars comedian and Shiva Baby star Rachel Sennott. In July of last year, she Tweeted "congrats on the instagram soft launch of ur boyfriend (pic on story, elbow and side profile only)." With that, people finally had a phrase for that thing where non-famous people are suddenly as coy about their love lives as, say, a super-famous supermodel.
"I was quarantining at home with my family and my sisters, and I noticed how on Instagram all the girls who had locked down with a quarantine boyfriend were starting to subtly post them," Sennott told The Cut. "We were joking about how people were posting their boyfriends the same way companies tease a product, like a sneak peek but not the whole thing."
Sennott herself soft launched her current boyfriend by first tweeting "celebrating international men's day by having a boyfriend" to "build suspense," then casually posting him in her Instagram Stories, then finally posting him at the end of a "photo dump." "If we get married or something, then I will put him at the top of the swipe through or maybe even not make it a swipe through at all." A classic love story, no?
In the ranking of soft-to-hard, the stand-alone feed post means ultimate commitment. Eh, sometimes. Even Issa Rae's husband was "revealed" at the end of a swipe-through post.
Is the whole soft-launch thing just a sign that we're all taking our own "personal branding" too seriously? Possibly. Does anyone actually try to decode the arm in our Instagram story like we think they do? No, definitely not — unless, maybe, you're an influencer. For Ahenkan, being as nondescript as possible is a way to ensure privacy for both herself and her partner, after fans have tracked down previous partners using very little information. "I'm protective over all my close relationships because the internet has no house training," she says.
For artist and influencer Giulia Marsico, soft launching her then-boyfriend this summer was a way to ward off creeps in her inbox. It resulted in followers that either became super-invested in and curious about her new relationship or simply unfollowed her en masse. Now that she's single, she says she has been soft launching her breakup as a way to let people know she's available again. "I meet guys through my Instagram, and there's a lot of communication on Instagram," she says.
While those of us with followers in the four digits are probably overthinking it if we plan a multilevel marketing strategy to post our new partner, the forward-facing and validation-craving nature of social media often doesn't give us that perspective. "When we are first dating someone, when they put us up on their social media, we perceive that in a similar way as that person introducing us to their family or friends," explains Rachel Wright, a New York–based psychotherapist. Without this, people can begin to feel not important or hidden, although the core root of the issue is probably something happening in real life. "We will often use business terms or other non-emotional type terms to describe more emotional things to decrease the level of impact it has on our nervous system and psyche," she says.
If the mother of all relationship posts is the often cringey couple photo with a "this one" caption, the soft launch is her more mysterious daughter. On the outside, she's much cooler; but inside, your girl is riddled with insecurities. Which is why these photos actually aptly capture the essence of casual dating culture — undefined, blurry situationships with no commitment and very little clarity. In the end, we're all just working our way up to the enviable feed post — or marriage. Same thing.