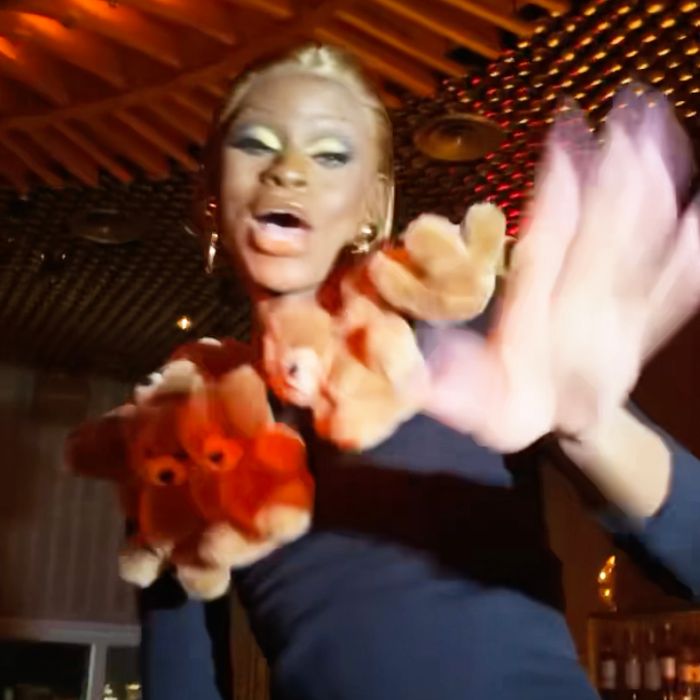 Symone at the Boom Boom Room.
Photo: Courtesy of Mark Monroe
Last night, after a truly chaotic week in New York City happenings, with Fashion Week coinciding with Armory Week and the VMAs arriving on the tail end of the weekend, the glitzy festivities ended with a circuit of after-parties for the long-awaited return of the Met Gala.
Shortly after 11 p.m., stars started to arrive in earnest to the gala's unofficial after-party, hosted by star-crossed country-pop singer Kacey Musgraves, looking like a trophy in a sparkling, golden gown. The party was taking place for the 11th time at the Standard, High Line's famed Boom Boom Room, not currently open to the public but bustling with white-tuxed, hunky bartenders again for one of its most extravagant parties of the year.
The beginning of the evening was a slow trickle of celebrity arrivals, creating something of a game to see who was able to change the fastest, or who neglected to make an outfit change at all. Josh O'Connor, the dweebishly cute actor who plays Prince Charles in The Crown, was one of the latter, arriving at the party in a powder-blue jacket and taking a seat at a table with his friends, before proceeding to rave earnestly over the locale: "This is a great spot. It's cute," he says, looking out the big windows to the Hudson River below. When the British American fashion designer Harris Reed arrives, in diamond-studded nipple pasties and a big hairy blond crown, O'Connor gets even more pumped, telling me Reed is the person he's most excited to see here. Since he's one of the few non-Americans in sight, I ask him what he thinks of this year's Met Gala theme, American fashion. "I don't actually know what that means," O'Connor laughs. "I mean, denim? I like that, I guess!"
Elsewhere at the party, Julia Garner and Megan Rapinoe rule the dance floor, bopping around energetically and talking to the other celebs as they arrive — Garner fluttering like a little sparkly fairy, and Rapinoe, in blue jeans with a little bag that says "In Gay We Trust," looking very on-theme. Second Daughter Ella Emhoff and her boyfriend show up next, and he takes pictures of her twirling in her red, frilly dress in front of the skyline for Instagram.
In other corners of the room, namely the smoking deck, slightly less A-list partygoers, fashion editors and stylists and other media people, really let loose, all boozed up on "actually good" Champagne after arriving here much earlier than everyone else (they weren't invited to the gala). "I'm supposed to be working, and now … I'm really fucked up," slurs one British fashion editor, who's on the search for a boy toy for her friend. The comedian Benito Skinner, meanwhile, with his shockingly clear skin, tells me he's looking for his actual boyfriend, anxiously scanning the room.
Out of the corner of my eye, I spot someone I know from going out in Brooklyn, and he admits that he somehow "accidentally" snuck into the party. "I don't know how I'm here right now. But I rode the elevator with Karlie Kloss and look how I'm dressed," he says, pointing to his T-shirt.
Other celebrities arrive and leave quickly, treating the party like a pregame to the maybe more exciting after-parties in town, including ones hosted by Rihanna and Balenciaga, and even a fête with fashion designer LaQuan Smith under the Kosciuszko Bridge in Queens, famous for its pandemic-times underground parties.
Timothée Chalamet comes through quickly, in his admittedly lackluster all-white look, talking to Julia Garner and then running quickly out the door, calling back, "I gotta roll! I gotta roll!"
Near the bar, Kim Petras dances alone, her septum piercing dangling in step with her dance moves and the giant horse plastered to the front of her Collina Strada dress. All she really wants right now, she says, is to get a drink. Olivia Rodrigo is similarly tight-lipped, saying she needs to find her friends because she's not "in the right headspace" to chat. Meanwhile, Lorde appears a little lost, bumbling around in the mostly mirrored restroom maze, and Billie Eilish arrives in big platform boots to dance in the middle of a circle of her groupies. Troye Sivan glides in and, not to brag, tells me I look really great, at which point I black out and make some inane statement along the lines of: "You were wearing black earlier! And now you're in white!"
Looking around, I can't find the hostess, but one partygoer tells me she's in "her little booth, eating French fries like a queen." Sure enough, there's Musgraves, giggling and taking shots and selfies with Drag Race winner Symone in the amber glow of the bar.
Nevertheless, despite the gross achievement and net worth of the celebrities in the room, the party never really gets anywhere, with VIP guests rolling constantly in and out the door. Unlike Madonna's Pride party at the Boom Boom Room back in June — a party that became one of the more iconic New York events of the summer (and a rumored spreader event) — tonight is rather well-behaved. There are no specialty cocktails or gift bags or performances. It's exceedingly "normal," if you can call anything about this star-studded meeting place/photo op normal. Outside, where there's not even a crowd of people waiting to get in, Symone and her crew confirm some of my suspicions about where everyone is jetting off to.
One word: Rihanna.