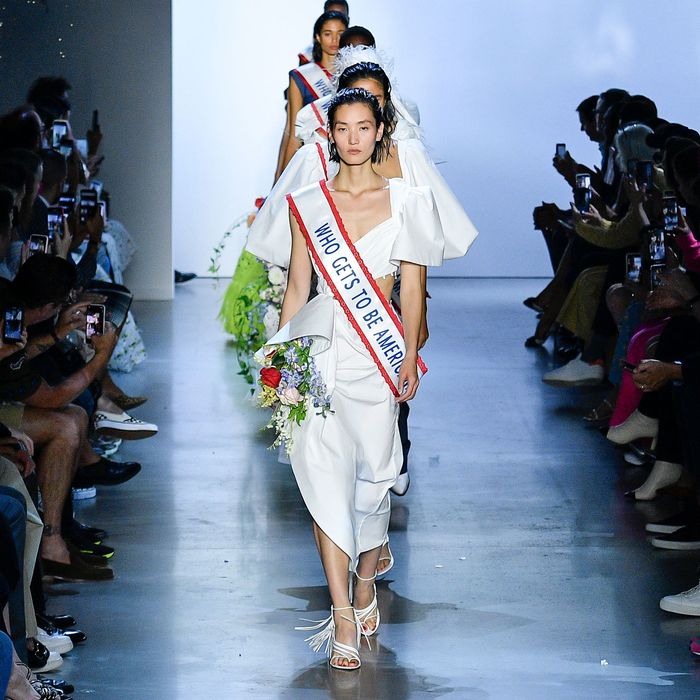 Prabal Gurung's "Who Gets to Be American?" collection from 2020.
Photo: Victor Virgile/Gamma-Rapho via Getty Images
When I first saw Prabal Gurung's "Who Gets to Be American?" collection in 2020, I was moved to tears. I asked myself: Are people of color the only ones critically thinking about this question because our Americanness is constantly called into question? The answer, in the fashion industry, can often feel like we still don't know what to do with people we do not truly understand.
This dress, which features a sash posing that exact question, is displayed front and center at the latest exhibition of the Metropolitan Museum's Costume Institute show, which, according to Vogue, is its "most ambitious exhibition to date." And yet, of the almost 100 designers in this year's exhibition of American fashion, not a single one is Muslim. Also, not a single hijab-wearing person walked the red carpet.
This year's co-chairs included Amanda Gorman, Timothée Chalamet, Naomi Osaka, and Billie Eilish; these culturally impactful individuals are among the youngest to ever co-chair. They do so alongside Instagram's Adam Mosseri, Tom Ford, and of course, Anna Wintour. Before this group, over the past 70 years, there had only ever been seven Black co-chairs of the Met Gala. Yet with a dream team of young co-chairs and Wintour on the runway talking about "diversity," the reality is that it is another year of this event without breaking the unfortunate standard of no Muslim hijab-wearing representation.
I've looked forward to clearing my schedule to watch the Met Gala red carpet since I was in high school. I'd dream of one day being on the same carpet or cheering on a Muslim person in a hijab walking it, or both! (Imagine there were two.) And I have some ideas on whom to invite: Ugbad Abdi, a model who has been frequenting the pages of Vogue and of whom Wintour said in a Wall Street Journal piece, "From the beginning, [Abdi] has used her platform to challenge stereotypes about Muslim women and open doors for others"; or Malala Yousafzai, who needs no introduction and was recently on the cover of Edward Enninful's British Vogue; or Halima Aden, who was the first hijab-wearing model to sign with a major agency; or Rawdah Mohamed, the Vogue Scandinavia fashion editor; or Representative Ilhan Omar.
Many of us are familiar with the torn feeling of being chosen to be "in the room" and still not being respected for who you actually are when you are standing in it. When you are no longer convenient to the narrative being told, you go back to being discarded and invisible to "them." "Them" refers to the institutions — art museums, media publications, tech companies curating algorithms, brands that decide whom to invite to which event or onto what campaign depending on what makes for the best marketing right now — that take up the role of defining to the rest of society whom and what we need to be paying attention to. That's why this year's Met hits differently. It was never about the event itself — it is about the pinnacle of fashion, an industry that helps shape our identities, rejecting an entire group of people it claims to serve only when convenient.
How someone gets invited to the Met Gala has long remained a mystery to people not affiliated with the event. Designers and companies, and influentially, Wintour herself, make those decisions based on certain "qualifications" unbeknownst to even some of those who do get invited. When I think about qualifications as a reason for exclusion, I realize I too am part of the problem. Why do I immediately go to the thought of which Muslim women in hijab would be qualified? I don't think about why anyone else on the carpet is qualified. This is how we become critical and hostile to those within even our own communities. It's a setup.
And furthermore, why do Muslim folks, or any people of color, constantly have to be overqualified to be welcomed in any space? It's why most of us are so good at what we do. There's no room for mediocrity for us to be in the rooms we fought to be in. And even when you're in the room or at the table, you can never be totally sure if it is because of you or to maintain upkeep for hollowed-out promises of equity.
It has become an anxiety-inducing expectation to constantly think about how people are going to "mess up" when it comes to having you in their spaces. Just last week during NYFW, I was misidentified multiple times by brands or in photos. When I was misidentified in a major fashion publication in 2018, I went into the offices to sit down with a top decision-making editor to explain why this mistake was so disheartening. Misrepresentation of Muslims in American media has had fatal impacts on our communities, and to this day, we remain constantly overlooked.
When I sat down with the editor, he asked if I would write a piece for the magazine under one condition: I could not mention the mistake. I said this wouldn't be authentic and pitched him two other ideas that would go hand in hand. His response: They would never publish two diversity pieces in one calendar year. The pieces weren't DiVeRsItY-focused. But when you belong to a community outside of "white American," your very existence is a walking 2-D "diversity" until proved otherwise.
The fashion industry can't have it both ways: Muslim folks are sprinkled in some of your front rows at shows, finally on some of your runways, deep in your pockets, and all over your mood boards, yet still kept at bay and expected to play along and be grateful for the opportunity to check off your box. If fashion is going to now claim to be a vehicle of change and impact, fight for the people who are on your mood boards. Tokenization isn't the answer and unfortunately, it's still the most common entry point to getting access to pressure people to open the door wider and let more people in. And letting people in isn't a favor to those people; it's a dire necessity for all of us. I don't have all the answers and I release myself from the burden of trying to have them all.
Right now, one of the most important things the fashion industry can do is demand that fashion houses and publications based in France, as well as designers who show in Paris, make a vocal stance opposing the government trying to control how people dress and support the French Muslim folks who are battling severe state-led Islamophobia. Why? Because 2.7 percent of the French GDP is generated by fashion, and the silence by the fashion community toward the French Senate's most recent bid to ban girls under 18 from choosing to wear the hijab in public echoes even heavier as the industry continues to benefit from Muslim dollars. Muslim women's most personal choice is consistently regarded as a public matter until it comes to giving us space and access to show up as our truest selves.
Stateside, part two of the Met's "In America" exhibition will be presented in May 2022, presenting "narratives that relate to the complex and layered histories" of the theme. There is no excuse not to have Muslim American designers included in the continuation of this exhibit, such as New York designer Nzinga Knight, who was the first hijab-wearing Muslim woman on Project Runway; Renee Hill of Harx4, who followed suit on the show; and Marwa Atik of Vela Scarves, who for over ten years has been leading the evolution of how so many of us choose to style our hijabs.
This year's Met took place two days after the 20th anniversary of September 11. Twenty years after the "war on terror" has ravaged Muslim communities in the U.S. and abroad, fashion and media continue to exclude Muslims from cultural American touch points, furthering the false and detrimental narrative that being Muslim is being anti-American.
I do not write these words because I want to wedge farther space between the mainstream fashion world and the Muslim community. I choose to no longer fear retribution from people in an elite space who pick and choose who is worthy this season through the narrow lens of their own privilege.
I choose to write this because after attending my first New York Fashion Week since the pandemic, I could see it so clearly on everyone's faces … we are beyond exhausted. Exhausted of putting on shows, both personally and seasonally. Exhausted of how alone it feels to carry anxieties that feel deeply personal, yet are caused and exacerbated by oppressive systems no one actually wants to be a part of. We can choose openness. We can choose curiosity and admit we still have so much to learn and unlearn. We can choose to care about filling the glaring gaps that only build us all up, and we are stronger when we choose each other. Only then will we all realize that the more of us who "get to be American," the more peace we will all finally feel being ourselves.