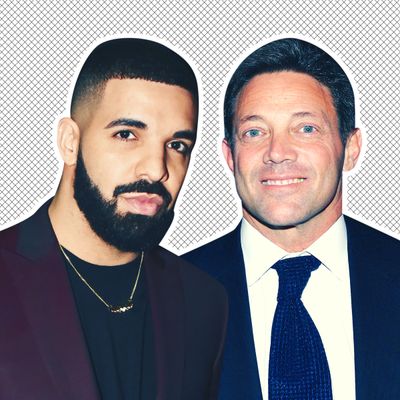 Photo-Illustration: by The Cut; Photos: Getty Images
I have a little riddle for you. It goes like this: Drake had dinner at Carbone in Miami with Jordan Belfort, better known as the literal Wolf of Wall Street. Thus concludes this riddle. If you are able to solve it, please tell me. I am very confused and concerned.
Today, Drake posted a photo on Instagram of him and Belfort at a restaurant. Belfort is showing Drake something on his phone — presumably something exciting based on Belfort's very gleeful little expression. Drake is doing his best to appear interested, his hand on his chin in a way that says, Hmm, this is something that should be interesting to me. Drake's caption provides no further explanation. It simply says, "Wolves."
Belfort posted the exact same photo on his Instagram account and again in his Instagram Story, which makes me wonder if Drake requested that the pair take only a single picture. Belfort's posts don't clear anything up either, as he captioned the grid post "Werewolves in Miami …" and wrote over the Instagram Story "Met a true alpha-wolf at dinner last night!" If Drake calls himself an alpha-wolf in a future song, I swear to God …
If you need a refresher, Belfort is a former stockbroker who spent 22 months in prison for stock fraud and money laundering. His memoir was the inspiration for 2013 movie The Wolf of Wall Street, which you may remember as the one where Leonardo DiCaprio is very coked up and Jonah Hill wears a prosthetic penis. If you need a refresher on Drake, he's the rapper who just put out the album he hoped would get you pregnant. Speaking of which, Belfort also posted a pic of himself in a life jacket to his Instagram Story with audio from Drake's "Champagne Poetry." If anyone has any idea what any of this means, I would love an explanation.