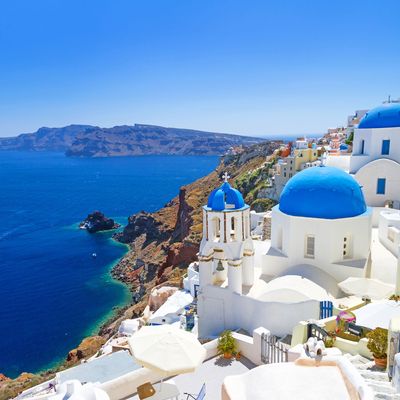 Photo: Patryk_Kosmider/Getty Images/iStockphoto
It appears all the celebrities have been going on their little European vacations this summer. Orlando Bloom and Katy Perry brought their chaotic and corny energy to Venice. Sharon Stone also went to Venice, as did Ciara and Russell Wilson, Kourtney Kardashian and Travis Barker, Angelina Jolie, and J.Lo. Speaking of J.Lo, Bennifer and A-Rod took dueling yachts in St. Tropez. Vanessa Hudgens vacationed in Capri. The Biebers went to Greece. Ariana Grande sat in a big Dutch clog in Amsterdam. Harry Styles and Olivia Wilde kissed on a yacht in southern Tuscany. Even Paris Hilton was able to take a break from "sliving" to sit on a catamaran in Corsica. This all begs the obvious question: Which celebrity will let me come on their next European vacation? Hmm?
What say you, Cousin Greg? Do you own a boat and a passport? Perhaps Oscar Isaac is in the market for a little Swedish getaway. We could both certainly use the R&R before our very busy autumn — him, with all his various movies; me, with all my Love Island to rewatch. Does North West need a babysitter in Mykonos? Does Jennifer Aniston need someone to eat her bread for her in Italy? The Olsen twins must have something European planned that I can just tag along on. What's a girl gotta do to get a celebrity to bring her to Greece?
If it helps, here are some things I can bring to any and all celebrity European vacations:
My vaccine card

A good attitude

Snacks and water to share

Minimal emotional baggage

Minimal actual baggage

A polaroid camera — nostalgic! — but someone will need to chip in for film
There is, unfortunately, one blatant barrier: The E.U. recently recommended its members reinstate restrictions on U.S. travelers due our rising number of COVID cases. (You hear that, Chet "You ain't sticking me with that motherfuckin' needle" Hanks?) So, I suppose I will have to wait. Also, I do not personally know any celebrities.