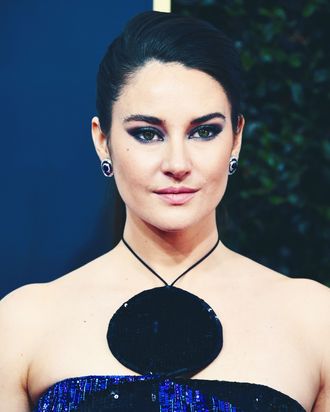 Photo: Steve Granitz/WireImage
It's been a big week for celebrity babies. First, Kylie confirmed her pregnancy. Then, John Mulaney announced he and Olivia Munn are having a baby. Jennifer Lawrence is pregnant, Alicia Vikander finally confirmed she and Michael Fassbender had a kid, and I am merely trying to keep up. Now, Shailene Woodley has given us a little riddle in the form of baby feet. On Wednesday, Woodley posted a photo of some baby's feet on her Instagram story. No caption. No explanation. Just black-and-white baby feet and confusing vibes.
I wish I had more information to offer, but I don't. Is she pregnant? Did she and fiancé Aaron Rodgers have a secret baby? Were those just some nice baby feet she wanted to share? I fear we will never know the answer as Woodley is famously quiet about her personal life. For example, do you remember earlier when I said the words "fiancé Aaron Rodgers"? It wasn't public knowledge that she and the Green Bay Packers quarterback were even together until they announced their engagement in February. So, it wouldn't be entirely out of the question that they'd have a whole entire baby without anyone knowing Woodley was pregnant.
People were already speculating about a pregnancy back in May when model Keleigh Sperry Teller, Miles Teller's wife, posted a photo of her and Woodley from the Kentucky Derby. In the Instagram post, Sperry Teller's hand is on Woodley's stomach in a very "there's a baby in here" way. However, later that month, Woodley, Rodgers, and the Tellers took a group vacation to Hawaii and no one seemed particularly pregnant. Alas, I will leave you with a little poem in honor of these mysterious tiny toes:
For speculation:
Baby feet, maybe Woodley's?