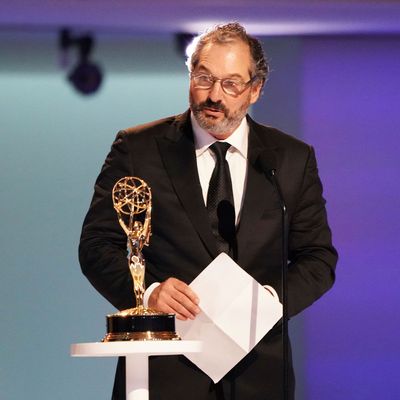 Photo: Jordan Strauss/Invision/AP/Shutterstock
In his opening monologue as host of the 2021 Primetime Emmy Awards, Cedric the Entertainer gave a shout-out to his friend, Black-ish star and executive producer Anthony Anderson, who was nominated for Best Lead Actor in a Comedy.
"This is Anthony's 11th nomination, man, but tonight he's up against Michael Douglas [for The Kominsky Method] and Ted Lasso [star Jason Sudeikis]," Cedric said. "Good luck, partner. But I gotta say, it looks like it still hard out here for a pimp."
The comedian's comments were prophetic, and not just for Anderson, who would lose the category to Sudeikis. Save for a few well-deserved standouts, like I May Destroy You's Michaela Coel winning for Outstanding Writing for a Limited Series, RuPaul's Drag Race winning the Outstanding Competition Program, and Hamilton winning the Variety Special (Prerecorded) category for which it was inexplicably nominated, the Emmys continued the long awards-show tradition of recognizing white people as its winners. Even though this year's list of Emmy nominees was the most diverse ever when it came to acting and reality-hosting categories, all 12 Lead and Supporting Actor awards went to white people.
This year's trophy recipients were safe and expected — faces we are used to seeing receive recognition and get the big parts and the juicy writing and directing assignments.
It says a lot that the biggest surprise win of the night was probably Halston star Ewan McGregor for the Lead Actor in a Limited or Anthology Series or Movie.
And the winners knew it too. The biggest embodiment of "Hollywood polite" — the smile and wandering eye that say I see someone else at the cocktail party I need to talk to now — might be the conductor baton signaling the orchestra to play you off. It's almost as if those who knew that this honor was special, that it wasn't something they got to appreciate every day — like Hacks star Jean Smart or its director and co-writer Lucia Aniello — hurried through their remarks in order to thank everyone and make the moment count. Coel gave one of the most moving and important acceptance speeches. In just a brief 33 seconds, she managed to inspire audiences to "feel the need to be constantly visible — for visibility, these days, seems to somehow equate to success — do not be afraid to disappear."
It was a man — The Queen's Gambit director Scott Frank — who was the first to decide to not care and bulldoze his acceptance speech over the orchestra's increasing volume. After that, several winners' speeches ran over with minimal acknowledgement of the orchestra.
What makes this year particularly surprising is that the Television Academy has made a point of stressing just how much it seems to be trying to do better.
Anderson was part of a similar bit at last year's ceremony, where he told then-host Jimmy Kimmel that that year's list of nominees would have made that ceremony "the Blackest Emmys ever" had it not been filmed during quarantine. And it's true that big wins in 2020 went to Watchmen's Regina King and Yahya Abdul-Mateen II, Mrs. America's Uzo Aduba, and Euphoria's Zendaya.
Of course, there were still some important moments this year. RuPaul actually made history as the recipient of the most Emmy wins by a person of color, and Coel's win made her the first Black woman to ever win in her category. Debbie Allen was the recipient of the Governors Award. She used her platform, which was also cut off in the name of time, to speak of the courage it takes to be "the only woman in the room" and also to "let this moment resonate with women across this country and across the world, from Texas to Afghanistan." What else could she have said with more time?
The Academy finally launched a diversity and inclusion assessment earlier this year. And during the Emmys, chairman and CEO Frank Scherma spoke of the importance of telling diverse stories — not just in regard to race or gender, but also stories like those of people with disabilities.
So maybe one day, a host won't have to make jokes like this on a friend's behalf.