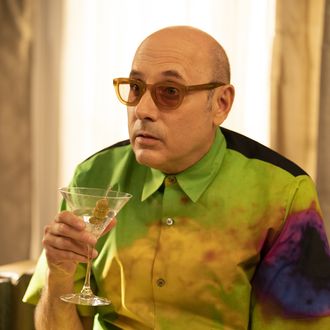 Willie Garson, the actor best known for his role as Stanford Blatch on Sex and the City, died in September at 57. As reported by People, Garson had pancreatic cancer and passed away after falling ill.
Before his death, Garson filmed a number of scenes for HBO Max's SATC reboot And Just Like That …, including a scene where Stanford is invited to the ladies' iconic brunch for the first time in the series. But that may be the last episode Stanford will appear in: The series's fourth episode revealed that he left for Tokyo to go on tour with his client, a TikTok star, leaving Carrie and Anthony good-bye notes and also asking for a divorce.
Stanford Blatch was the archetypal gay best friend, which, of course, comes with valid criticism. At his worst, Stanford could seem like an accessory to Carrie's story line, his presence a commodity more than a fully realized character. But at his best, he was Carrie's confidant and co-conspirator, equal parts relatable and familiar. His presence (and his impeccable taste in eyewear) will be sorely missed.
Below, a few of our favorite Stanford moments from Sex and the City.
.

Carrie and Stanford lurking on Aidan for the first time
Stanford described John Corbett's Aidan aptly: "a beautiful man downtown who's selling beautiful furniture." Who among us didn't watch Carrie and Stanford sneakily scoping out hotties and think, I want what they have?
.

Stanford's masterful one-liners
Stanford Blatch always had a retort, a favorite being: "We all judge. That's our hobby. Some people do arts and crafts. We judge." It's funny and honest, said in a way that rings true for most of us. (Okay, all of us.)
.

Prom Queen and Queen
Season six's "Boy, Interrupted" episode has everything: David Duchovny as Carrie's old high-school sweetheart, a cameo from Ginger Spice, Stanford making up with his escort boyfriend Marcus, and drag queens.
.

BigTool4U
Cut writer Emilia Petrarca shared her personal favorite Stanford moment — when he goes to the underwear bar:
Many aspects of SATC do not hold up today, but one thing that remains relatable is Stanford's experience with online dating. In the "fetish" episode of season two, it's revealed that he likes to chat on the internet with men about their underwear, and that his alias is "Rick9Plus." He's having great cybersex with a guy who goes by "Bigtool4U," and he wants to meet in person. "He seems hot, it's exciting, and I haven't had good sex since before Cats was on Broadway," Stanford tells Carrie, who, despite calling herself a "sex columnist," finds the whole thing pretty funny. (RUDE!) She tells Stanford go to have a "naughty little adventure," so he visits an after-hours gay club in the Meatpacking District where there's a sign on the door that reads: "MANDATORY CLOTHING CHECK. UNDERWEAR ONLY." While I cannot personally say that I've been to a club like this, whom among us has not gone to a bar and asked "Bigtool4U??" into the void? Willie Garson plays the role with his signature giggly innocence, and the whole thing is charming and sweet, and Stanford finds his inner Rick9Plus in the end.
.

"Oh my God, she's fashion roadkill!"
Imagine seeing your best friend eat absolute shit on a runway while wearing sparkly fashion underwear, only to be stepped on by Heidi Klum. And then imagine having the audacity of one Stanford Blatch. That is how this gloriously ridiculous phrase was born.
.

Stanford and Anthony's Wedding
The Sex and the City movies were famously bad, but they did give us one good thing: Stanford getting married. Also, a Liza Minnelli cameo.
.

"You wore pink suede Candies, and I adored you anyway."
The true test of any relationship: making it through a Candies shoes phase.