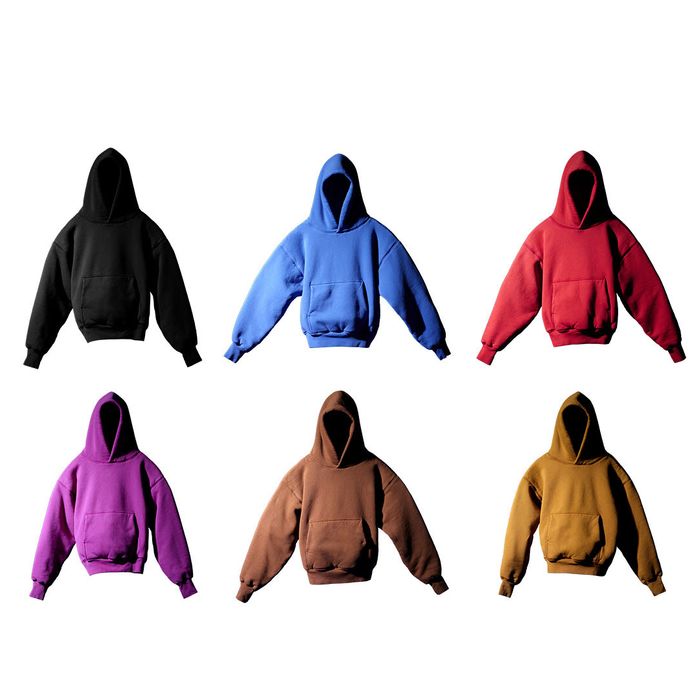 As a hoodie hoarder, I'm always looking to expand the extensive collection that aligns the hooks on the back of my storage-closet door. I have hoodies that I've literally taken off the backs of my ex-boyfriends, from my dad's closet, from college-football days at the University of Michigan, ones I've bought on Amazon late at night because I just wanted a new one ASAP, and even a couple from a former co-worker who told me hoodies weren't their thing. I love hoodies so much that I have duplicates of some in the same color and size. So my curiosity was sparked this morning when I found out Yeezy Gap dropped "HOODIE."
In a very brief email, Yeezy Gap announced that its HOODIE is now available online. It comes in six different colorways, it's unisex for both adults and children, and it's made of double-layered 100 percent cotton. Prices range from $70 to $90, and it will ship in two to eight weeks, depending on the color.
In a WSJ. magazine interview published last year, Kanye West discussed wanting to create "the perfect hoodie," and the name seems to have stuck. Already, there are memes comparing each color to one of West's albums, suggesting black is Donda, blue is Jesus Is King, red is My Beautiful Dark Twisted Fantasy, purple is Graduation, brown is Late Registration, and light brown is The College Dropout. In other words, it's clear these hoodies will be hits — but is it really the perfect hoodie?
As a hoodie connoisseur, here are my personal requirements for what makes a perfect one: First, it must feel lived-in and not stiff or like I need to break it in. Second, it must have a drawstring so I can tighten the hood around my face and feel like I'm in a cocoon for moments of "I'm baby." If it doesn't have a drawstring, then the hood must extend far beyond my forehead, like a visor. Lastly, there must be kangaroo-style pockets, not pockets on the side like a jacket.
While I haven't touched or seen the Yeezy Gap hoodie in person, from the visuals it looks like it checks at least one of my requirements: pocket style.